According to Statista.com, the size of the AR/VR market is expected to reach $215 billion in 2021 (as compared to $6 billion in 2016). Fueled by the innovations at Google (Tango, and ARCore), Microsoft (HoloLens), and Facebook (Oculus), the industry is just taking off.
Another tech giant, Apple, had been slow to innovate in this sphere until recently. The company joined the AR/VR race earlier this year, introducing its ARKit framework. Now, with the release of iOS 11 and iPhone X, coupled with the worldwide shipment of their product, Apple is opening up even more opportunities in AR app development.
In this article, we will explain what the AR trend means for your business and why it might be the best time to develop an AR app for iPhone X.
1.Why the new iPhone is going to rule the AR apps market?
Before Apple had entered the market, Google was a long-time leader in AR development. The company introduced its first AR platform, Tango, back in 2014. Unfortunately the technology never gained a solid traction in the market, and in 2018 was replaced by a new platform, ARCore.
While it is too early to talk about the adoption of this new tool, one thing is clear: The main problem with AR development, which Google has yet to solve is the lack of control over the hardware. Just like Tango was supported by only two smartphone models, ARCore still has a pretty limited lineup of compatible devices. With hundreds of phone manufacturers and thousands of device models, it is practically impossible to pair a technology as complex as augmented reality with every variation in hardware.
Apple, on the other hand, has complete control over its hardware. Its devices are designed to work with the software solutions provided by the company out of the box. That is why Apple's newest device, iPhone X, is a perfect fit for the company's AR platform, ARKit.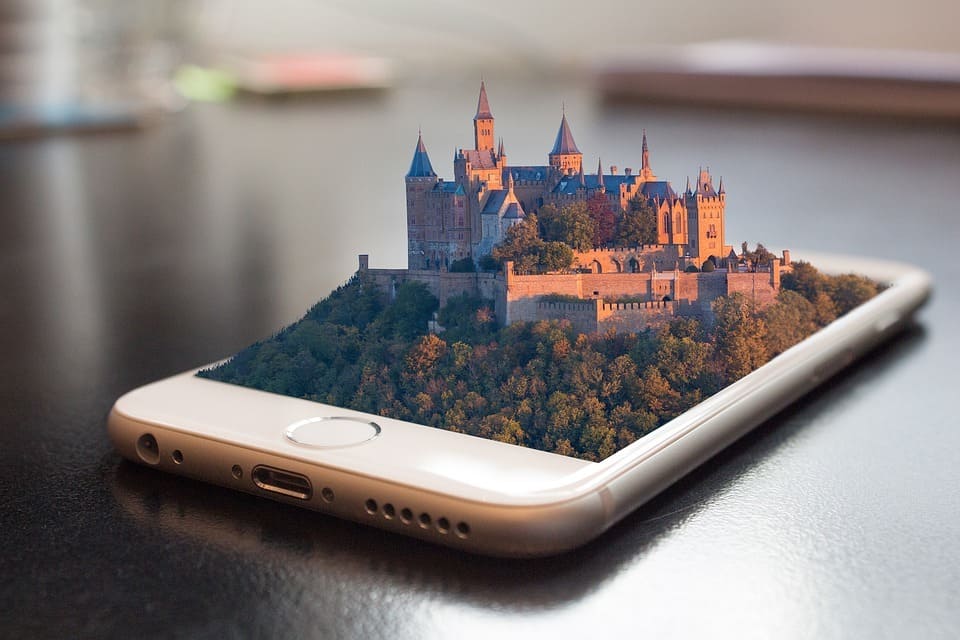 But what makes iPhone X such a good match for AR apps? In addition to its ARKit and iOS 11, the new device offers a solid hardware foundation for advanced AR experiences.
Apple's latest addition to their new iPhones, the A11 Bionic chip, is a powerful processor dedicated to neural network computing. The improved CPU results in higher quality graphics and better support performance (in addition to improved gyro and accelerometer sensors). Thus, iPhone X allows for more accuracy with AR apps.
TrueDepth camera is another addition to increase the accuracy of AR experiences. Paired with a number of sensors, it offers precise depth recognition and advanced AR modeling capabilities. Infrared camera, dot projector, proximity sensor, and flood illuminator, used in facial recognition technology FaceID, allows you to project AR experiences and images not only on external objects, but on your own image (e.g. animoji).
Of course, we cannot forget about the device's all-screen display. This is another great addition to the AR experience with iPhone X.
2. The best AR apps for iPhone X so far, and some fresh ideas to consider
As we can see, Apple's ARKit paired with the hardware capabilities of iPhone X represent a great opportunity for iOS app developers. Further proving the point, many businesses and iPhone app developers were fast to adopt these new technologies. There already exist a number of great apps offering solid AR experiences.
Games
Games and entertainment is possibly the first thing that comes to mind when we hear about AR technologies. Indeed, blending real world and digital objects seem to be very popular among gamers. Even a simple puzzle game can be developed with a unique twist when integrated with augmented reality.
ARise

is an ARKit-powered 3D puzzle game. The app projects the game scene to the real world setting. Solving the puzzle requires the user to physically assemble the projected puzzle pieces.

Stack AR

brings the original Stack game into the real world. Instead of playing the game on your device, Stack AR allows you to stack the blocks in a virtual 3D setting.
Social media apps and entertainment
Inspired by the success of Snapchat, many iOS app developers have adopted the new technology to build AR apps for iPhone X.
Holo

is a fun app that lets you put virtual objects (holograms) into a real-world setting and allows you to share the captured pictures and videos with friends, family, etc.

Giphy World

offers a similar experience with animated 3D stickers.

Vuforia Chalk

is more of a utility app, offering live video chats functionality with a twist: an ability to interact with the video in real time using a "digital chalk". The app can be used for personal communication as well as for educational purposes, remote training, DIY project instructions, or even tech support.
Read also: How to make a social media app?
Fitness and sports
As exemplified by Pokemon Go, there is huge potential in AR for outdoor activities and fitness. You can add augmented reality to your sports app to motivate users by completing quests, collecting items, or simply following routes.
Fitness AR

by Strava allows you to view your past rides/runs in a beautiful 3D visualization projected to the real world setting.

AR Runner

blends entertainment and fitness. You get to complete different quests by following AR routes and clues. It is also a good example of how gamification can be applied to a fitness app.
Retail and eCommerce
While most of the AR apps are focusing on entertainment and games, we can see that businesses and brands are also joining the AR trend.
Ikea

has recently re-invented their existing AR app using the ARKit. The app,

Ikea Place

, now offers a more solid experience and more accurate object placement, compared to the earlier version.
Houzz

is another company that adopted Apple's technology. Similar to Ikea's app,

Houzz Interior Design Ideas

allows you to bring the products you find in the app to your apartment in order to see how they match your interior.

Amazon

has also

joined

the AR adoption trend in eCommerce by adding virtual product previews to its main app.
More fresh ideas for AR apps development
Yet, the listed examples of AR apps represent only a small portion of the potential in this sphere of technology. There are more ways for businesses and brands to benefit from AR app development.
Uber-like apps

or on-demand delivery. You can track an approaching car or courier using AR, rather than with a map.

Indoor navigation

within stores using AR directions. Additionally, the app can further engage the customers into their shopping activities by showing them offers or current deals on certain products.

Travel and tourist apps

– Outdoor navigation, information about popular sights and places (e.g. paid publishing opportunities for restaurants).

Restaurants

– Interactive 3D menus (similar to

Kabaq.io

). Furthermore, this approach can be applied to retail, bringing printed catalogs to AR.

Marketing and advertising

– These solutions are similar to

Layar

. Place relevant AR content around the real world using specific markers (QR code, logo, pics, etc.) to let users discover it using your app. This can be a smart gamification strategy. You can offer bonuses or achievements for every piece of content unlocked.
3. Ride the AR wave as an early adopter with Eastern Peak
Still not sure if you should take AR apps and iPhone X seriously? Over 67% of Apple devices have already adopted iOS11 to date. This means the current user base for AR apps is more than 670 million users. At the same time, many analysts anticipate record sales for iPhone X in 2018, which makes AR app development an even better idea.
As we can see, there are still plenty of untapped opportunities for iPhone app developers in AR before it goes mainstream. So if you want to gain a competitive edge in your industry, join the AR wave among early adopters.
How to get started?
The product discovery phase is the best first step you can take to lay a solid foundation for the development of your app. It includes a functional specification, UX/UI design, and a visual prototype that will give you a clear vision of the end product. On average, this phase takes 4-6 weeks.
The product discovery phase can help you:
define a full scope of work and develop a roadmap for the project
set a realistic budget for your MVP and plan your resources
test the waters with your audience using a visual prototype
craft a convincing investment pitch
get to know your team
If you are ready to develop an AR app for iPhone X or want to explore the opportunities and learn about the limitations of technology, contact our sales team. We will help you analyze your business needs and find the best way to implement augmented reality to your product portfolio.
Read also: