At Eastern Peak, we are dedicated to revolutionizing the world of finance through our exceptional fintech software development services. With our expertise in cutting-edge technologies and in-depth industry knowledge, we empower financial startups, banking institutions, insurance providers, traders, and other businesses to thrive in the digital era.

Our custom fintech solutions are tailored to address the unique challenges and opportunities in the financial sector. By leveraging the latest technological advancements, we deliver scalable, secure, and user-centric software applications that redefine the way financial processes are conducted.  Whether you're a startup looking to disrupt the fintech industry or an established institution seeking digital transformation, our solutions will equip you with the competitive edge needed to succeed.
FINTECH SOLUTIONS WE OFFER
We specialize in developing highly secure and feature-rich fintech applications that cater to the unique needs of your business.
Key aspects

to consider in fintech
We understand the intricacies of the industry and can guide you through the complexities of fintech development.
Ensuring security
We follow industry best practices and employ robust security measures such as encryption, authentication protocols, and vulnerability testing to avoid data breaches and other privacy issues.
Following tech trends
Embrace the future of finance by utilizing the advances in technology such as IoT, Artificial Intelligence, predictive analytics, cloud, big data, and others.
Legal compliance
Besides technical matters, regulatory aspects are highly important for apps that contain users' sensitive information and mediate money transactions. Make sure you know global and local laws and comply with them.
APIs integration
We have extensive experience in integrating custom-built fintech software with various systems, analytic tools and data sources, ensuring seamless compatibility and functionality of your fintech product.
Some of our fintech projects
Western Union
A platform to observe the results of competitors on a daily basis
Our team at Eastern Peak has developed a comprehensive web crawling engine and data mining system for Western Union for various financial information to be collected, normalized and analyzed.
An adaptive and customizable reporting dashboard with extensive data visualization tools that facilitates competitor analysis, report generation, and configuration management.
Motshelo
A smart and secure application for personal short term saving and lending
A mobile application where users can save money, lend and borrow to/from fellow application users, find people to trade with, create groups, and manage their motshelo accounts (deposits, withdrawals and transfers).
With Motshelo Mobile users also can
get access to cash through VISA Card and all major retail shops
generate summary reports on all transactions
track individual savings, trades, and a group's financial status
FAQs

on fintech software development
1. How long does it take to develop a fintech application?
The development timeline depends on the complexity and scope of the project. To define a full scope of work and develop a roadmap for building a fintech application, we evaluate your requirements, investigate your business objectives and proceed to a product discovery phase.
2. Can you develop both web and mobile applications?
Yes, our expertise covers both web and mobile application development. We can build cross-platform solutions or platform-specific applications.
3. What industries do you cater to with your fintech development services?
We cater to a wide range of industries, including banking, insurance, payments, wealth management, lending, and financial technology.
4. How do you ensure the security of financial applications?
At Eastern Peak we follow industry best practices and employ robust security measures such as encryption, authentication protocols, and vulnerability testing.
5. What sets Eastern Peak apart from other software development companies?
Our fusion of financial expertise and technological prowess gives us a unique edge in creating solutions that truly resonate with the financial industry.
Why us?
Domain


expertise

A portfolio of successfully delivered mobile projects in such fields as Business and Finance, Games, Healthcare and others.
Top


tech talent

A tight-knit team of experienced mobile app developers that can develop a mobile app of any size and complexity.
Business


focused

Our app development company creates competitive applications that reach your customers on their favorite devices and bring you profit.
LATEST

IN BANKING & FINTECH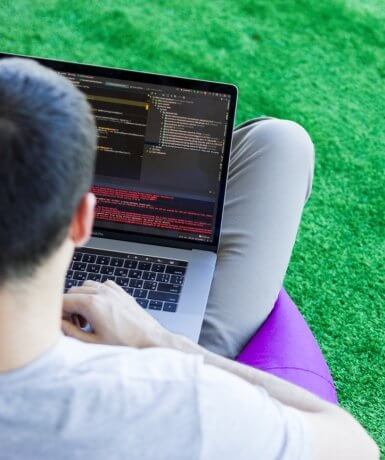 Приєднуйся!
Lead full-stack .NET розробники
Senior Deep Learning інженер
Senior та Middle Ruby розробники
Senior Automation Quality Assurance інженер (JavaScript)
Senior Automation Quality Assurance інженер (JavaScript+Appium)
Middle Full-Stack JavaScript розробник
Middle full-stack .NET розробники
Middle .NET розробник
Full-stack C#/.NET інженер
Technical Project manager
Копірайтер
та інші. . .