Today, consumer behavior has changed and adapted to modern technology, and website development requires an individual approach and industry-specific features. Whether you need to create an ecommerce website or a landing that will convert, we get it, and we're prepared to handle any challenge.

Having successfully completed dozens of custom websites, we at Eastern Peak know exactly what it takes to create a website that performs. Just take a look at some of them in our website development portfolio.
SIRIN LABS
SIRIN LABS, an industry leader within mobile cybersecurity, that has developed the premier, ultra-secure blockchain smartphone with an embedded cold storage crypto wallet.
What has been done:
WordPress website with Ecommerce functionality
Multi-language features
Payments
Blog
APP WIZARD
Universal no-coding app on-boarding and marketing tool that allows you to acquire informed and highly engaged users. You don't need developers for a manual code insertion, just drag and drop.
What has been done:
Designed from scratch
Frontend development
Backend development
PROFTIT
PROFTIT is a cloud solution built specifically for binary options operators that delivers a real-time 360-degree view of your business.
What has been done:
Custom animations
Development from scratch
ERM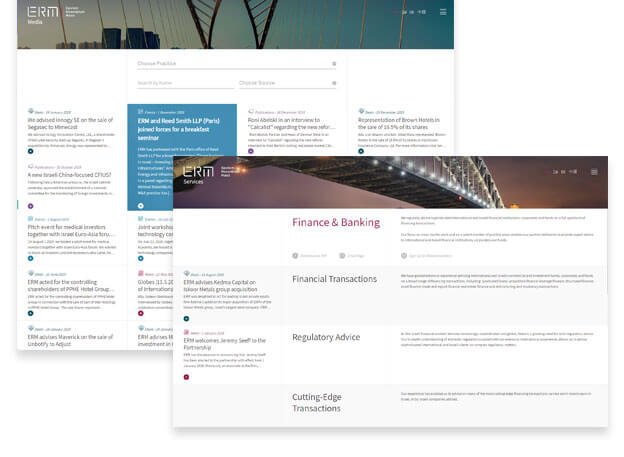 Epstein Rosenblum Maoz (ERM) was founded in 2006 and has advised leading international and Israeli clients on many of the most high-profile cross-border transactions.
What has been done:
Customized elements
Frontend development
Backend development
KLIM JEWELRY
Designing for one of life's most meaningful moments.
E-commerce jewelry store with custom, hand-made incredible assortment of bracelets, earrings, necklaces, rings and more that turn its clients' dreams into reality.
What has been done:
Designed from scratch, built on Magento
Customized elements
Logo and identity branding
UBERIFY
Uberify is a SaaS platform that allows small taxi businesses to create a white-label service for their taxi stations. This includes an app for customer, app for driver, admin panel, customer support panel and billing panel.
What has been done:
Customized elements
Frontend development
Backend development
MAXIMUM EDUCATION
Maximum Education helps students realize their educational aspirations by guiding them through critical tests and exams.
What has been done:
Designed from scratch
Customized elements
Frontend and backend development
Client review
"They will deploy a correct solution to reach your goals. It feels like you can beat the deadlines with them, and that is very valuable. What's good is the flexibility they provide with different types of knowledge, different types of developers, the ability to scale up quickly, and the ability to scale down when needed."
Michael Magkov
CEO at Maximum Education
Read a full
interview on Clutch
BONSHINE
The BonShine waterless car wash brings advanced detailing services straight to you – anywhere you park, anytime you choose.
What has been done:
Designed from scratch
Logo and identity branding
Frontend and backend development
Book a call
Book a one-on-one consultation with our business consultants
See next in Work samples:
Marketplaces