By using our vast expertise and domain-specific knowledge allow us to provide end-to-end services building scalable IoT solutions for businesses from any industry. From hardware and sensors to infrastructure, data management, and software development, our approach covers all aspects of the development process.
cobra connect
A remote control and monitoring of your car
A mobile application to control the operations of a car such as opening and closing doors of the car, detecting the car location and others.
The car has a special box containing an alarm system, with internet connectivity. The car can be controlled directly from the mobile phone, with real time information being sent to and from the cloud.
Features:
Car engine status
Trip reports
Open and close doors of the car
Detecting car location
GREENIQ
Smart irrigation system
Control your garden's lawn irrigation & lighting from anywhere. With GreenIQ smart sprinklers controller, you will save up to 50% on your outdoor water bills.
Features:
Control irrigation, saves water
Connect to leading home automation platforms
Add accessories to your Smart Garden Hub
Client review
"We didn't have a typical outsourcing structure, by which I would give tasks to Eastern Peak and they'd work on them. The developer was a part of our team, just like any other member."
Golan Derazon
CTO at GreenIQ
Read a full
interview on Clutch
pawscout
A next-generation digital pet finder
A digital pet tag and tracker for dogs and cats with social GPS and BLE connectivity, which works with a connected mobile app and a worldwide tracking community to keep pets safe.
The Pawscout Pet Finder attaches to any pet collar and provides radar-style honing that uses any mobile phone to locate a pet within a 200-foot radius, including a virtual leash that sends notifications if a pet strays.
Features:
Smart pet tracking
Online community
Virtual leash
Detailed digital profile
Social GPS: finding the lost pets easily
DOORe
Smart door lock and door bell
Smart device that allows apartment owners to see in real time who is requesting to visit them, be it a friend or a delivery man. Real-time alerts, HD video and two-way audio makes it easy to answer your door from anywhere through the smartphone app.
The device also allows you to control the front door without the traditional mechanical keys. It allows keyless, remote or fingerprint-secured entry to family members, friends, housekeepers and others without worrying about lost or copied keys. Read in press.
Features:
Remote control from anywhere in the world
Auto detect door status and real-time alerts
Keyless, remote or fingerprint-secured entry
See and speak with guests at front door
Goldfarb Properties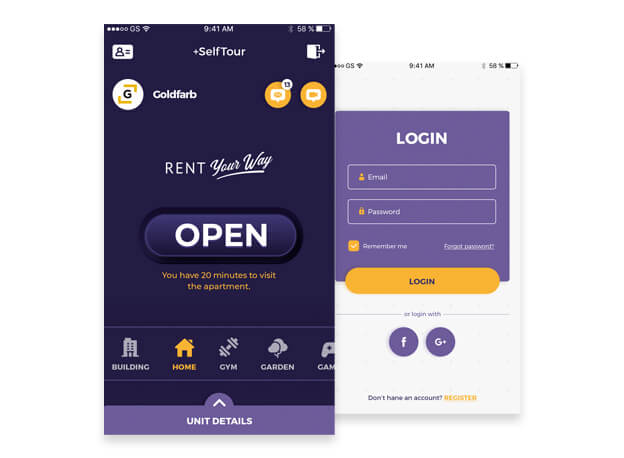 The easiest way to view rental apartments
A mobile application that allows you to find an apartment you're interested in and add the key to go view it on your schedule.
No additional coordination needed. With the phone as the key and all the apartment information in the palm of your hand you'll have everything you need to make a good decision and save money in the process.
Features:
Detailed apartment profile
Access to approved apartments with a generated key for a smart lock
Geofencing: check in if you are close to building
Push notifications for tenants if visitor has entered an apartment
Online doors monitoring
wiliot
Battery-free Bluetooth technology – connecting assets in the physical world to the cloud
An application that detects which beacons are around you. Tag data can be accessed from the Wiliot cloud through a RESTful interface. The cloud ensures data remains secure, private and authentic, and generates actionable information about: temperature, movement and pressure/weight.
Model: T&M
Ovucon
Monitoring of a female fertility cycle
A personal device that monitors the female fertility cycle. Both hardware (device) and mobile apps were developed by our team.
The OvuCon device targets women that would like to know the exact date when their body is ready to be pregnant. Using microprocessors (DSP), the fertility device is filtering and processing the measurements obtained from the sensors.
Features:
The fertility device connected to an Android device using BLE protocol
Mobile app allows to see the results
MEDEA VODKA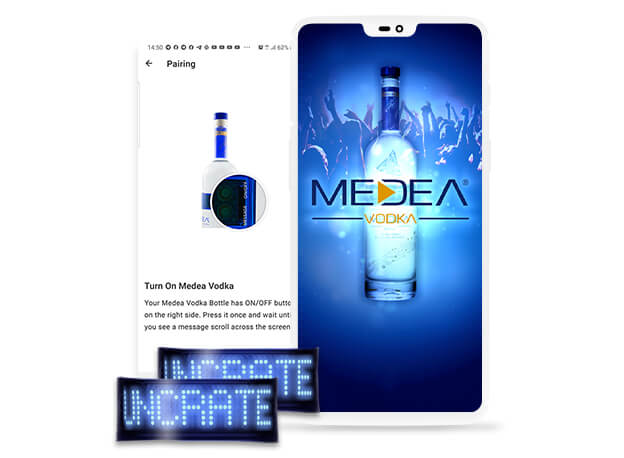 A new way to express your best wishes
A digital band that shows messages specified via a mobile app to friends and the loved ones of the bracelet owner.
The communication between the bracelet and the mobile apps is based on BLE.
Features:
Ability to program the bottle with a personalized message
Users can share their LED tags with their friends no matter the distance
Book a call
Book a one-on-one consultation with our business consultants
See next in Work samples:
Uber-like solutions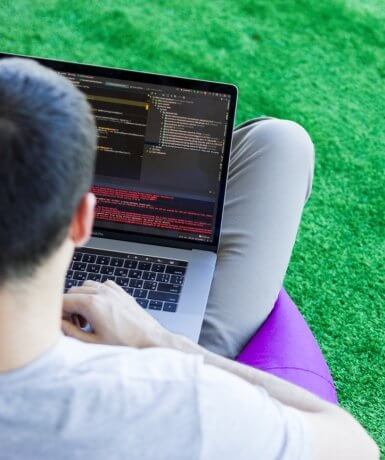 Приєднуйся!
Lead full-stack .NET розробники
Senior Deep Learning інженер
Senior та Middle Ruby розробники
Senior Automation Quality Assurance інженер (JavaScript)
Senior Automation Quality Assurance інженер (JavaScript+Appium)
Middle Full-Stack JavaScript розробник
Middle full-stack .NET розробники
Middle .NET розробник
Full-stack C#/.NET інженер
Technical Project manager
Копірайтер
та інші. . .