We take the stress out of remote cooperation by employing the best management practices and focusing on thorough planning and clear and efficient communication at every stage of the process. Thus, we are able to provide increased transparency and timely results.

You will always know exactly what your team is working on with regular meetings, demo sessions, and constant communication, as well as monitor the progress status of the tasks and their expected completion date.
CLIENTS' TOP QUESTIONS
Here's our approach to the most burning questions that arise among our clients before they engage into their product development.
How can I be sure that the product will be delivered on time and to specifications?

Thorough elaboration and planning

Every project starts with a product definition phase. This includes requirements analysis and functional specifications development, technology stack and high-level internal structure breakdown, UX/UI and prototyping activities. As a result, our team will get to the core of your business needs and come up with ideas on how to improve your concept.

After the product is defined and the results are properly documented and agreed with you, we provide a detailed project roadmap and a development timeframe.
From the very beginning you know what your product will be and how long it will take to build it.

Solid risk mitigation strategy

Due to our vast experience managing complex software development projects, we competently foresee possible delays and tackle any unexpected issues that may arise.

Your dedicated project manager will not only be the first to know about the potential risks, but also the one to offer the best strategy for keeping your project on schedule and meeting your deadlines.

How can I control the development process?

Regular demo sessions

To make sure your product is delivered as expected, we rely on Agile project management practices.
Iteration by iteration, you are actively involved in the development process.

In fact, you get to actually try your product yourself: we may provide a functional build after most sprints, so any issue or deviation from your requirements can be fixed instantly.

Complete control over the process

Regular meetings, planning sessions and status reports keep you abreast with the progress. You always know what we are working on and why.

Your dedicated project manager is your main point of contact: he or she will keep you informed no matter what.

Moreover, with 24/7 access to our issue tracking and project management system you will be able to learn first-hand about all the tasks each member of your team is working on, for how long, the status of the progress and the anticipated completion date.

How can I be sure that I don't over pay for the work done?

Accurate time logging

Initially we provide you with a detailed estimate, followed by weekly progress reports, which include a detailed breakdown of activities, from tasks and subtasks, to bugs and communication.

We can prepare additional reports on any specific aspect you need, and set up a time tracking system.

Thus, you know precisely how much time developers spend working on each new feature or interface element.
If you still have any doubts, we can provide you with access to our task tracking system so you can watch how we will work on your product in real time.
Book a call
Book a one-on-one consultation with our business consultants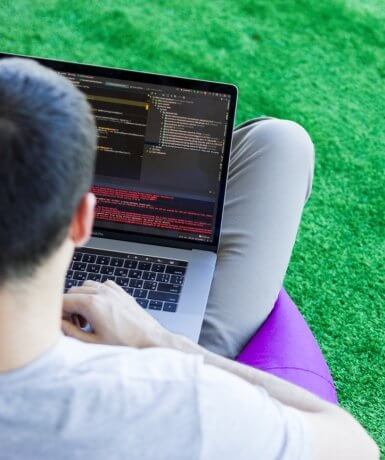 Приєднуйся!
Lead full-stack .NET розробники
Senior Deep Learning інженер
Senior та Middle Ruby розробники
Senior Automation Quality Assurance інженер (JavaScript)
Senior Automation Quality Assurance інженер (JavaScript+Appium)
Middle Full-Stack JavaScript розробник
Middle full-stack .NET розробники
Middle .NET розробник
Full-stack C#/.NET інженер
Technical Project manager
Копірайтер
та інші. . .