Our UX teams will develop the blueprint for your online business. Your product is designed to be compelling and creative, setting the tone for your brand image. At our core, we are innovators who work collaboratively and are driven by emerging technology and human behavior
UX/UI design process
With our own in-house UI/UX studio we create designs and animations of a different complexity level. All our designers work together with our developers, under one roof, to ensure a smooth collaboration and to deliver a one-of-a-kind experience.
Understanding your user
The design process starts by understanding your target users, their behavior and their needs and goals, thus identifying the persona and creating the mood board.
All of this will help define concrete design requirements and make it easy to move forward with wireframes and actual mobile app designs.
Wireframes
When we begin to develop the wireframes we take into account not only the persona and the mood board, but also the user scenarios which were developed during the first stage of functional specifications. At this point, attention is focused more on the functional side of the product, its features, and structure. Wireframes are usually done by our project manager in collaboration with our UX/UI lead.
UI design
At this stage the product is complemented with rich visual elements and a high-fidelity visual representation, providing you with a detailed look and feel of your product in a static way.
We will create engaging, user-friendly and stunning designs that will seamlessly communicate with end-users and make you stand out among your competitors.
Interactive prototyping
Here we will turn your designs into an interactive visual mobile or web prototype to show you how your product will look to the end user before proceeding to development. It will feature the app's UX/UI design, user flow and navigation, screen transitions and microinteractions, so that you could navigate through the app as if you were actually using it.
Gathering feedback
With our prototypes, you are able to conduct beta tests among your target audience, friends, colleagues and other people to better understand how user friendly this design is. Once the feedback is gathered, we apply the final changes to the design.
Website design
Mobile app design
User flow analysis
Wireframing
Interactive visual prototyping
Ideation and concept development
Interface design
Motion and interaction design
Visual design
Workflow design
FAQs
Will I be able to work with a designer directly?
You can surely work directly with our design team. However, we suggest maintaining direct communication with your dedicated project manager. He or she will be provided to you from our side and will work from our office with your development and design team. Our project managers have been working with our designers for many years. Thus, your project manager will clearly explain your vision to the designer and will ensure that the design matches what you had in mind.
Have you designed any app that supports right to left languages?
Yes, actually this is one of our company's strong points. We did and currently do many projects that require RTL for both web and mobile apps. We work with Arabic and Hebrew languages.
Does the copyright/intellectual property rights around the images, elements of graphics, etc. work?
The copyright of the materials produced by us is owned by the customer. All 3rd party materials such as libraries, external graphic elements and so forth are fully checked to adhere to the copyright regulations.
What you get
A free cost estimate.

Professional advice.

We keep your ideas safe.
request a quote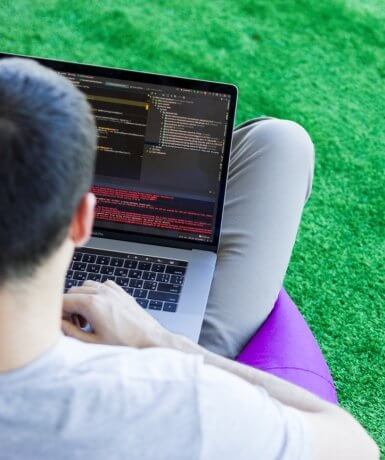 Приєднуйся!
Lead full-stack .NET розробники
Senior Deep Learning інженер
Senior та Middle Ruby розробники
Senior Automation Quality Assurance інженер (JavaScript)
Senior Automation Quality Assurance інженер (JavaScript+Appium)
Middle Full-Stack JavaScript розробник
Middle full-stack .NET розробники
Middle .NET розробник
Full-stack C#/.NET інженер
Technical Project manager
Копірайтер
та інші. . .