Dominated by such giants as eBay, Amazon, and Walmart, online marketplaces is an extremely competitive market. Yet, the industry remains popular among startups willing to disrupt the long-established leadership.

Having vast experience and proven track record in developing custom online marketplaces, we can help you enter this market smoothly with an outstanding and scalable product that your users will love.
SOHO HOUSE
Soho House is a hotel chain and a group of private members' clubs across Europe and North America, as well as restaurants, cinemas, workspaces, spas and bedrooms.

Each House is slightly different depending on its location, but the ethos of the Houses has remained the same; to create a comfortable home for a community of like-minded, creative people, wherever they are.
Technologies: Ruby on Rails
FREELY
An online platform to find and book independent beauty, hair and massage therapists near you.
By using the search form, typing in your address or postcode, and choosing a treatment, you can easily find the best practitioners in your area. Along with informative reviews from previous customers, you're sure to find a practitioner that suits you. Choose where you want the treatment to take place: at your home or at the practitioner's home or salon, and book an appointment.
Features:
Geolocation feature to find a practitioner near you
Online booking
Profiles creation and management
Stripe payment system
Re-arrangement of the day and time of an appointment
MAISONSPORT
A platform to find and book private ski and snowboard lessons with independent instructors across Europe in just a few clicks.
You can learn more about each instructor, check their reviews and send them a message prior to booking and paying for any lessons. All instructors listed on Maison Sport have been verified by their nation's governing body, so you can rest assured you will be in safe hands when you're on the slopes.
Technologies: Ruby on Rails
Goldfarb Properties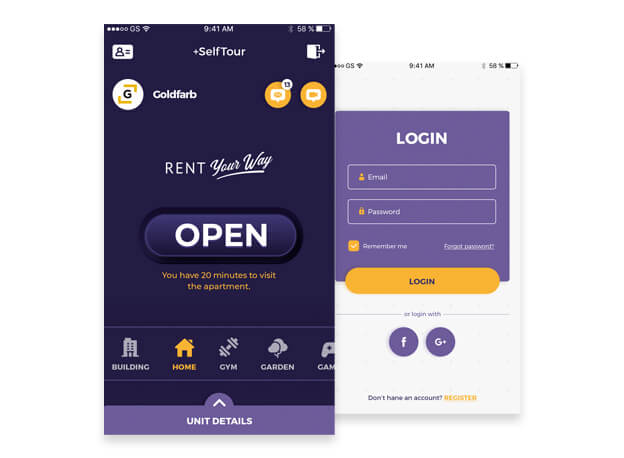 The easiest way to view rental apartments
A mobile application that allows you to find an apartment you're interested in and add the key to go view it on your schedule.
No additional coordination needed. With the phone as the key and all the apartment information in the palm of your hand you'll have everything you need to make a good decision and save money in the process.
Features:
Detailed apartment profile
Access to approved apartments with a generated key for a smart lock
Geofencing: check in if you are close to building
Push notifications for tenants if visitor has entered an apartment
Online doors monitoring
DIGITAL PICTURES
A marketplace for photographers.
The Smart Picture is an LCD screen, framed like an ordinary picture to be hung on the wall.

The screen is used in order to display pictures and videos. The pictures can either be private pictures shot by the owner of the Smart Picture, or by professional photographers available at online, custom-built marketplace.

With the Digital Pictures marketplace photographers can get paid for their photo-shoots and the Smart Picture owners can get high-resolution, unique photos with a click of a button.
Technologies: Ruby on Rails
TRODUCE
Anonymous career opportunities. For startup companies and anonymous professionals to be introduced locally.
Features:
Anonymous profile
Unique searching capabilities
Every applicant is hand screened
Seamless interaction
Re-arrangement of the day and time of an appointment
Industry: Jobs marketplace
Model: Time & Material
Technologies: Angular, PHP
MAKETIME
Transforming custom manufacturing.
The RPI online marketplace where manufacturers connect to buy and sell machine production capacity by the hour.
Technologies: Angular JS, Ruby on Rails
KLIM JEWELRY
Designing for one of life's most meaningful moments.
E-commerce jewelry store with custom, hand-made incredible assortment of bracelets, earrings, necklaces, rings and more that turn its clients' dreams into reality.
What has been done:
Designed from scratch, built on Magento
Customized elements
Logo and identity branding
Book a call
Book a one-on-one consultation with our business consultants
See next in Work samples:
Fintech solutions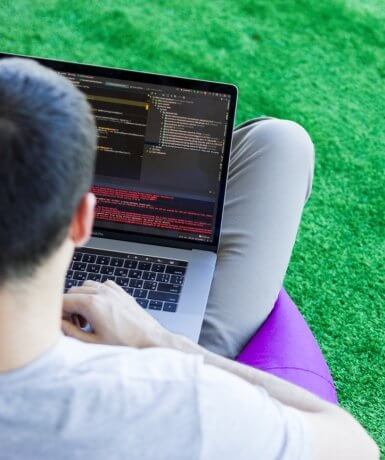 Приєднуйся!
Lead full-stack .NET розробники
Senior Deep Learning інженер
Senior та Middle Ruby розробники
Senior Automation Quality Assurance інженер (JavaScript)
Senior Automation Quality Assurance інженер (JavaScript+Appium)
Middle Full-Stack JavaScript розробник
Middle full-stack .NET розробники
Middle .NET розробник
Full-stack C#/.NET інженер
Technical Project manager
Копірайтер
та інші. . .