Having a strong, consistent brand identity is essential for the continual success of every company. Leveraging their distinctive strengths to build a clear identity, companies can outperform their competitors, and we are ready to help you with it.

Eastern Peak has helped numerous startups and mid-sized businesses with their brand identity by establishing consistency, voice, and personality through the creation of logos, business cards, flyers, posters, envelopes, business presentations, and much more.
GROCR
A visual identity guide & UX/UI for an on-demand grocery delivery platform
Our team was involved from the early stages to the final prototype, helping the client successfully navigate the process of launching their new product.
Design from scratch
Logo design
Corporate identity
Logo
We created several variations of the Grocr logo, each for a specific use. They focused on the key features of the product and reflected the customers' expectations of the grocery shopping experience: to be easy, instant, and mobile.
Font & color scheme
The color palette that we chose was based on the brand's key qualities: the color red to symbolize fast delivery, and blue – simplicity and ease of use. The font for headings and text blocks was selected based on the font in the logo, and a minimalistic grotesque font with serifs was chosen to coalesce with it and emphasize the identity of the brand.
Corporate identity
We also carefully developed the company's other visual aspects and design elements of their corporate identity (i.e. business cards, envelopes, letterheads for printed materials, as well as patterns and email signatures) to help the company communicate in a consistent way across all teams and channels.
DF SCANNER
The Brand identity & investors presentation was developed for a platform that compares prices from duty free shops and optimizes the purchases in advance
Design from scratch
Logo design
Corporate identity
Investors presentation
Logo
The main focus of the company logo was on being easily recognizable, showing the audience who they are, what they do, and getting visibility.
Corporate identity
Apart from a memorable logo, we designed other no less important company visuals, such as font for headings and text blocks (with lots of different letterings and supports more than 100 languages, which is vital for air business), color palette (that reflects the sky, flight, and airiness), as well as business cards, envelopes, and letterheads for printed materials.
Investors presentation
We created a compelling business presentation that outlines only necessary points of the product idea to attract seed investors and prepared the company for competition within its market segment.
eastern peak
Corporate identity & print design for our company, a professional strategy consulting and technology provider
Design from scratch
Logo and corporate identity
Printing materials
Office decoration
Logo
The form and the visuals of the company's logo were made on the principle of the work of the counter form to symbolize confidence, reliability, and long-term mutually beneficial partnerships with our clients.
Font & color scheme
The color scheme reflects the company's ambition and commitment to work (green color), attention to detail, preciseness, and thoroughness (white color), and reliability (blue gray color). We chose Montserrat, a geometric sans-serif typeface for the web, to emphasize our work, dedication, and care as the core values of our company.
Corporate identity
We developed all corporate identity elements necessary to make our brand strong and consistent so that the company is recognizable and differentiated from competitors. Our team also worked on the office branding in order to convey our corporate culture and design, and organized it the way that makes every employee feel comfortable, cozy, and inspired.
KEHILOT
We assembled a visual identity guide for the service of religious communities to communicate, create events, and follow prayer time
Our team created all the elements of the corporate identity, as well as detailed brand guidelines to ensure their successful application.
Logo design
Font & color scheme
Corporate identity
Logo
The logo reflects the idea of uniting people who share the same values, beliefs, and religion, fostering member-to-member interaction in the best possible way.
Font & color scheme
The font Montserrat and purple color palette, which is meant to be used across all of the brand's visual collateral, were chosen bearing in mind the target audience and the company's values.
Corporate identity
We designed all the key elements (including business cards, email signature, envelope design, and letterhead) essential to creating a brand identity that is strong, consistent, and attractive.
ubertesters
Corporate identity & print design for a cloud-based, process management platform for mobile app testing
Design from scratch
Logo design
Flyers and booth design for expo
Business cards design
Logo
The main concept of the logo was to convey the essence of the company's business – quick and easy in-app testing, bug editing, and reporting.
Font & color scheme
For headings we chose the Museo font having minimalistic grotesque with serifs, and for text blocks we selected Open sans, a system font with an open license and one of the most common fonts on the Internet. The color palette that we chose was based on the main business idea: the color orange to symbolize a problem that occurred in an application, and blue – solutions.
Corporate identity
We also helped the company create the design for their employees' business cards, and a blog post cover design to make their brand consistent, more easily recognizable, and memorable.
Book a call
Book a one-on-one consultation with our business consultants
See next in Work samples:
SaaS solutions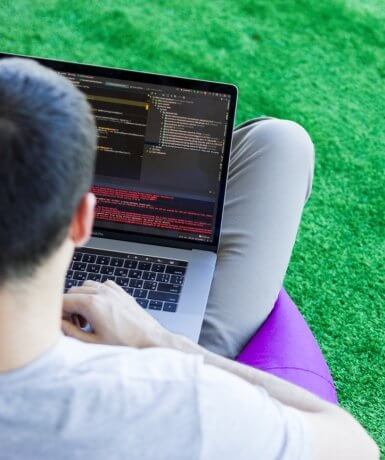 Приєднуйся!
Lead full-stack .NET розробники
Senior Deep Learning інженер
Senior та Middle Ruby розробники
Senior Automation Quality Assurance інженер (JavaScript)
Senior Automation Quality Assurance інженер (JavaScript+Appium)
Middle Full-Stack JavaScript розробник
Middle full-stack .NET розробники
Middle .NET розробник
Full-stack C#/.NET інженер
Technical Project manager
Копірайтер
та інші. . .