Electronic Health Record (EHR) systems have become the golden standard for the aggregation, storage, and exchange of medical data. Not only do they eliminate paperwork, but also grant easy access to patient-relevant info regardless of physical location, while furthermore ensuring HIPAA-compliance.
In this article, we will talk about the benefits of EHR systems, uncover the difference between EHR and EMR, and list some of the key characteristics of EHR systems. Next, we will offer you some EHR adoption tips, so read on to learn more!
The EHR basics
The most straightforward EHR software definition is "a system intended for medical data capture, storage and exchange". Today, medical help extends far beyond a single assigned physician and involves clinical and lab personnel, state registries, and parties like pharmaceutical stores, emergency facilities, facilities for disabled and elderly people, etc.
EHR medical software is not entirely new. The first electronic health data registries appeared back in the 70s. Today, EHR platforms are increasingly taking on more functions, from the reception desks to the clinics' internal operations.
EHR systems are capable of creating a better experience for patients and the clinics' workers.
For medical practitioners, the benefits of electronic health records include:
instantly accessing patients' info,
safely exchanging health data between parties,
avoiding miscommunication with healthcare consumers and physicians by providing accurate data,
facilitating diagnostics and preventing errors,
cutting costs and reducing paperwork,
enabling more accurate prescriptions,
streamlining the billing process, and
securely handling data and compliance with HIPAA law.
For patients, the EHR platform benefits are also evident:
ensuring the accuracy of health information and consistency when shared between healthcare providers,
accessing health records anytime and anywhere,
eliminating repetitive medical tests,
reducing paperwork and saving time, and
automating the generation of insurance claims.
On top of that, HIPAA protection is tightly integrated into EHR systems safeguarding patients' sensitive data.
How EHR software functions
EHR software facilitates data management, streamlines clinical operations, and delivers a better experience for healthcare consumers. But how does EHR software work?
In essence, electronic health records permeate the entire healthcare ecosystem and interconnect its core facets. Below is an example of how to use EHR software in a sequence of logical steps:
Step 1: The patient turns to the medical facility. Upon check-in, visitors submit info about their previous medical treatments, surgeries, allergies, and other individual specifics. The patient then gains access to their online medical account and can view aspects of their visit, appointments, prescriptions, etc.
Step 2: The front office receptionist makes an appointment with the doctor using a scheduling system. The system automatically syncs with the doctor's schedule to select an optimal time for the next visit.
Step 3: The doctor gets an appointment notification and checks the patient-specific details in an electronic chart. The doctor inputs the diagnosis, step-by-step plan for further actions and prescriptions into the digital record after the visit.
Step 4: The system transmits the prescriptions to the drugstore. The latter starts assembling the order so that it's complete when the patient arrives.
Step 5: The EHR platform automatically generates the bill and the financial department hands it to the patient.
Step 6: The system issues the insurance claim, ensuring that its format matches the demands of the patient's insurance provider.
Step 7: If a patient needs to submit lab tests, the medical laboratory may also be granted access to the EHR. A doctor can view the test results upon request.
EHR vs EMR: Similarities and differences
The acronym 'EHR' is often confused with 'EMR' (Electronic Medical Records). However, a difference between these systems is quite substantial: EMR refers to an electronic patient chart used solely for a clinic's internal purposes.
Conversely, an EHR app is capable of integrating with similar systems of other clinics, labs and other healthcare facilities that a patient visits. In other words, it shares the patient's records between entities involved in the person's treatment to ensure the consistency and accuracy of healthcare info.
While EMR is, in essence, a patient's digital chart for the clinic's local use, the main purpose of EHR is data exchange and interoperability.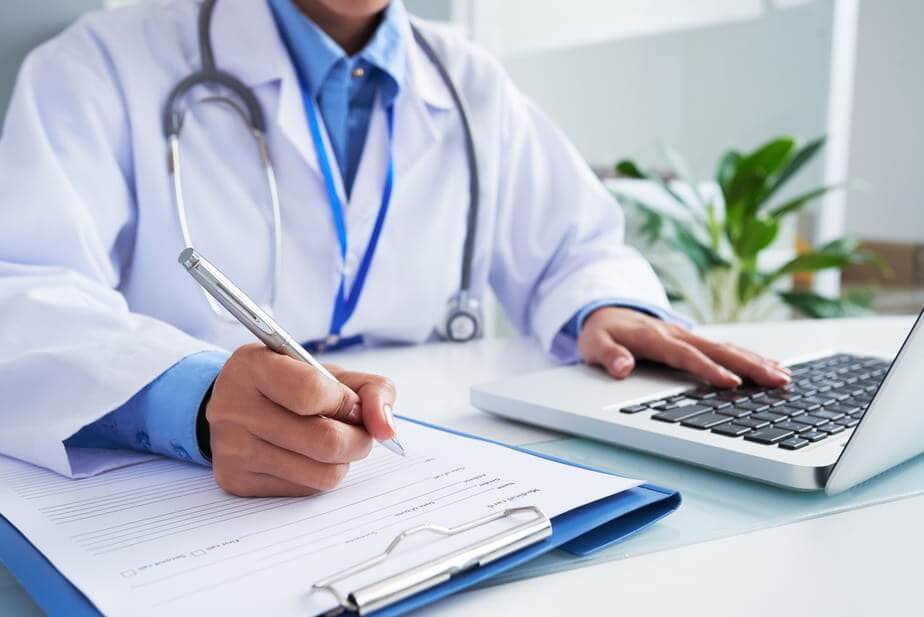 Main EHR features
Although an EHR app is primarily intended for medical data management, it would be wrong to view it simply as an archive for patients' data. Apart from permeating every step of the patient's journey, from the clinic's front desk to the drugstore to receive medication, EHRs also leverage data analytics to deliver important insights.
There are lots of vendors on the EHR software market, so you are likely to find applications for every type of healthcare practice, large and small. However, most of these solutions share similar features:
Front-office unit
This unit helps administrative personnel and clinicians handle day-to-day processes.
1. Automated scheduling
The EHR app inputs the info into the scheduling system in order to keep it updated about the most recent appointments.
2. Monitoring patients' status
The EHR software tracks patients' journeys and updates the receptionists about their status. This feature enables personnel to monitor peak times and send wait notifications.
3. Managing tasks
The EHR system also assigns work tasks, redirects and delegates them to other parties, and monitors their completion.
4. Generating support documentation
EHR software is capable of generating clinical documentation such as individual healthcare plans, guidelines, protocols, etc.
5. Processing claims
The system processes the clients' feedback to track their satisfaction level and enables a clinic to take timely measures to avoid reputation risks.
Doctors' support unit:
This EHR unit helps physicians organize patient records, monitor treatment progress and much more.
1. Digital chart
The EHR platform aggregates all the info about a particular visitor in a chart available in an electronic format. This record holds the patient's treatment history, personal details, results of laboratory tests, medical images, drug prescriptions, and can be used for quick reference. It also holds the insurance and billing details of a particular person.
2. Voice and handwriting recognition
EHR applications enable doctors to input patients' data into a digital chart in a number of ways: by filling in electronic forms, by voice, and many solutions also recognize handwriting.
3. Generating reports
EHR solutions are capable of generating reports targeting a particular patient's treatment plans, clinical notes, medication lists, and instructions. Physicians can create customized templates based on the current clinical needs and the type of visit a patient has.
4. Smart prescriptions
The EHR redirects the list of prescribed medications directly to the drugstore. On top of that, the system analyzes the compatibility of the drugs and suggests optimal dosages.
5. Alerts
The system updates healthcare companies and patients on further steps that must be taken and on deadlines for particular actions. The EHR app monitors if the patient has followed through his/her treatment plan.
6. Data analytics
The system identifies clients with the most dangerous health conditions and gives access to data that can help decide on an optimal course of actions.
7. Reporting
EHR systems are capable of reporting data to public health registries, to help them monitor the state of the population's health.
8. Data tagging and segmentation
EHR apps can tag patients' data as classified and share only parts of their medical chart in order to protect privacy.
Billing unit:
This EHR unit assists in managing the financial part of the patient's treatment and provides insights about the clinic's finances.
1. Generating invoices
After each visit, the EHR system automatically generates invoices, compiles and sends claims to the patient's insurance company and handles denials, unpaid claims and system exclusions.
2. Analyzing revenues and expenses
EHR systems offer insights into how the medical practice is performing financially as compared to other clinics, help monitor revenue streams and detect areas for restructuring and upgrades.
Online portal
The online Patient portal enables the clinic's clients to check their last visit's records, schedule the next visit, request drug refills, and have virtual conversations with their physicians. Most portals are also available in a mobile format and can process online payments.
EHR adoption tips
EHR platforms are advanced multifaceted systems covering every nuance of medical practice helping maximize its efficiency and improve patients' outcomes. Adopting EHR solutions, though, is a complex task and requires careful consideration and planning. The logical steps when implementing EHR software are as follows:
1. Assess your readiness
EHR platforms are highly efficient, but are you ready for their implementation? Typically, the evaluation of the organization's readiness covers aspects like corporate culture, management acceptance, workflow, operations, and the state of IT infrastructure.
Employee knowledge, skills, the level of EHR acceptance and their core beliefs and expectations about the adoption of new software will also need assessment. At the very least, this assessment will help you understand what stands in the way of a successful EHR implementation.
2. Map out your workflow
The next step involves mapping out your workflow. Start analyzing your existing workflow by following your patients' journey. This will help you understand which processes work best, and which should be improved. Next, envision how you want the EHR system to transform your operations.
3. Build a roadmap
A roadmap is a comprehensive document that should include an in-depth description of every step your staff should take to ensure a successful development and deployment of an EHR system. Implementing EHR may demand a set of very specific actions from the clinic's staff.
The roadmap will set you on the right track and outline an actionable EHR implementation strategy. One rule of thumb, though: start building it only if the health of your organization has a high level of readiness to accept new software.
4. Choose an EHR solution
By now you should have a solid understanding of your organization's needs, so it should be easy to choose an appropriate EHR solution. As you select a vendor for your EHR app, there are several things you should take into account:
hosting type: cloud or on-premise;
support for multiple devices and platforms;
integration with other EHR applications; and
HIPAA compliance in the US and GDPR compliance in the EU.
In some cases, though, out-of-the-box EHR software won't be enough to cover your organization's specific needs.
Below are some indications that you may need to create a custom system for your clinic:
You run a large organization with a complicated array of interconnected processes.
Your needs are unique and very specific.
It's critical that you keep your processes intact, and the new system has to fit them perfectly from the software, hardware, and security standpoint.
Coaching your personnel to operate a ready-made solution will take too much time and effort.
You are ready to invest into a unique, organization-specific EHR platform.
Custom EHR software development also has a number of tangible advantages over ready-made solutions: meeting 100% of your organization's needs, ease of learning, no additional licensing fees, and 24/7 vendor support. Its creation, however, may take several months; it's also critical that you choose a reliable and experienced software solutions provider.
5. Adapt EHR software to your organization's requirements
Choosing a custom-built EHR solution will save you a considerable amount of time, yet, configuring it and tailoring it to your needs can still be a lengthy process. Normally the adaptation has several stages:
adjusting your non-core processes to match the demands of the new EHR;
updating your existing hardware and software;
coaching employees; and
ensuring third-party integrations: the new software should integrate with the similar systems of other healthcare organizations.
6. Test and prepare
Finally, you're all set for the new software launch. Yet, there are some preliminary activities that you have to undertake to make sure you are ready to start using EHR:
test your IT and security systems;
simulate a patient's visit to see how smoothly it goes, then make the proper adjustments, if necessary; and
have an issue-resolution plan at hand: notify your vendor about the launch date, and ask for their support. Make sure your staff knows whom to contact if things go out of hand.
You may opt to launch the system all at once, however, it makes perfect sense to go for gradual deployment to eliminate issues that may arise on the way and give your staff time to adjust. Be warned, issues and difficulties are bound to emerge as you start using your new EHR system. Provide your staff with enough coaching and instructions to facilitate the adaptation.
7. Evaluate and improve
Is your EHR system delivering on the promise of better patient satisfaction and efficiency? The only way to find out is by constant monitoring and evaluation. Listen to your personnel and your clients: are they happy with using the EHR system? Which issues do they frequently report and what are their main difficulties?
Secondly, define which metrics are crucial to your success: profitability, number of transactions, and/or workflow efficiency? Compare how these metrics have changed after EHR implementation to see if there have been improvements.
Conclusion
Apart from secure data processing and exchange, EHR systems have an immense potential to improve healthcare outcomes. Preparing for EHR implementation and launch, however, is a complex task that requires readiness and acceptance on all of an organization's levels.
To fully benefit from the electronic health records, healthcare practitioners need a transition strategy that should include choosing a reliable vendor, that is ready to provide 24/7 tech support.
Need a custom-built EHR system to streamline your healthcare operations? At EasternPeak we are ready to give you a helping hand. Contact us now for a free consultation!
Read also: