Being very particular about quality, today's users are absolutely intolerant of low performance, functional bugs and compatibility issues of mobile apps they use. As a result, you get a high uninstall rate, a low conversion rate and lots of negative feedback in the AppStore or Google Play.

We offer a full range of mobile app testing services to find and eliminate potential problems your end-users may face. Enjoy our mobile testing service as a part of your mobile app development process or as a standalone service.
Mobile app testing services
Functional testing
We provide Android testing as well as iOS testing to verify the correspondence of your mobile app to the functional specs. Our mobile app testers will ensure your five star rating on the application markets!
Localization testing
When going worldwide with your app, you have to take into account the cultural nuances of each location along with such details as phone number, formatting or color code. We will prevent you from getting into a mess.
Security testing
Enterprise software has gone mobile, BYOD (Bring Your Own Device) trend defies the corporate security, and digital bad hats that look for private information are getting smarter. Eastern Peak will test the mobile security of your app and guard you from all these troubles.
Performance testing
High performance of your app is no longer an option, it is a must. You are expecting a thousand users, aren't you? So the load on your system is going to be appropriate, and you have to manage it. We will ensure that you are ready for the technical side of stunning success.
Usability testing
The cornerstone of success on the mobile market is a preliminary testing of your product on the target audience. It is only after you have ascertained that it is suitable for your end-users all over the world and on any device, that you are ready to take it to the world.
Addressing challenges
With the use of up-to-date bug tracking systems and QA tools, our mobile testing team addresses all the challenges you may face to launch a 5 star app.
Having vast device coverage, we will test your app performance and appearance at myriads of existing devices, with different operating system versions.

Our team will check the data consumption of your app, the speed consistency, as well as how it runs on 4G or Wi-Fi to make your mobile app flawless.

With mobile app performance tests we will help you ensure it doesn't eat up battery life of your device and it works well when power-saving mode is enabled.

We will ensure your mobile app is easy-to-use and intuitive for your target audience, as well as it has a user-friendly UI and engaging UX.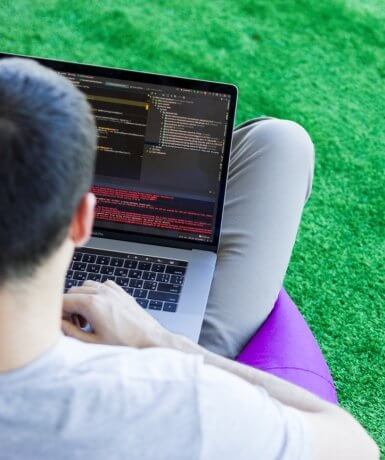 Приєднуйся!
Lead full-stack .NET розробники
Senior Deep Learning інженер
Senior та Middle Ruby розробники
Senior Automation Quality Assurance інженер (JavaScript)
Senior Automation Quality Assurance інженер (JavaScript+Appium)
Middle Full-Stack JavaScript розробник
Middle full-stack .NET розробники
Middle .NET розробник
Full-stack C#/.NET інженер
Technical Project manager
Копірайтер
та інші. . .