Here at Eastern Peak we have extensive experience in Android application development. We deliver custom Android applications of any complexity and scale: educational platforms, apps for business, Uber-like apps, puzzle games, car controlling tools and others.

Our Android app development company will take care of your application ensuring omnichannel customer experience from an initial concept to a final release and upgrade and fitting your business domain and budget requirements.
Android app development process
You will get full-cycle Android app development services to make your killer app idea turn into a reality.
We start the Android application development process by creating a user experience. To be sure that your app will be in great demand on the market, we carefully create user personas to ensure the highest quality UX. We go through it with a fine tooth comb in order to project the most detailed scenarios that explain how your potential user will behave when interacting with the app's interface. In this way we are able to satisfy all of the possible user's needs and in the most effective way.

We will make your Android application design tailored to your audience and taking into account standard UI patterns of Android platform that ensure smooth experience of the app. Also, because of the wide variety of Android devices we ensure your app will work perfectly on devices with different dimensions and screen resolutions.

Our experienced Android app developers will implement all of the designed features into the code and compound it with the visual appearance of the app, the user interface, so that you could have a product that will empower your business.

Before your app can be released on the market, there is one more step, the testing stage. Our experts carefully look for the smallest bugs that snuck into the code. We test the usability of the app on all the most popular Android devices. After the testing stage, you can be sure that your product is error-free and provides a great user experience.

So, your Android app is ready to be launched on the market. We release it on Google Play and deliver all the necessary marketing services to ensure that your app quickly receives thousands of initial downloads.
Benefits of android development
The widest audience
It is the most popular app platform in the world with the widest audience, holding roughly 80% of the global market share for smartphones, totaling about 1.4 billion users.
Short approval period
Because there is a shorter approval period with Google Play you are able to get your app on the market faster, even within one business day.
Variety of app stores
Android allows you to download apps from alternative stores. This gives its users a wider range of choices and offers new ways for marketing and improving the discoverability of apps created by developers.
Great marketing opportunities
Google provides tips on how to make your marketing plan and offers promotional tools to help your product find its audience and bring results.
Helping businesses and startups bring their product ideas to life and win the market.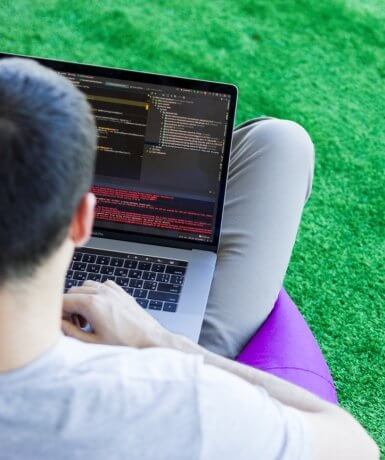 Приєднуйся!
Lead full-stack .NET розробники
Senior Deep Learning інженер
Senior та Middle Ruby розробники
Senior Automation Quality Assurance інженер (JavaScript)
Senior Automation Quality Assurance інженер (JavaScript+Appium)
Middle Full-Stack JavaScript розробник
Middle full-stack .NET розробники
Middle .NET розробник
Full-stack C#/.NET інженер
Technical Project manager
Копірайтер
та інші. . .