Mobile apps are skyrocketing and you have only one chance to make a strong impression on your potential clients before they start knocking on your competitor's door. We at Eastern Peak know exactly how to make your product stand out on the market and win customers' attention with great UI and UX design.

Our mobile app designers will create engaging, intuitive, and efficient UI/UX design that will work for your advantage. You can be sure that your product is unique, showcases your corporate identity, displays correctly across a wide range of devices and drives increased conversions.
UX/UI design process
With our own in-house UI/UX studio we create designs and animations of a different complexity level. All our designers work together with our developers, under one roof, to ensure a smooth collaboration and to deliver a one-of-a-kind experience.
Understanding your user
The design process starts by understanding your target users, their behavior and their needs and goals, thus identifying the persona and creating the mood board.
All of this will help define concrete design requirements and make it easy to move forward with wireframes and actual mobile app designs.
Wireframes
When we begin to develop the wireframes we take into account not only the persona and the mood board, but also the user scenarios which were developed during the first stage of functional specifications. At this point, attention is focused more on the functional side of the product, its features, and structure. Wireframes are usually done by our project manager in collaboration with our UX/UI lead.
UI design
At this stage the product is complemented with rich visual elements and a high-fidelity visual representation, providing you with a detailed look and feel of your product in a static way.
We will create engaging, user-friendly and stunning designs that will seamlessly communicate with end-users and make you stand out among your competitors.
Interactive prototyping
Here we will turn your designs into an interactive visual mobile or web prototype to show you how your product will look to the end user before proceeding to development. It will feature the app's UX/UI design, user flow and navigation, screen transitions and microinteractions, so that you could navigate through the app as if you were actually using it.
Gathering feedback
With our prototypes, you are able to conduct beta tests among your target audience, friends, colleagues and other people to better understand how user friendly this design is. Once the feedback is gathered, we apply the final changes to the design.
Helping businesses and startups bring their product ideas to life and win the market.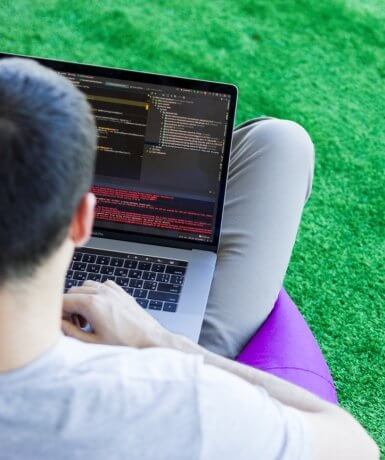 Приєднуйся!
Lead full-stack .NET розробники
Senior Deep Learning інженер
Senior та Middle Ruby розробники
Senior Automation Quality Assurance інженер (JavaScript)
Senior Automation Quality Assurance інженер (JavaScript+Appium)
Middle Full-Stack JavaScript розробник
Middle full-stack .NET розробники
Middle .NET розробник
Full-stack C#/.NET інженер
Technical Project manager
Копірайтер
та інші. . .