Professional logo design is the foundation of your brand. After creating it, you have to invigorate and connect it with your company and your services in the heads of your users. Business logo design is the kind of sorcery that converts users into customers and loyal clients.

Whether you are seeking a new logo concept for your startup or looking for a revamped logo to jumpstart your organization's rebranding process, we at Eastern Peak can help you build a powerful and consistent brand image that lets you stand out from the competition and take on the industry leaders.
Logo design process
Here we will guide you through our basic steps to logo development in order to properly convey a general idea of what your brand does to your audience.
The logo design process starts by reviewing and understanding your business's goals, unique value proposition, target audience, where the logo will be used and what you envision for your new logo. Our designers will show you various logo designs to understand your aesthetic preferences and come up with a visual style you like.

At this stage our logo designers will conduct research on your industry and competitors, what kind of logos industry leaders have, what logo techniques, brand colors and shapes work best and what are ignored, but could be a way for you to stand out.

Here we conceptualize ideas, capture relevant concepts, make decisions on the possible design directions around the brief and research, select the color scheme and sketch a variety of logo concepts to embody the message of your logo. These sketches serve to gather all the meanings your brand will represent.
Our designers seek for the right visual form to embody the message of your logo. These sketches serve to gather all the meanings your brand will represent.

Logo development process can take some time before arriving at a great concept. At this stage we narrow the designs to those that meet the concept of your brand, its message and culture, test them and then select the best ideas translating them into digital artwork.

We show you 5-6 best logos to specify the details and ask for your impression and feedback, then make changes if necessary to end up with the best solution. Usually there can be a couple rounds of revisions before the final logo is delivered.

Together with identity guidelines we deliver the final version of your custom logo design that will be on all your promotional products and website and represent your business the best way.
Helping businesses and startups bring their product ideas to life and win the market.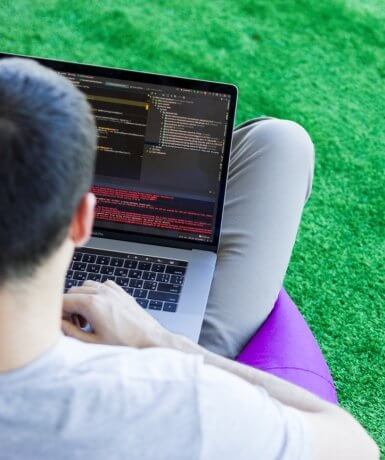 Приєднуйся!
Lead full-stack .NET розробники
Senior Deep Learning інженер
Senior та Middle Ruby розробники
Senior Automation Quality Assurance інженер (JavaScript)
Senior Automation Quality Assurance інженер (JavaScript+Appium)
Middle Full-Stack JavaScript розробник
Middle full-stack .NET розробники
Middle .NET розробник
Full-stack C#/.NET інженер
Technical Project manager
Копірайтер
та інші. . .