What is an app prototype?
A mobile app prototype is a testing tool that imitates the final version of the application. This product can simulate the app's main features and functions. Yet, it operates without a final working code or design.
Its main goal is to demonstrate how the final product will feel in terms of its design and interaction. Thus, it is not as well-developed or detailed as other testing products, for example, a minimum viable product (MVP).
Why you need a visual prototype
A prototype's purpose is to collect feedback from the user. Mobile app prototyping shows how users interact with an app by engaging with the app's functions and design. Later, developers use the gathered insights to refine the app's work and interface. As a result, it can be a powerful tool in pitch creation. The meaningful and detailed feedback shows everything investors need to know about the app's potential.
Overall, a prototype serves as a valuable extra step in app creation. Choosing to go with a prototype instead of rushing to an MVP allows you to save costs and time, since making changes during the prototype stage is much easier than later in the process.
Steps to make a prototype app
App prototyping starts as any app building process, yet it doesn't require coding.
This is how to make an app prototype in five steps:
1. Defining the purpose and functions
The building of a prototype app starts with outlining its purpose and functionality, just as in app development. It must have all the essential features that are most relevant to the user experience. Additionally, it's possible to build more than one prototype to test different ideas.
2. Creating wireframes
Now, a team needs to match the functional needs of the app to its design needs. Visualization is the second step. This stage focuses on planning the navigation and user flows.
3. Mockups
Mockups should show all interface elements, including the completed visual identity, and describe the transitional points between interactions. No coding is required at this stage, as the app prototype tools can complete all the work.
4. Testing
Testing is for gathering input and refining the product. At this point the work is complete and it is ready for collecting data. The prototype is shared among clients, stakeholders and end users for the application's review and analysis. It is often run a few times to collect plenty of diverse and informative feedback.
5. Improvements
The testing stage provides additional feedback and insights, pointing to the necessary improvements. The collected data helps refine the prototype, adjusting it to the customers' needs.
App prototyping tools that designers use
Designers use special tools and programs to create an app prototype, as they don't need coding at this stage. There are plenty of online designing platforms perfect for the task. Platform choices will depend on the goals and requirements, as each platform offers different features, templates, and design tools.
Here are the nine most common mobile app prototype tools:
Figma
Adobe XD
InVision Studio
Webflow
Balsamiq
Origami Studio
Sketch
Proto.io
Marvel
Book a call
Book a one-on-one consultation with our business consultants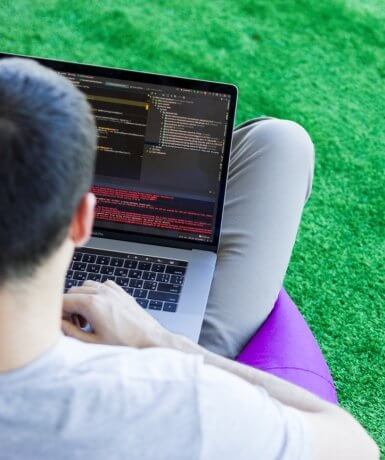 Приєднуйся!
Lead full-stack .NET розробники
Senior Deep Learning інженер
Senior та Middle Ruby розробники
Senior Automation Quality Assurance інженер (JavaScript)
Senior Automation Quality Assurance інженер (JavaScript+Appium)
Middle Full-Stack JavaScript розробник
Middle full-stack .NET розробники
Middle .NET розробник
Full-stack C#/.NET інженер
Technical Project manager
Копірайтер
та інші. . .