The article was updated on March 31, 2020.
Currently, there is no way for you to work at the office – quarantine has closed doors to millions of employees all over the globe. COVID-19 is here, and it has undoubtedly changed your team's habits and rituals completely. What is next?
Working from home is not a problem in most cases. In March 2020, 82.3% of enterprises in Japan have managed to implement remote work for employees. Strictly speaking, some specialists had already chosen this option before the novel coronavirus started spreading globally. But as of now, we have to deal with the shocking effects.
This article will help you choose the most effective instruments that make adapting to working remotely smoother, and we will answer your questions about building a brand new solution for a home office.
Types of communication tools
There are certain types of communication tools that exist to make your team perform even more efficiently. They all have one feature in common – their aim is simple, communication that exists on a level of maximum simplicity. These types of communication tools are as follows:
Meetings
This is the most logical and the most obvious means of communication. In our company we prefer to meet our clients face to face to get to know them better before doing business together. This helps establish trust, which is paramount in any outsourcing relationship.
Collaborative communication tools
These are special tools built specifically for clients and outsourcing teams to efficiently work together on a project from different parts of the world, in a real-time mode. They are usually browser-based and are necessary for sharing ideas and combined efforts in search for innovative engineering solutions.
Collaborative writing is a means of communication where documents and tables can be shared online. Users who are granted access can make updates in real-time from around the world; the most commonly known being Google Docs or different Wikis. Wikis can store whole databases, banks of knowledge and experiences, which are invaluable for your team's education.
Discussion tools or virtual communication tools
Emails, newsgroups, chat, messages: they all serve as quick and convenient ways of communication. There is now such a wide range of these applications which makes it easier to find exactly what you need. Our advice is to always keep the chat room open. It creates a common working environment, simulating live (in person) interaction.
Videoconferencing tools
Videoconferencing is now one of the most popular types of software communication and the reasons for this are completely understandable. When you can see the individual that you are speaking with, even through Skype, you can get a better sense of the type of person you are dealing with. It is a more personal way of communication than a simple phone call, and a relationship that can be developed from meeting someone (in person) can similarly be achieved.
Teleconferencing tools
Teleconferencing is another way to conveniently communicate amongst team members, colleagues, and clients. It is perfect for giving presentations, or when it is necessary to share screens, even if both parties are located on opposite sides of the world. It also provides an opportunity to share ideas, by giving participants the ability to make comments during the presentation. e.g. Sonexis.
Web-conferencing tools
Web-conferencing is perfect for interactive seminars and meetings.
Online office tools
Different web-based office tools, in other words, online office tools are multi-functional, as they combine project management with time tracking, e.g. ProofHub.
Sharing tools
Sharing tools are created for sending files or screenshots. You will need those to store and share documents or to quickly send screenshots to make a potentially long-winded explanation clearer and more concise.
What does it take to get started with remote collaboration?
What aspects of the normal business processes can be saved when working remotely? It all depends on the business model you work with and your aspiration to create a comfortable workspace during these stressful times. How to set up a remote distributed team? Here are five answers to this question.
Choose tools to communicate synchronously (calls and video conferencing)
Communication between employees is a key priority for many companies, so information should continue to efficiently flow between team members. Establishing a means to hear and see your remote team in real time is not a problem and will not cost you a fortune. With them, you will continue to have high levels of engagement and efficiency, as it had been prior to working remotely.
Choose tools to communicate asynchronously (messaging)
Talking to one person or the whole team between meetings is possible even if employees are far from the office or each other. There are dozens of messenger apps on the market built to ease up online conversations, both formal and informal.
Read also: Immediate Action Plan for Tech Companies in Response to COVID-19
Create one space to share and save all types of content
It is important to have one source of information for all team members – it builds trust and provides equal access to the information. All PDFs, video files, photos, and images should be stored in the cloud so everyone can get and use them.
Track tasks
Companies of any type have been using task trackers for a while. This is the best way to see all assignments clearly. Team leaders can follow and monitor their employees' workload and provide an up-to-date list of tasks, which allows for better coordination.
Update work schedules
Remote team collaboration is usually offbeat for people who got used to working in the same workspace. Possibly, workers need some guidance to establish their new routine. In this case, you can make a list of rules and regular meetings to help team members set up their regime.
The best virtual collaboration tools for 2020
As you already see, working from home includes several aspects, and there is a solution for every one of them on the market: time tracking, video conferencing, messaging, project management, and file sharing.
Read also: Ways to Increase Your Business Agility in the Digital Age
Project management
Jira

is a multifunctional collaboration app. In addition to project management functions, it offers a bug-tracking system and issue tracking. In the tool, you do not have to define each type of task as it has ready-made environments, applicable for different project management methodologies.

Asana

provides a quick overview of all projects and tasks that you are working on. It is designed to improve team collaboration and work management. Teams can create projects, assign work to teammates, specify deadlines, and communicate about tasks directly. It also includes reporting tools, file attachments, calendars, and more.

Trello

is a web-based project management application. Each project is represented by a board, which contains lists of tasks, and each list has cards with different tasks. It allows for unlimited tabs, comments, etc.

Wrike

solves a common problem: it breaks big tasks into smaller ones. With the help of Wrike, it is easy to track team members' progress and their contribution to the project. The solution also provides reports on how much time and money was spent during a given period of time.

Basecamp

is a universal project management tool to hold chats, share and send files, create to-do lists, manage milestones, track time, and much more. It is convenient if you are used to keeping everything in one place.
Asynchronous communication (messaging)
Slack

is a cloud-based collaboration tool and was specifically designed for organizational needs. Team admins or owners are able to conveniently join certain teams and groups via an invitation. It offers both chat rooms and direct messaging. Its huge advantage is that it combines many other services, including Google Drive and Dropbox.

Jostle

is an alternative to Slack. In comparison to other similar tools, it offers auto-grouping by locations, searching for people by their roles in the company, and planning enterprise events.

Yammer

is a private social network only for those who have an email address with your corporate domain. The admin can create groups according to any criteria, be it a task or a hobby. Communicating in groups allows reducing the "noise" from the whole team and focusing on a particular subject.

GoToMeeting

introduces a different way of co-working, a visual one. It is made for screen sharing.
Synchronous communication (video conferencing)
Whereby

is a free and easy to use tool for video calls. It allows users to create conference rooms and communicate within them. Interestingly, it all happens in the browser with no need to install an application. Just create a link and send it to your team.

Zoom

is one of the best video conferencing solutions for virtual collaboration. After quarantine announcements, this new app was downloaded

600 000 times

in one week. It is very easy to use: a host sends a link to other participants, and they can join even through the browser's window, with no need to download the app.

Google Hangouts

is a simple app for small companies with no budget for communication tools. There are basic features that you might need: a simple interface along with the ability to invite several people to the conference, and even record the conversation.

Lifesize is a video conferencing solution for both high-powered meetings and everyday communications. It fits in the workflow of your existing tools to give you the best video experience in the apps and meeting rooms you use every day. It's no wonder why many hospitals and medical offices use Lifesize to connect with other doctors and patients. In the wake of the COVID-19 pandemic, Lifesize is offering free, unlimited video conferencing service to all global businesses for six months.
File sharing
Google Drive

is the simplest and most popular tool to use in the cloud. You can work with text files, photos and images, presentations, sheets – all of it will be stored in one place and will not take up any space on your computer.

Dropbox

is another collaboration tool. With this application, you get an affordable business package with 1 terabyte of memory and a priority for the Dropbox support team.

MediaFire

is a simple yet reliable storage for your files. No extra features or numerous pricing options – this is the best instrument for virtual teams with a limited budget.
Time tracking
Time Doctor

is practically a virtual office. The main concerns for companies interested in outsourcing is to know how to manage a remote team and to be sure that employees actually work. With the help of Time Doctor, you can monitor and oversee the time spent on working, breaks, meetings, do an attendance check, review the websites and applications that members of your outsourced team visited, and more.
How to build a remote collaboration tool
You can now see that collaboration apps can strongly differ from one another: they have different goals and sets of features. Let's figure out what exactly you want to build.
Read also: Insider Tips for Building the Next Big Messenger App
1. Your final goal and target audience
What do you want to see in the end? Every new journey starts with this question. If you are interested in going down this path, make sure that your idea solves a particular problem and that it is useful for others. Once that is established, start conducting some research.
Define what your ideal user wants to get and then translate it into your business goal.

You should clearly understand the benefits that your remote collaboration software can bring to other companies. Do you know how to create a perfect messenger for remote teams? Or how about video calls? It is essential for you to pinpoint a unique advantage and identify the problem you are trying to solve.

Conduct market research.

Is it even worth trying? Maybe someone has already brought your idea to life, and your target audience is already using what you were going to offer. In this case, you may need to abandon the idea or create a winning combination of features to make your idea stand out.
2. The list of features
If you have already used similar apps, what would you like to add to their functionality? Now it is time to get into some of the details. This is what the features of communication and task tracking tools may look like.
The core features of communication tools:
live chat

conference calls

calls with video

screen sharing

privacy settings, etc.
The core features of task tracking tools:
lists of tasks with assignees, which also includes task description, comments, file attachment, and subtasks

calendar and alerts

additional tools like Gantt chart

tracking the file's versions and changes, etc.
3. The development stage
At this point, responsibility shifts over to a software development team. Without the help of an expert, you will not even finish the list of technical specifications. To get a better understanding, let's take a look at what an average development team would do.
Create a wireframe (you may call it a sketch) of the future app and then try it out, follow the user's steps.

Decide on the tech stack of the project.

Build the first prototype (a rough example).

Create the app's design.

Develop and test. These two steps are strongly connected. First, one should test after a certain development stage, then test when the development stage is complete.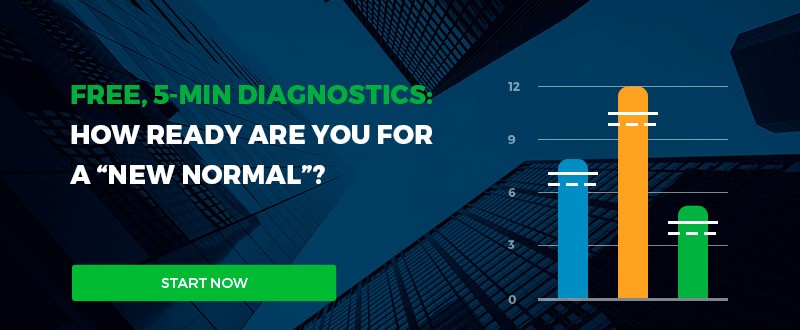 Stay safe and continue moving ahead
If you work remotely during COVID-19, it does not mean you will not be productive – we have outlined several examples of how to collaborate effectively if your team is working remotely. There are dozens of solutions available on the market to make your newly adopted work routine as smooth as possible. Be it communication or file sharing, you will find lots of variations to choose from.
On the other hand, the current situation demonstrates all of the drawbacks of existing remote collaboration tools and incites lots of entrepreneurs to create a brand new app perfect for a given target audience. Perhaps you already have some ideas of your own.
Let's talk about them! Eastern Peak's developers will gladly discuss the latest tech trends with you and help you decide on the perfect set of app features. Stay home but be creative.
Read also: