Technologies change consumers' habits and choices. Moreover, the faster and more complicated technologies get, the more dynamic and sophisticated customer behavior becomes, and businesses in this industry should be flexible to keep up with it.
Nowadays, brick and mortar retail store shoppers are pampered with the accessibility and frictionlessness of online shopping experiences, but they still want to go to physical retail locations. So, they seek a tailored but social in-store experience, enjoyable navigation, instant contactless payments, and more.
The retail store of the future can satisfy these expectations, and even exceed them. Shop owners can use smart retail technology, including AI, VR, IoT, robotics, and other latest developments to provide customers with the joy and convenience they want, and experiment to surprise them with even more exciting innovations.
If you want to run a prosperous brick and mortar store, it's time to learn the idea of smart retailing that will surely define the future of in-store shopping. Let's explore this innovative concept and how you can implement it in your business.
What is smart retail?
Smart retail stores are the next-generation shopping spots that deepen the interaction between customers and the shop to enhance in-store shopping efficiency.
Smart stores provide traditional physical experiences, powered by advanced digital experiences, turning common concepts and items into smart ones: smart self-checkout systems, smart inventory management, smart carts, and even smart mirrors and shelves. Some experts call this hybrid form phygital (physical plus digital) shopping.
Not only do these technologies help consumers make thought-out decisions and actually enjoy their time in shops. Smart store solutions change the structure of a physical store and make its owner rethink the work distribution among employees, improving their productivity.
How exactly is smart retail beneficial to store owners and shoppers?
Understand your customers better — Smart stores collect data about their visitors more precisely, thus creating a more holistic customer portfolio and helping them adjust their business strategy accordingly.
Make your store unique — Technologies used for brick and mortar are universal and can find their application in nearly any retail niche, yet, they are still flexible, so they can apply them in a way that will be suitable for their business concept.
Increase traffic and income — Thoughtfully designed, safe, easy-to-navigate, and interactive smart retail stores encourage visitors to come back and explore the store, bringing an increased and stable income.
Maximize operating efficiency — A shopping space with advanced inventory and client management systems and automated tasks helps the store function smoothly.
Make your staff more involved — Smart store technologies save shop employees from task overload by automating monotonous duties, so they can shift their attention to more meaningful, creative, social tasks.
Become a large competitor — Technologies alone won't bring growth, but a business can win the market and get an advantage over the hundreds of competitors who still stick to traditional retail.
What are the smart retail solutions demanded today that will be profitable later? Let's discover technologies that define the store of tomorrow.
Applications of smart retail technology
1. Smart mirrors
Even such a simple and common item can turn your location into a smart store if you apply AI, AR, IoT, and other in-store technologies. When transformed into a smart mirror, it can also perform the role of an advertising, information, or navigation board, as well as an advanced fitting space.
While trying on clothes or accessories, the visitors of the future brick and mortar retail stores will be able to select color variations and different environmental and lighting settings, visualize additional products to select complementary pieces, see where these items are placed in the store, and read necessary instructions.
The famous fashion retailer, H&M, is transforming its shopping locations into smart stores of the future. They plan to install different smart mirrors in their shops in the US for various purposes. While some mirrors will serve as interactive try-on sessions, others can identify items brought into the fitting room and offer individual recommendations.
2. Smart fitting rooms
A smart mirror is a core element of a technological fitting room. Smart rooms solve the problem of store inconvenience: In conventional brick-and-mortar stores, if the size of the item you picked doesn't fit you, you'd need to leave the room and manually search for another one, which can be a hassle and tiresome.
Smart fitting rooms allow customers to enjoy the advantages of a smart mirror, and if they need something more, they can effortlessly contact a consultant that can give them the desired piece, and they have no need to go out. So, retailers can now bridge the gap between visitors and consultants, and also make the customer journey more personalized.
Ralph Lauren has noticed a drastic change in customer engagement after installing smart fitting rooms in their stores. The brand also experienced some advantages for the staff, not only for visitors: Since fitting rooms can recognize the products tried on, employees can analyze which items are more or less demanded, and thus work on their business more effectively.
3. Smart shelves
In a smart retail store, there are little to know ineffective objects and solutions. Even shelves can play their part in making selling more manageable and profitable. Smart shelves are supplied with several sensors and cameras that can monitor the interaction with the items.
With this smart retail solution, store staff can track whether certain items are available and refill the shelves when needed. This can greatly help you avoid losing customers because they can't find the desired product size or color. The shelves can also identify if an item was misplaced, so you'll keep your inventory in order.
Moreover, data gathered by smart sensors can provide insight into the popularity of certain items. Last but not least, smart shelves will never miss a theft attempt.
The Trax smart shelves embody all the benefits of this technology, facilitating inventory management and enhancing staff workflow. Among other things, the shelves detect out-of-stock pieces, as well as pricing mistakes or discrepancies between online and in-store inventory.
4. Smart carts
A simple tablet can turn a shopping cart into an effective brick-and-mortar shopping and service tool. Smart carts accompany and guide visitors during the whole shopping journey.
These carts track the items customers buy and make personalized offers based on this data. They also help visitors navigate the store and reach out for help instantly. Often, smart carts allow consumers to pay for their products right at the cart, without waiting in a line. Shop owners, for their part, access data about customers' shopping pathways to manage item and ad placement wisely.
Veeve developed full-fledged technological shopping carts that bring the in-store shopping experience to a new level. Veeve's smart cart isn't a regular cart equipped with a tablet, but a well-thought-out tool to shop with mind and comfort. The cart identifies products the customer puts in, automatically calculates the total price, and has an automated checkout system. It also offers personalized recommendations for shop visitors and a remote cart management system for employees.
5. Retail robots
In brick-and-mortar retail, robots are associated primarily with hard or monotonous manual work. They clean the shopping space, scan products, or retrieve items from the shelves. Some of them can also act like large information stations and chatbots.
More advanced models may even deliver goods and replace different roles, normally performed by human staff. That's why for many businesses, it's a great choice for investment to save expenses on employees and certain departments. Smart stores that "hire" robots can also save space for storage. Last but not least, robots can simply entertain customers and drive their attention.
However, some robots have managed to take it a step further and are now responsible for social tasks. The Pepper robot, for instance, is a well-known "social" robot that can proactively communicate with customers in 15 languages, recognize their faces and emotions, answer questions, guide them through the store, and even take selfies with the shoppers.
6. Real-time inventory
In-store technologies for inventory monitoring are an important part of every advanced brick-and-mortar store because they allow employees to keep their stock under control. These solutions often include IoT devices, smart inventory software, barcodes, and RFID tags.
If you apply inventory tracking technologies, you'll optimize levels and avoid stockouts. It's an important part of customer satisfaction, especially in retail, as brick and mortar visitors hate to see their desired product out of stock. Real-time inventory technologies can also be used as analytic tools, as they help evaluate current demand.
An illustrative example of such smart software is inFlow, an inventory management system that keeps all necessary information in one place. You won't need any additional apps to take care of orders or shipping, as inFlow allows you to control every aspect of inventory management. The system records every placed and fulfilled order, as well as your income from them, and notifies you about refilling even before you run out of a specific product.
7. Interactive kiosks
Installing interactive kiosks is another way to enhance customer loyalty, save your budget, and gain additional revenue. These are interactive stations that allow smart store visitors to find their way in the shop and use its services on their own, without waiting for a store employee or in line.
Interactive kiosks can perform different roles or combine multiple in one device. Self-service kiosks are among the most popular ones, here customers can place an order or pay for a product on their own.
Another type of interactive kiosk is an information kiosk that allows visitors to find an item description or anything they want to know about the store and its products. Other types of kiosks include those that have interactive 3D maps of a shopping location or those that offer internet access.
Interactive kiosks are quite common in smart retail. The New York & Company clothing store also benefits from self-service kiosks that let visitors buy products on their own and even order delivery.
8. Digital signage & voice technology
Digital signage is a display, often even interactive, that can show any message you want to deliver to your visitors, whether a promotion, a discount, or even the story of your brand. Since the pandemic, many businesses have decided to utilize voice-enabled interactions with their signage to minimize physical touches.
These smart store technologies are also aimed at helping visitors discover products in shopping locations. They can use them on different levels: on the level of a department (so-called macro level) or a specific item (micro level). For instance, in a brick-and-mortar clothing store, you can search for an outwear section, or ask for a specific piece or fabric.
The Elo displays are designed for multiple purposes. Retailers can choose a stylish interactive monitor of different sizes to utilize as a smart store technology. Elo offers different configurations for their displays, so you can add cameras, NFC, barcode scanners, and other details to transform your digital signage into a self-checkout station or another device for a different purpose.
9. Self-checkout systems and mobile POS
Self-service systems are now considered a common technology, rather than a novelty. In brick-and-mortar stores, automated payment options may not replace the whole traditional checkout system but should at least be available for those customers who don't want to waste their time waiting in line for a human cashier to run a transaction.
Mobile points of sales also add flexibility for retailers and their customers, leveraging the convenience of smartphones and tablets in the checkout process. Self-checkout systems include NFC and barcode scanners for visitors to pay instantly for their goods. Also, you can use mobile scanners to scan QR codes on the products themselves.
Sitoo has developed a flexible, multi-platform POS solution that allows retailers to perform transactions via standard scanners, cash drawers, printers, as well as self-checkout systems and smartphones. The core of this solution is a native app for iOS and Android, accompanied by a cloud-native platform.
10. In-store visibility
Artificial intelligence and machine learning technologies can be used in various ways to improve business performance. You can track traffic flow and queues, create heat maps, and prevent losses.
However, specific cameras can be used for product tracking, too. So, you can see the item location and condition to maintain the quality of your products on the shelves. It can also enhance the work of your employees, as they will invest less time and effort to keep the store running effectively.
StoreTraffic has developed a helpful solution for retailers who want to get insight into their in-and-out traffic. It is a people-counting technology that consists of wireless hardware that counts visitors via sensors, and a mobile app that displays gathered data. With this solution, retailers can understand what drives customers to their shops and what should be changed to improve this statistic.
11. Shopper tracking
Thanks to new camera-based technologies, smart retail stores know their customers better than ever before. They can identify the features of their visitors to collect demographic statistics, but also monitor their actions in the store to improve the way they run their business.
By monitoring the path-to-purchase of store visitors, business owners can spot problem areas in their shopping locations, such as an inefficient checkout system, and solve the issue as soon as possible. Moreover, the store layout can also be improved based on the data collected by shopper tracking technologies.
Among these smart solutions are the AWS DeepLens cameras that can be used as an in-store innovation. When combined with Amazon Rekognition, these fully programmable and deep-learning-based cameras can gather and analyze images and videos automatically, as well as extract useful insight for your business.
Looking to develop your

smart retail solution?

We at Eastern Peak are ready to help you embrace and apply the latest trends of smart retail technology and create your store of tomorrow that customers will love!

Contact us
12. Curbside pickup
Curbside pickup is another wonderful solution for smart stores that want to offer excellent service to every customer. Particularly, it provides a kind of omnichannel shopping experiences for drivers, who want to make product pickup an effortless and worry-free moment on their busy days.
This process isn't fully automated, and you'll need responsible employees who'll bring customers' orders to their cars when they get to the destination. However, you can facilitate communication via your business app, and dedicated cameras and algorithms can indicate your customers' cars when they arrive, so you can timely hand over their orders.
Increasingly more retail stores include curbside pickup in their shipping options. The customers of True North Yarn Co. can use this free shipping method when checking out on their website.
13. Pickup lockers
Another smart store option for convenient pickup is pickup lockers. These are lockers gathered in a dedicated hub, where customers can pick up their purchased goods any time and without lines and interaction with human staff.
Store employees assign a particular locker and deliver a package to that location. Then, they send a unique code to the customer, and he or she can use it to open the locker and pick up the order at any time. Instead of a code system, some businesses use location trackers in their apps. In this way, the platform automatically identifies the needed locker, and customers can open them with one touch.
The Amazon Hub Locker is one of the examples of how large corporations employ pickup lockers as a shipment method. Amazon offers multiple locations where people can find their orders in the course of three days by following the instructions sent to their email.
Our work case of a smart retail solution
At Eastern Peak, our team of developers is experienced in creating smart retail solutions for brick-and-mortar stores. One of them is the Wiliot platform, an IoT-powered ecosystem for tracking and managing goods. The core of the system is a smart tag that gets attached to each item to track conditions around them, and an ML-based cloud that gathers and analyzes this data.
This system, quite straightforward and simple to use, combines the benefits of many other smart store solutions and ensures you keep all your products in view at every stage of their way to the client's basket.
Whether it's transported, stored in the inventory, or put on a shelf, the store employees can see what's happening to the items in one app, without additional scanning or physical presence. As a result, your goods are always kept safe, in appropriate conditions, and at the right place in your shopping location.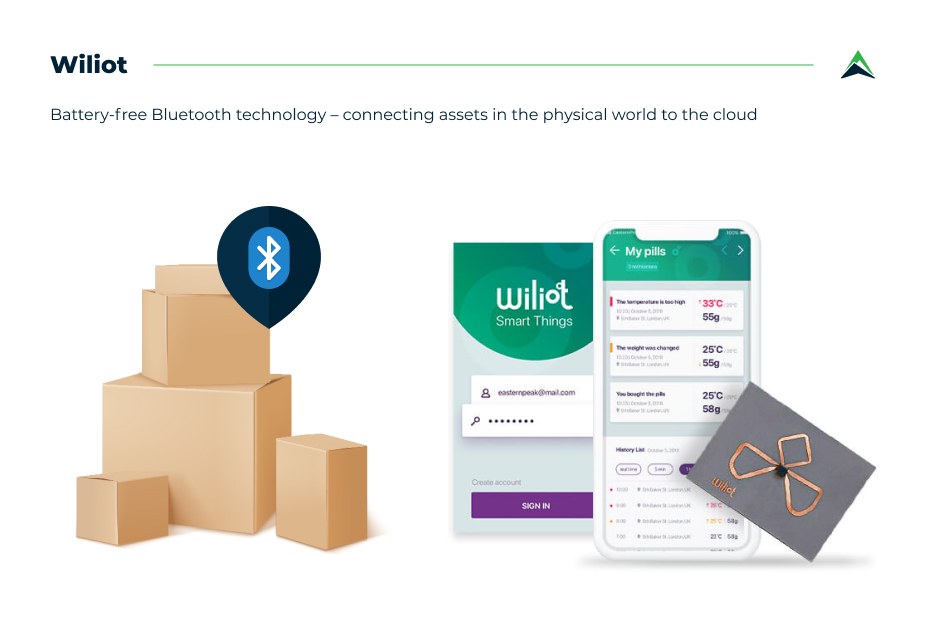 Things to consider for in-store innovation
When looking at all innovations available for retail businesses today, it's clear that the stores of the future will offer experiences that are totally different from what most brick and mortar shoppers know today.
So, how will the focus of smart stores shift in the future?
More eCommerce-centric — Online stores will prosper; brick-and-mortar retail won't compete with apps and websites but rather complement them organically. When going to a physical store, customers will still be able to find and pay for their goods online.
More digitally enabled — Digital technologies improve nearly any aspect of offline stores, and that's what customers will seek in the future: interactive, immersive, automated, and contactless experiences.
More personalized — From getting personalized offers and real-time notifications to engaging in the store app through gamification, the customers of smart stores will feel special and valuable, as well as fulfill their own needs.
More sustainable — Even today, customers tend to choose sustainable stores, so the ability to track and reduce the carbon footprint of your business, offer recycling options, use renewable energy, and organize eco-friendly delivery will be fundamental for future stores.
More integrated between offline and online shopping — The future omnichannel shopping will completely merge online and offline experiences. The omnichannel customer journey takes place in a joint shopping ecosystem, where you can pick up the products you bought on a website or pay online for the goods you just physically put in your cart.
Start your way into smart retail
Smart store technologies transform traditional in-store shopping into an exciting journey. Smart cameras, IoT devices, artificial intelligence and machine learning, VR and AR, advanced checkout, and other solutions erase the borders between familiar brick and mortar retail and the comfort and flexibility of online shopping, making the routine process of purchasing common things seamless, immersive, sustainable, and enjoyable.
If you want to build a store of the future, the Eastern Peak team is ready to help you embrace and apply the latest trends of smart retail software. Start with a free consultation with our experts.
Read also: