The article was updated on February 01, 2023.
Do you remember those times when we had to search for a house or apartment in the newspaper? The real estate market has changed drastically since then. Now real estate agents go online to list ads for houses and apartments, while their potential clients can reach a huge database in several minutes.
In 2021, 97% of people of all age groups used the Internet to find housing. No wonder that the real estate software market is blooming: Analytics predicts the revenue growth for this segment will be up to $18.66 billion by 2028.
But if you want to enter this market successfully and create a real estate app that would compete with its current leaders (Zillow, Trulia, Realtor.com, Redfin, etc.), it's time to learn this industry inside and out and apply the front-line experience of real estate app development.
We have gathered all you need to know on how to develop a real estate app based on our expertise and following the greatest market examples.
Why should you invest in real estate app development?
In recent years, the real estate housing market has transformed from a challenging, time-consuming, and cumbersome trade into an instant and effortless procedure. Now, the market participants can do their job on one digital platform, a real estate application or a website. With the advance of technologies and software development, their outlook also shifted immensely.
So, what do they expect from the modern real estate market? First, realtors strive to have a space for competition and build their brand. Second, homebuyers want to get access to all rental proposals with convenient search options, detailed house descriptions, pictures, and an option to plan their budget. Third, for every market participant, it's essential to build seamless communication, book in-person meetings, and legally finalize the deal within one app.
Not only do people use real estate apps for acquiring lands and homes, but they also rent properties regularly. In the US, for instance, that's done by almost 35% of all households. These figures prove that investing in a real estate app will pay off in full due to its evergreen relevancy and a huge audience.
Many businesses have already used this opportunity on a local level. In 2021, the Zillow real estate app got 36 million unique visits per month, which turned it into the most popular app of its kind, and it still maintains its position. Zillow has a range of functions necessary for convenient property management, from up-to-date info about offers to various filters, and for the whole thing, users don't have to pay a cent.
Real estate app developers dream of rising to Zillow's level and puzzle over the question of how to build a real estate app like it. You also have a chance to reach top positions in your area. However, all giants start out small. So, first things first, you may want to understand the basic principle behind this kind of app.
How do real estate apps work?
Apps for real estate can be very different. They may want to stand out by putting a special emphasis on some features or creating a unique design. You can also build an app for real estate targeting different audiences: homebuyers, tenants, sellers, realtors, property managers, builders, etc.
So, this kind of software has room for customization. However, building a real estate app boils down to an underlying working principle. Let's discover how to make an app like Zillow or Trulia by looking at the most common type of platform for renting and buying property.
So, how is a real estate app used from the perspective of a buyer or a tenant?
After going through the registration process, users can see a database of property listings. Here, it's essential to have flexible search options by using various filters like location, property size, prices, etc.
Users view properties (high-quality photos and visualizations are needed) and read descriptions. Description pages should be savable and shareable.
If a property is added to "Favorites", users can subscribe to status and price updates and receive emails and notifications; users can also save locations instead of concrete offers, so they know where new objects are added.
Users get in touch with agents or individual sellers and schedule an appointment to see the property in real life.
If users find the perfect home, they can receive and sign a rental or purchase agreement.
What are the benefits of real estate apps?
Before creating a real estate app, you should realize all the advantages you will get in the end. Apart from the impressive statistics data, there are some other facts for you to know.
A shorter way to an agreement. Choosing a new home through a real estate mobile app is much quicker than traditional procedures. Filters allow you to find properties in a short amount of time, and thanks to the latest technological solutions, you can view them from any angle inside and outside, and even do all paperwork in the same app.
The long list of clients.

If the customers' loyalty grows rapidly, it is not surprising that any startup will get a high number of closed deals and, subsequently, increase revenues.

Direct communication with customers.

Consumers love real estate applications because they can get an answer almost any time they need it. Agents benefit because they have all their clients gathered in one place, and they are aware of their requests and questions.

Easier marketing access to the target audience.

Thanks to the present day technologies, you can get a full portrait of your clients (i.e., web or mobile users). Their geographical location, search preferences, demographic factors – in real estate apps development, all this data is priceless for marketing campaigns of any size.

Simplified routines through automation. On a dedicated platform, a real estate business runs smoother, as ordinary tasks can be done by the app. So, while real estate agents and sellers get assisted by chatbots or data autofill options, their clients can automatically receive property updates or already half-done documents which they can instantly sign.
Higher efficiency for your brand's promotion.

This point is useful for those who already have an offline real estate business. There might be lots of competitors in your city or area, but it will change as soon as you launch your own Zillow-like app

.

You will stand out on the market and potentially will be able to go beyond your area's boundaries and build up your business.

Reduced ads expenses.

The app or website itself is a great way to promote your business. Providing a smooth search and several unique features, apps for real estate themselves are great advertising tools.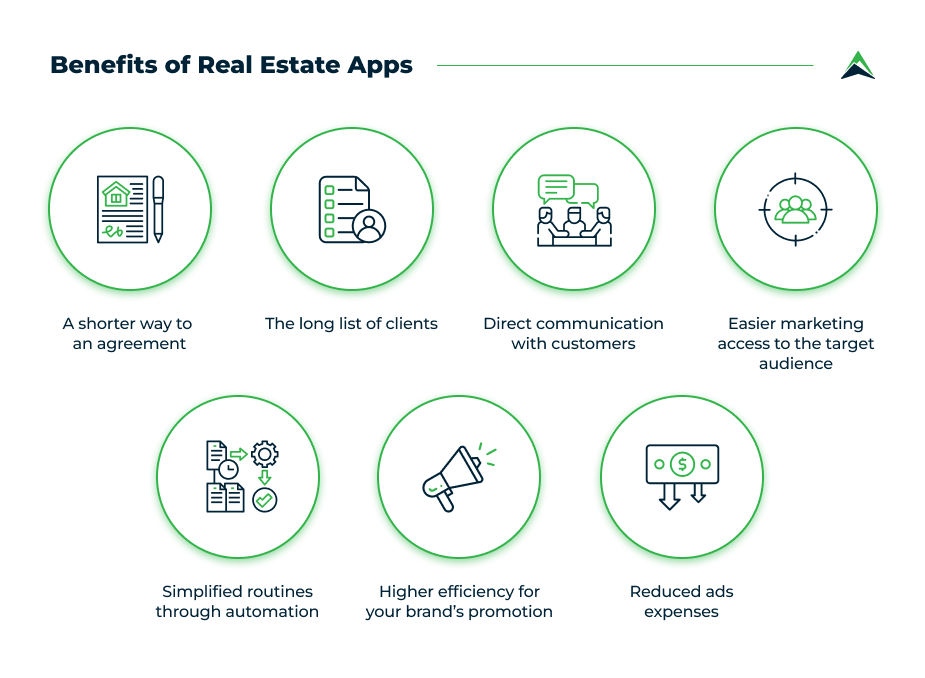 How to build a real estate app? 17 Must-have features
Real estate apps like Zillow provide more than useful data – they take care of the user experience. Anyone appearing on your website or in the app should clearly understand what step they have to take next and what benefits they eventually get.
User account. This is where it all starts. Both consumers and real estate brokers need their "personal space" to simplify their activities within the app. This part is also a magic wand for your marketing efforts – here you will find some personal data for user portraits. Also, the signup process is an important step. Along with a standard signup with a social network, it is better to add an offline registration for agents (for example, the ID information).
Analytics. The information about users, their interactions, devices they use, and the number of visits is stored in the admin panel – this is the place to find valuable insights about your target audience and your business model's success.
Search box and filters. There should be several parameters according to which users can conduct their search. Examples of search criteria: type of property, neighborhood, price, date added, number of rooms, etc. Users should have an opportunity to save their search parameters and get back to them later or subscribe to the updates of this search.
Property listings. It's a core feature for any real estate app. Listings can be added by agents and sellers, they display available property offers with concise information about it, as well as a carousel of pictures.
Property pages. Once a potential homebuyer becomes interested in an offer from a listing, he or she opens a property page to discover more details about it, e.g., more information on the price, neighborhood, owner, and most importantly, its visual presentation.
Comparison feature. It often happens that several housing options meet the requirements and wishes of a client. To help him or her choose the perfect property fast, there's a feature that compares these options according to the selected parameters.
Real estate agents listings. Buying or renting a home is a matter of trust, so users should be able to check some info about the agent. It may include a name and a picture, short expertise description, the list of properties, rating, and so on.
Favorites. Users mark that they like a house, and the list of favorites is stored in one of the personal account's sections. Updates on favorites should be delivered via a newsletter or notifications.
Push notifications. Such messages work similarly to email newsletters: It can be a notification about a new object matching the users' criteria or updates on the properties they added to their Favorites.
Virtual tours. They give consumers the most detailed overview of the property that you can provide online. For some searchers, it can be enough to compare a house or apartment with their criteria.
Geolocation. A virtual map is a great way to present the neighborhood where the property is located. Schools, universities, shops, malls – this information has enormous value for consumers. The opportunity to pave the route from point A to point B (where a home is located) is a great addition to the geolocation feature.
Offline tour bookings. The user can book a certain time and date to visit the property offline to make the final decision. Consider integrating a calendar and link it to each property, so both consumers and agents could see available times for showings.
Showings on demand. In case the client does not want to wait to see a house or an apartment, the feature of on-demand real estate showings can be used. The user sees what agents are currently near them and if they are ready to set up a meeting.
Ratings and reviews. Users can leave their feedback, not only for the property but also for agents they met with. First and foremost, word of mouth has a huge impact on decision making, plus, it improves the clients' loyalty to the app.
Messenger. It is a feature of major importance for real estate app startups. Instant messaging provides potential buyers with all information they need. Also, consider adding a chatbot feature – users will instantly get answers to the most frequently asked questions, while real estate agents provide more details for property listings.
E-signing feature. Nowadays, it's possible to do all necessary paperwork online, and the documents will still be valid. Developing a real estate app means assisting your users in the process until the very end. With an e-signing feature, contracts can be signed legally and safely, directly on the platform.
Price calculator. The price mentioned in the property card is not the final figure for homebuyers. The initial payment, bank's loan interest, loan repayment period – these are important indicators that help potential buyers to take the full cost into account.
How to build a database for a Zillow-like app?
The most crucial question for any real estate app is where to take data from. People would turn to your platform to find information, so here is what you can do.
Allow individual agents or consumers to add all the property data by themselves.

This is the most obvious but still one of the most important points. The app's flow should be clear for users so they could add and update listings on any device.

Add unique opportunities.

Make Me Move is Zillow's feature that allows homeowners to create a listing with their property and put "a dream price" for it. The potential buyers contact homeowners via email – no need for any personal information like names or phone numbers.

Creating such a proposal does not mean that you are actually going to move – maybe, you are only gathering interest or checking market demand. This listing can be deleted at any time.
Get information from the biggest real estate databases.

Every agent is probably a member of the Association of Realtors. It can be local or nation-wide. In the ES, the data from local associations is gathered in MLS (Multiple Listing Service), and Zillow takes information there. National organizations could be of help if you build an app targeted to many localities in your country.

Build a referral program. Referral programs are an age-old marketing method. Yet, it can be used in real estate apps as a way to engage more realtors. You can prompt users to invite their friends and colleagues, for instance, in exchange for exclusive features. Ideally, you can design a referral program that suits your chosen monetization strategy.
How to Monetize a Real Estate App?
So, we talked a little about how to create a real estate app – now it is time to make money from it. These are the strategies you should consider:
Monthly payments from agents.

Real estate brokers can obtain higher visibility and get more clients if they pay for featuring in the app. Their profile and listings appear among the first in the search, so it serves as an advertisement for their services.

Access to the premium features.

Advanced features are another option for agents to make their lives easier. Think like a real estate expert – what do you need for work? Let's say, you want the client base to be well-categorized and gathered in one place. From the app's side, the answer to this request could be regular reports. Zillow went even further and created a CRM for brokers.

Ads space.

There could be some space within the real estate app to advertise third-party services: interior design, repair work, home construction, etc.
Considering app development for

real estate?

Be it a simple app for a local real estate market or a complex platform for a nation-wide territory, we at Eastern Peak can help you with real estate app development to satisfy your business and market needs!

Contact us
Our experience with real estate app development
At Eastern Peak, our team helped Goldfarb Properties bring its innovative idea to life. It is a real estate application that allows clients to view properties on their own, using the app as a key.
This solution resolves several issues that are quite common for both homebuyers and sellers. With this app, they don't depend on each other's schedules and can offer and view housing whenever they wish. However, if buyers still want to keep in touch with sellers or agents, they can communicate with them via video chat or have a discussion during their visit.
The solution was especially appreciated during the pandemic, when keeping a distance was a requirement, rather than simply a convenience.
The main features of the app:
Detailed apartment profile
Access to approved apartments with a generated key for a smart lock
Geofencing: check in if you are close to the building
Push notifications for tenants if a visitor has entered an apartment
Online doors monitoring
Putting perfect homes on the mobile screen
No matter what, people need a place to live in, so the real estate market will continue growing and changing. It is not surprising that now we can find a home having only a smartphone in our hands.
The two crucial factors that will impact a real estate business online are a property database and the agents' interest to use the app. Beyond that, there are over a dozen features that can make consumers and agents stay with your app, so high-end development services impact your company's future.
Eastern Peak developers know how to make an app for real estate businesses of any size and are ready to share their ideas, skills, and experience to help you out. Contact us – and we will turn your ideas into reality.
Frequently Asked Questions
How do I make a real estate app?
The process of app development for real estate begins with market and competitor research. Then, it's time to find a reliable team of development experts and get into the discovery stage.
After you clarify your concept, target audience, budget, and app features, developers build an MVP, create the design, finalize the main version of the product, test, and release it. However, to keep your app fit, post-release maintenance is crucial.
How much does it cost to develop a real estate app?
The price for a real estate app usually depends on the functional filling of the future product, the team of developers you choose, the workload, the skills required, etc. You can define your product, set the budget, and develop the working plan during the product discovery phase.
How do real estate apps make money?
If you master real estate app development like Zillow, it'll be possible to transform your product into a huge source of income. In this branch, the most widely used ones are monthly fees, paid features, and advertising.
Read also: