The pharmacy industry has gone online. More and more drug stores are launching their websites and mobile apps, allowing their clients to order medicine delivery. The scope of this shift is impressive: the global online pharmacy market revenue is supposed to reach $250 billion by 2028, whereas early in the decade, it amounted to less than $70 billion.
Offering digital shopping options to their clients was, and continues to be, a huge advantage for pharmacy owners – it's convenient for the customers and opens up new promotion potential for the company. But since the pandemic locked down residents of cities and towns, medicine delivery became required more than ever before.
So, today, building an online pharmacy app is not only beneficial but rather a necessary part of the pharmacy business; that is if the pharmacy strives to hold a leading position in the market.
But what does a drug delivery app look like, how exactly will it boost the pharmacy business, and what are the main principles of the medicine delivery app development? Read on to learn more.
Understanding pharmacy apps
An online pharmacy application is a digital drug store where people can order medications and get them delivered in a matter of hours or even minutes. It works similarly to standard grocery shopping; users can select their medicine from various categories, read its full description, compare the prices for the drug, pay for it instantly and securely, and track the medicine delivery.
There are several types of pharmacy apps that target different business models:
Pharmacy marketplaces – The users of this kind of pharmacy app can choose from several drug stores registered on the platform and compare the prices between them. It's a perfect choice for new businesses, as they don't invest in their custom app and still can communicate their products to a wide target audience.
Online pharmacy store – These standalone medicine delivery apps are perfect for established pharmacy brands that want to reach out to their clients. These companies can customize these apps according to their policy and style.
Pharmacy store chains – These apps are pretty much like platforms for single drug stores. However, pharmacy apps for store chains imply features that help to manage several drug selling points of the enterprise.
Pharmacy apps are handy for users, as people avoid wasting time traveling to the drug store and waiting in line. But besides that, having a medicine delivery app changes the game for the business itself. Let's see how all parties can benefit from these digital products.
Benefits of pharmacy apps
Especially after the outbreak of the pandemic, people have become used to convenience. Younger customer groups will most likely prefer buying things online, including medications. Why exactly do they opt for purchasing from an online pharmacy?
Fast and safe delivery – If you order your medications online, you will get them packaged and delivered as soon as possible. Moreover, in the context of the pandemic, by waiting for your order at home, you will diminish the risk of infection due to minimum human contact.
Impenetrable privacy – For many people, using medicines online delivery feels more comfortable, as they can preserve private information and not share their order with other people like it often happens in a physical drug store.
A wider choice – Especially when we're considering apps for pharmacy marketplaces or store chains, customers have a large selection of products just at hand, so they can choose the best medication for their needs or most likely find a rare one.
Better prices – Not only products in medicine delivery apps are often cheaper than in traditional stores, but you can also get discounts, promos, and other advantageous offers. On top of that, some apps allow comparing prices between several selling points.
At-hand medication info – The clients of an online pharmacy have handy access to medication instructions and other relevant info, so they don't need to conduct any extra research.
So, having a pharmacy app installed is a win-win option for a customer. But how can a drug store benefit from offering an app-based medicine delivery service?
Enhanced customer experience – You already know what a good pharma app can bring to your clients. If you create one for your company, you'll definitely contribute to the customers' convenience and safety, and they will highly appreciate your work.
New promotion opportunities – By creating a pharmacy delivery app for your company, you step into the world of digital marketing with its great variety of promotion tools. Undoubtedly, it's far more productive than traditional advertising, so you'll bear witness to your business skyrocketing.
More customers and sales – As a result of a successful digital marketing campaign, incomparably more people will get to know your pharmacy and become your clients. Also, the more flawlessly your app works, the more often people will buy your products and create a stable stream of income for your company.
Competitive advantages – A high-quality app for medicine delivery and customer support along with excellent products and services can turn your company into a local or even global pharmacy industry leader.
Recognizable brand – Even the simplest medicine delivery application can distinguish your pharmacy business and make a name for your company, whether through design or any other hallmark.
Let's take a look at how some pharmacy businesses have already brought these benefits to life.
Examples of pharmacy apps
CVS
By the number of areas covered, CVS Pharmacy is the largest drug-selling company in the US. It serves over 9,600 areas countrywide and thus has one of the most popular medicine delivery apps. The company sells a huge variety of drugs, vitamins, self-care products, and related goods.
Besides fast delivery, the company offers favorable discounts, private pickup options, medication reminders, refills, and a bunch of other features. Customers have all drug-related information in one app, including data about the interaction of medications. On top of that, clients can reach out to a healthcare provider round the clock via video call.
Netmeds
The Netmeds app allows users to buy different kinds of health-related products all across India. These products include medications for all sorts of health issues, as well as homeopathy, ayurvedic meds, supplements, fitness items, etc.
The platform provides 24/7 support, so customers can make an order or contact a doctor via the pharmacy app whenever they want. The app sends a reminder when you need to refill the medicines you take regularly and allows you to book a lab test. The app users can also find plenty of trustworthy educational medical info.
PharmEasy
PharmEasy is an Indian medicine delivery application that sells various meds, as well as other healthcare-related products and equipment. Customers of the PharmEasy app always have a chance to get a great offer in the form of discounts and cashback.
Users can find all the information about their medication or product right in the app. A huge part of the platform is its diagnostics services. You can order a blood test or any other lab test online, book a full body checkup, as well as consult a qualified healthcare expert. The tests can be done at home, all you need is just to book one and wait for a worker to come and get your samples.
Capsule
People living in the US can enjoy free delivery with the Capsule online medicine delivery app. The platform's clients can ask their doctors to send prescriptions or refills to the app or do it themselves, and they will get it on the same day with no extra charge besides their regular insurance copay.
By using this app, users can track their delivery in real-time, as well as get in touch with the pharmacists via chat. The Capsule app assures that you can delegate refill management to it, so it will notify you before you run out of medications. It's also a great platform for doctors to provide a better client experience.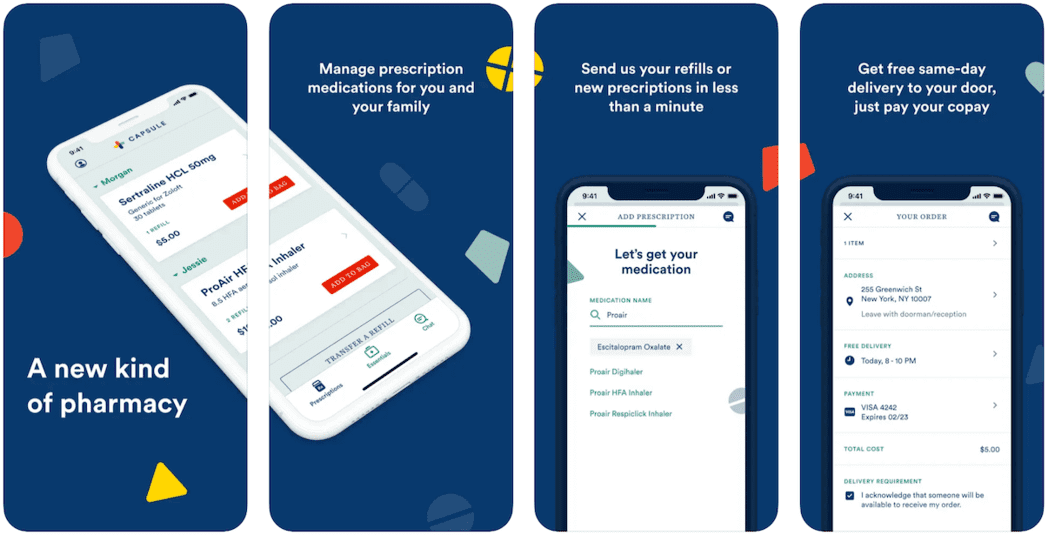 Pharmacy app features
Selecting the primary feature set is an important step in the process of online pharmacy app development, as it's the foundation for other development steps. This kind of app involves four user groups and specific features for each of them.
Let's walk through an outline of the most common functions that your pharmacy app should have to ensure a seamlessly working ecosystem.
Features for customers
Buyers are the central group in pharmacy app development, no matter what type of drug-selling app it is. Besides an enjoyable UI/UX, the application should include the following client-centric features:
Sign in / Sign up – Make the registration and login process seamless and fast. For that, you can allow clients to use their social media profiles or email.
Profile – In this section, users can add and change their personal information, and payment details, as well as see their order history, favorites, etc.
Search – Medications and other products should be sorted by category. The search bar allows users to find the right product or a nearby drug store.
Product info – Each medication or product should have a short and exhaustive description with all necessary information, such as manufacturer, price, dosage, side effects, instructions, etc.
Maps – Customers should have location tracking options to track their orders and see nearby pharmacies or hospitals.
Product order – In this section, users can confirm or change order and delivery details, or even repeat their previous orders.
Payment – Provide several payment options and make the procedure instant and convenient.
Notifications & reminders – Users can receive notifications about their order delivery status, medicine, or refill reminders.
Features for pharmacists
For pharmacists, it's important to accept and manage customer orders fast, efficiently, and without mistakes. Here is what you can include to help them work as efficiently as possible:
Order management – It is a platform where pharmacists can receive customers' requests and inform users about the status of their orders. This section may also include the history of all processed orders.
Warehouse management – It's important to keep the information about available products fresh, so pharmacists should be able to manage their catalog.
Price management – Pharmacists can change the price of the products, as well as inform users about discounts, sales, and other offers.
Payments – This section includes information about user payments, so pharmacists can receive charges and track their statuses.
Features for in-house couriers
A medicine delivery service can resemble Uber for pharmacy. That means, your app should have a separate section for delivery workers that make it easier for them to manage their orders.
Profile – Similarly for customers, couriers can add and manage their personal data, and clients will be able to see who is delivering their orders.
Order details – This information includes data about the product, customer's address, etc.
Navigation – This feature helps find the best route to the customer. To add this function, you can also integrate a third-party API.
Delivery management – Couriers should have an opportunity to change the order status as they deliver the product to the customer.
Notifications – This feature allows couriers to know whether there is a new order to deliver.
Features for admins
Pharmacy staff needs to have access to all the content and data. They should be able to track the app performance and update it. Here's what they need for that:
User management – Admins should have access to all user personal and financial information.
Analytics – This section helps keep track of all orders and deliveries, as well as see the pharmacy performance, including total monthly or yearly revenue.
Marketing – Include some tools for digital marketing to help admins create a tailored and effective promotion strategy.
Once you know how to build an online pharmacy app, it's important to consolidate your product legally. Let's see why it's important to follow official regulations and how you can do it.
Legalities to consider for Uber for pharmacy

Health information is a very private thing, and it should be in the right hands – that's the central narrative of most laws that are obligatory to follow for a successful launch of a pharmacy app.
You should always check the relevant regulations in your country or region or, even better, consult with a professional lawyer. We've listed only some of the most common ones:
The HIPAA regulations control the way users' health data is protected in the USA since 1996. According to these rules, the developers of pharmaceutical apps should safeguard software that handles user health data.
The HITECH rules reinforce HIPAA by empowering app users with more control over their personal data. The HITECH regulations imply that pharmacies should inform their customers if data loss occurs.
GDPR obligates every developer and app owner across the EU to tell their users about operations on their private data. The information about the way customers' data is gathered and used, and if there was a data leak, should be transparent for users. GDPR has its analogues in the USA (CCPA) and Canada (PIPEDA).
Legal compliance is a quality mark for your app that guarantees that users' sensitive data is protected. Last but not least, it will prevent penalties towards your product.
Summing up
Online pharmacy is an irreversible trend in the healthcare and drug-selling industry. Drug stores that have their own medicine delivery service are head and shoulders above their competitors that run exclusively physical store chains.
This advantage lies in leveraging digital marketing capacities, creating a recognizable brand name, finding and attracting more customers, and offering them more convenient and profitable services. But to realize the full potential, you need to have a high-quality online medicines app.
The Eastern Peak team knows how to create a pharmacy app that will turn your drug-selling company into a local leader. Get in touch with us to start your project in medicines online delivery.
Frequently Asked Questions
How do I create a pharmacy app?
Pharma application development begins with the discovery stage, which is defining your product, target audience, goals, set of features, and budget. Then, you have to visualize the product through prototyping.
Only then it's time for working on UI/UX, building the app on a chosen platform, and ensuring legal compliance of the product. Finally, the app gets tested and released and requires further maintenance. The tasks get easier when you work in cooperation with a team of professional developers.
How much does it cost to develop a medicine delivery app?
The price of a drug delivery app depends on a combination of factors, including the app platform, your development team location, technologies used, the scope of work, feature set, etc. All of that will be defined during the discovery stage which lasts for 4-6 weeks. We recommend starting with this step to agree on the cost for the app at the beginning of the cooperation with developers.
Which app is best for pharmacy?
To determine the right app type for your pharmacy, analyze the size and the structure of your company. If you're a new player on the market, it's better to use pharmacy marketplace apps, as it is easier for young businesses to find customers there. If you own an established drug store or even several selling points, it makes sense to build a medicine delivery app for a single pharmacy or a store chain.
Read also: