The destructive market impact that has resulted from the coronavirus quarantine measures have already driven many SMB companies out of business, while others are balancing on the verge of bankruptcy. As some business owners admit, their companies can only pull through one or two months of the quarantine period. Beyond that point, the future looks grim and uncertain. One thing is clear: because of COVID-19, SMB companies are in dire need of a quarantine 911 to help them adjust to a new business reality.
Below is a coronavirus small business guide to help you mitigate the detrimental lockdown impact, minimize losses, and emerge from the COVID-19 crisis as a winner. Read on to learn more!
The impact of the coronavirus lockdown on small business
For SMB companies, going through a coronavirus crisis implies surviving a change in customer demand, which, because of the lockdown, is shifting dramatically. Customers are putting their luxury shopping on hold, stocking up on the most essential items like groceries, detergents, sanitizers, and the proverbial toilet paper. Some of them have been laid off or suspended from their jobs and are forced to cut their spendings.
Because of the COVID-19 impact, e-commerce is on the rise: stores and shopping malls are closed. Consequently, clothing and accessories store owners are focusing on online trade. Even with a newly adopted approach, demand is low, and customers are less likely to spend money on clothes, and the latest collections and items of high street apparel than before.
Restaurant businesses are, admittedly, among the most strongly affected. Eating out is not an option during the COVID-19 outbreak, so restaurants have shifted to orders-to-go to meet the demand of the social distancing population.
Unlike restaurants that can readjust and offer food to-go, gyms and beauty parlors are closed, and some of them won't survive COVID-19. Although many coaches offer online lessons, some services do require human interaction and will have to wait until better days.
Conversely, while some businesses are struggling to survive, others are reaping revenues: apart from e-commerce, delivery and e-learning services have been on the rise during the pandemic. Since human-to-human contact can endanger both doctors and patients, we are bound to see the advent of telemedicine and remote wellness services.
Also, online video streaming services are booming, and a great variety of video-streaming Netflix-like apps are sure to hit the market, while broadband internet and public cloud providers are trying their best to scale in line with the increased workloads.
Yet, as per the NFIB Research Center survey, 76% of small businesses reported a negative coronavirus impact, and only 5% are positively impacted. The good news is, government intervention in most developed countries is already helping small businesses stay afloat. In the United States, for example, the Small Business Administration (SBA) is offering financial aid and expanding its traditional loan programs to help entrepreneurs survive the health crisis.
Apart from applying for government aid, here's a step-by-step survival guide to help you readjust and protect your business in the wake of the pandemic.
How to protect your business, support employees and retain your customers
A crisis is not just the trials and tribulations; it's also a time ripe with new opportunities. Some of the changes you make now will stick with you permanently. If you're ready to embrace changes, read on:
1. Utilize remote collaboration tools
Just like many teams during the lockdown, you and your employees are currently adjusting to working from home. Shifting to remote work isn't easy. Fortunately, there are lots of tools for facilitating team interaction: from video-conferencing to project management, and time-tracking. In the wake of COVID-19, remote collaboration tools serve as great assets to your business. Most of them come in free light versions as well as more complex paid versions packed with additional features.
Read also: Top 16 Remote Collaboration Tools and How to Develop One
2. Adapt your services to 'a new normal' in consumer behavior
The outbreak has caused a massive influence on what and how people purchase. With more than one-third of the world's population being under some form of lockdown, consumer behaviors are changing dramatically. Small businesses that have capacity to adapt to changes quickly are facing unprecedented demand for products and services that can guide people through life under quarantine.

Some businesses were able to adapt to the outbreak fast, forcing the ongoing evolution of their products further, faster and in more fascinating ways than ever before: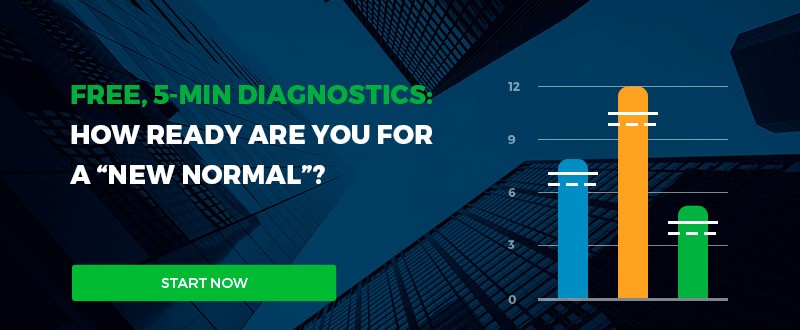 3. Choose a strategy for communicating with your customers
As part of your strategy to survive the coronavirus, planning for effective business communication during the lockdown is your #1 objective. If you rarely used the internet for business previously, it's time to increase your social network presence.
Update your website to let your clients know that you are working remotely during the quarantine. This will not only enable you to keep some of your leads but also instill a sense of reassurance into your customers. Transparent communication will ensure that they come back to you after the lockdown.
4. Change your marketing and sales strategy
Change is surely the most adequate coronavirus business response. You will have to adapt your business processes to physical and financial limitations. Here are some ideas you could start with:

Offer online deals: discounts, certificates, pricing changes, etc.

Focus on serving your customers through digital channels. Offer consultations and advice through messengers, face-to-face video conferences, online broadcasts, etc.

Conduct online marathons, questions & answers, and video product demos.

Offer additional services that are in demand during the quarantine, such as pick up services of a wrapped/sealed order without entering the store, "non-contact" food delivery, etc.
In the wake of coronavirus, business continuity is your primary goal. These steps will help you retain customers. Show them that your company is socially responsible and well-equipped to survive COVID-19.
5. Consider an online shift
This will not apply to all businesses, but for some entrepreneurs, a complete online shift will be a viable strategy. Most citizens of countries with developed economies own smartphones and mobile devices, are ardent Internet users and will look for products and entertainment online. Offline businesses can quickly switch to working online by utilizing bespoke app development. For companies offering delivery, broadcasting, and event services an online shift may be highly relevant.
One way or the other, the COVID-19 outbreak will subside, and the global economy will embark on the long and painstaking journey of recovery. How well your business survives the crisis will depend not only on its inherent resilience but also on how well you prepare your company for the coronavirus lockdown and its limitations.
We don't mean to sound overly optimistic, but for some small businesses, the coronavirus crisis may be loaded with opportunities. Because of the great shift in the job market, SMB companies have the potential to attract better talent and enrich their human capital. The shift in demand is also the best time for startups to introduce new products and services for the vast online market and its diverse community of customers.
Have an online startup idea that you want to bring to fruition? Contact our experts now for a free consultation!
Read also: