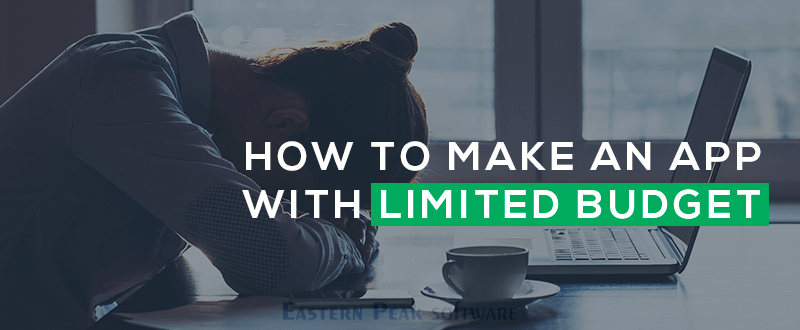 Is a brilliant idea the key to the success of a new startup? Competitive market realities demonstrate that a successful startup strategy consists of several components and the idea is only one of them. In this article we'll give you some useful lifehacks and a working formula that will help you bring your brilliant idea to life and on budget.
Following these simple guidelines will keep you on track and will help you avoid many downfalls along the way.
1. Market research
Make sure that there is demand for your app. Before going any further, we want you to answer the following questions:
What problem does your app solve?
Does the market really need it?
Are you sure you can find the target audience for you app?
Is it the right time to launch your product? Maybe you're ahead of your time and the market is not yet ready for it.
The goal of market research is to determine what value you can offer to your prospective users. By the way, someone may have already implemented your brilliant idea. Your target is to find a unique advantage that will differentiate your product from your competitors.
You can start surveying your family, friends and colleagues. Listen to what they have to say about your idea. Oftentimes their opinion will help you stay on the right track. However, it's necessary to reach out to a wider audience and to speak with total strangers. You want to find people who don't know you personally and who are willing to give an honest opinion.
Gathering more feedback
In fact, you'll never know whether your app will be accepted by the target audience until they start using it. You can gather feedback from the market and assess market demand by creating an MVP or prototype version of your application (see further below).
2. Raising capital
Product definition and visual prototype
Visual prototype is a great way to present your idea to investors in a professional manner, while keeping costs low. Working with many startups, here at Eastern Peak we have a special offer for startups to help them define their product, create UI/UX design and visual prototype and be ready to pitch investors in order to secure budget for an MVP development. You may find more information about this offering here.
With a full outline of what it takes to develop each and every feature, you can make smarter decisions on how your MVP will look like to ensure it meets your business goals and budgets.
Developing an MVP
You will need to validate your business idea when approaching potential investors, which is our next step.
Read our previous articles:
Sources for funding
You have an idea for an app, you've performed thorough market research and have created a business plan as well as an MVP.
Luckily there are dozens of options to finance a brand-new business. You can choose the type of funding that is right for you. If it won't work out then you just need move on to another one and try your luck there. Here is a list of the most proven methods:
Private investors. One of the most popular ways for raising startup capital is finding a private investor (also called an Angel Investor or a Venture Capitalist). Angel investors and Venture Capitalists offer different business engagement models but the idea is the same – invest in your project in return for a share. Business Angels are more preferable source of funding at an early stage (seed stage). There are many online platforms that will help you find a private investor, such as AngelList or Gust;
Crowdfunding. Simply put, crowdfunding allows you to raise capital by asking a large group of people via social media and crowdfunding platforms to contribute a small amount of money. Crowdfunding is the most vulnerable to idea theft because it requires entrepreneurs to share ideas with the public. However, it is the most popular and the easiest way to get funded especially for small businesses. Sharing business ideas with the public allows to quickly test the market and gather customer feedback.Here you will find a list of the top 10 crowdfunding sites.
Grants and loans from private foundations and government agencies. For example, the U.S. Small Business Administration (SBA) provides microloans up to $50,000 for small businesses. If you're not a USA citizen try to find a similar financial institution in your country which is backed by the Government;
Bank loan. Usually banks are the first place that entrepreneurs turn to when thinking about funding, but it's very difficult to get approved and in most cases they are turned down. Plus, even if you get a loan it is very hard to secure it. A loan from a bank involves the usual process of sharing the business plan and the estimated budget;
Friends or family. Borrowing from friends and family may not be a good idea because it may ruin your relationship with them in the case of failure. However, according to research, 36% of funding for startups comes from family and friends.
Small notice: You may be tempted to ask your investor to sign an NDA (Non Disclosure Agreement). We must warn you that most investors don't like signing NDAs and in most cases they won't. Asking to sign an NDA may actually damage your reputation and credibility. But don't worry about it. Read this post by Alexander Jarvis, a Chief Operating Officer at Taiger, where he explains in detail why signing NDA with your potential investor is a bad idea and you shouldn't do it.
3. App development
What's next?
Now is the time to start developing an initial version of the application with a limited set of functionalities based on the MVP created earlier. Create an app just for one popular platform (iOS or Android), get it on the market as soon as possible and see how the market accepts that prototype version.
Read more about:
If the prototype version gains recognition by the target audience and survives in the market then keep going. Start gradually adding other features with each development cycle. This methodology is called Agile.
By using iterative and incremental development strategies you can be sure that, in the unfortunate case that your project fails, it will fail at an early stage of development and at minimum costs.
Learn more about Agile software development in our previous articles:

Agile vs Waterfall Project Management: Which one to choose?

Agile Offshore Software Development: Best Practices
Development is the most responsive stage of your startup endeavor, and it is where the majority of funds will be spent, so don't save on it. Everything else can be sacrificed, but not the development! You need to find experienced professionals. A bad user interface design and poor performance can just bury once and for all your brilliant idea. It can potentially be the nail in the coffin.
4. Managing resources: is it possible to reduce costs without losing quality?
Keep track of your resources to avoid a situation where you just run out of money. This is actually the most common reason for startup failures.
The best way to significantly reduce costs without losing quality is to resort to outsourcing.
What roles can be outsourced at early startup stages?
You should outsource tactical roles, but not strategical ones. Strategical these are roles carried out by the startup's COs, product managers etc., the decision-making people.
Tactical – they are your employees such as developers, designers, testers and project managers. They perform necessary tasks for you but aren't responsible for the overall strategy.
Well-established outsourcing companies offer fully staffed and dedicated teams of developers. There are many other benefits of outsourcing besides saving money. Here at Eastern Peak you can choose from a full range of engagement models and recruit a remote team of developers that will best suit your business needs.
When choosing an outsourcing provider you should know:
5. Marketing campaign
In order to get initial traction, a good marketing campaign should start as early as possible. The early stages of development doesn't require a lot of money, and you can do it on your own. Advertise your product whenever and wherever you can: social media and content marketing, Google/FB ads, emails, creating a landing page for your product, teaming up with other startups, launching parties, etc. Engage the customers, get their feedback and use it to modify your product.
One thing you must keep in mind is that scalable development of your product also means a scalable marketing campaign. Be prepared for gradual growth and expansion of your business. You should start investing heavily in marketing only after your business has firmly established itself and starts getting serious traction.
Have a great idea for an app? Following these steps will help you take that idea and transform it into something beneficial and profitable. Eastern Peak is here to support you every step of the way!
Read also: