Sports is an evergreen topic. It has always been popular, and nowadays, it's more beloved than ever, thanks to its accessibility. But sports fans need something more than watching games anywhere and anytime. They seek entertainment, and here, fantasy sports and sports betting apps come into play.
The idea of selecting real-life players and betting on them is not something new. However, this gambling-like thrill combined with watching favorite games is refreshing every time and will always be valuable. In fact, the fantasy sports market is experiencing active growth: It's projected to reach up to $34.66 billion by 2027, compared to its current size of $20 billion, as of 2022.
No wonder fantasy sports app development has appeared as an attractive domain for entrepreneurs who strive to found a profitable company. They don't need to worry about their audience either: In the United States alone, over 50 million people are engaged in fantasy sports.
Want to jump into this market and create your own fantasy sports application? Stay with us to discover how to start a prosperous business in this field based on the examples of current top fantasy sports apps.
Understanding fantasy sports
A fantasy sports application is an excellent choice for people who seek a more interesting and proactive variation of sports betting. In this kind of app, users need to use, on one side, their knowledge and intuition to select the right players for their fantasy teams. On the other side, the results of the tournaments don't rely fully on them but rather on the outcomes of actual competitions.
So, users can demonstrate their skills and enjoy the excitement of betting and competition at the same time, which significantly amplifies their experience while watching the sporting event.
Fantasy sports correlate with actual competitive sports, so people can find different types of such apps, for example, a fantasy football app, a fantasy basketball app, a fantasy hockey app, and many more in line with their interests.
The sports industry is huge, so fantasy sports apps face competition with other branches, primarily with the sports betting business. Which begs the question, why put money into building a fantasy sports app, rather than any other digital product? Let's look at the benefits of this business.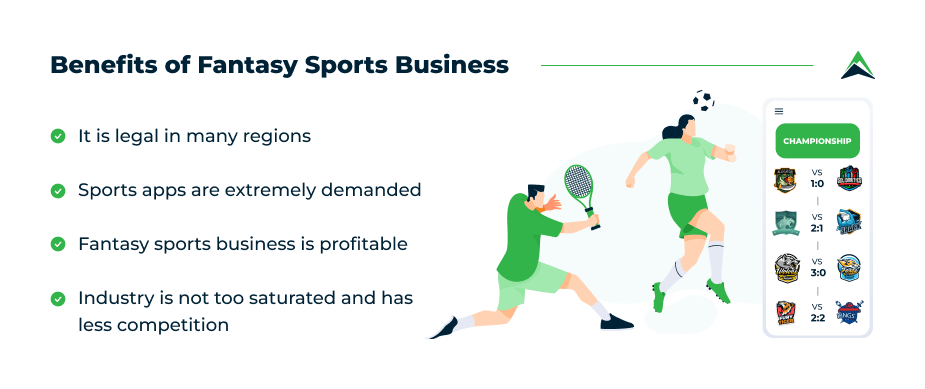 Benefits of fantasy sports apps:
Apps for fantasy sports betting are legal in many regions, even where classic betting platforms are banned.
The accessibility of fantasy apps makes them beloved and extremely demanded. Also, these apps aim at an audience of a wide age group, so you will surely build a great user base.
A huge number of active users makes a fantasy sports business profitable, especially if you leverage ads, fees, and other marketing methods.
On top of that, the fantasy sports industry is not too saturated and has less competition compared to other branches, so you can launch a unique product and find your audience easily, especially if this concept is new to your region.
Now that you know a little more about this niche and likely feel excited about creating a fantasy sports app. Let's start with some of the basics. What is a fantasy sports app in practice and how do sports fans use it?
How does a fantasy sports app work?
Although there are so many types of fantasy sports apps, they all work on the same principle. After registration, users can build a team by selecting actual players, even if they play in different teams in real life. For that, they can also use various team building models. Users assign the captain of the team and start a match with other users.
Usually, users can adjust their teams over the course of the contest. They get points according to their chosen players' outcomes in real-life competitions. If a user gains the most points, he or she wins the prize.
Based on this simple principle, you can create a fantasy sports app that attracts thousands and even millions of sports fans, just like many businesses have already managed to do. Let's explore the best fantasy sports apps so far and see which features helped them win a place among market leaders.
The top 6 fantasy sports apps so far
FanDuel
FanDuel belongs among the first fantasy sports apps, and with over 12 years of experience, it has built a user base of over 6 million sports fans. Even now, FanDuel remains a leading fantasy app, as it has customized its platform for users with various needs. The app offers a great selection of games and competition formats, affordable fees, and beginner-friendly matches.
Underdog Fantasy
Since its launch in 2020, the Underdog Fantasy app has gained huge popularity. This free app is known for its user-friendliness and great design with light and dark modes. This fantasy sports mobile app includes a bunch of various contests. The app strives to give every user a chance to win, thanks to the platform's smart algorithms that won't make you compete with highly advanced players.
DraftKings
DraftKings is another well-known fantasy sports betting app that has many helpful features and a great layout for its players. It offers a variety of contests with huge prizes, among them is a weekly $1 million competition. These tournaments are easily available even for beginner users, as the app stands out among other fantasy apps by offering a free contest feature for newcomers.
PrizePicks
Although PrizePicks is among the youngest sports apps in this field, it managed to reach top positions in one year, getting hundreds of positive reviews and high rankings. Along with traditional fantasy sports types, it also offers contests in many others spheres, such as eSports. Users can also get different kinds of bonuses and promotions, including payout boosts, flash sales, and discounts.
VividPicks
VividPicks is not as large as its main competitors, nevertheless, it's rising rapidly. The app not only uses popular fantasy sports business ideas like bonuses, a selection of different sports, and a convenient interface but also shifts an accent to a community facet of fantasy sports. VividPicks offers different social features, from adding $100 for each person you invite to connecting with your friends (tracking their progress, having a match against them, and much more).
Monkey Knife Fight
In the Monkey Knife Fight fantasy sports betting app, you'll find not only fantasy football, basketball, and other conventional sports, but also some unique contests you can barely find on other platforms. When it comes to bonuses, MKF keeps up with its competitors, offering users lucrative bonus options. This app is less beginner-friendly than those mentioned above; it's probably intended rather for experienced bettors, for whom the app's structure and games won't be complicated.
As you can see, every app that is claimed to be the best fantasy app has its outstanding features, but they still have the same principle core that they were built on which ensures a flawless user experience. Let's discover how to build a fantasy sports app with its basic features.
Looking to make a

fantasy sports app?

We at Eastern Peak can help you create your own fantasy sports application and reap all the benefits of entering this niche in the sports industry.

Contact us
Features of fantasy sports apps
To make your fantasy sports app function correctly and turn it into an enjoyable experience for sports fans, you need to include some must-have features for the app users and admin panel.
Here are essential features for users required for your sports app:
Registration — Users need to create a profile quickly and conveniently before using the app, adding only basic information like the name, nickname, email, etc.
Profile setup — The profile should be manageable and customizable. Allow your users to change their profile picture, refresh their personal data, check their achievements, and more.
Landing page — On this page, users can see current and future tournaments and events, filter, find and select them, receive offers, and so on.
Team management — Here, users can assemble their teams and get info about their real-life match performance.
Join contest — This part of the app shows the description of the chosen event and pay the fee to join it.
Contest — Here, the participants can view detailed information about the tournament, such as contest type and size, winning range, etc.
eWallet — Participants can use their digital wallets to track their deposits and see the transaction history.
Notifications — With this feature, users get notified about future events and receive info about current matches they take part in.
As for the admin panel, here are essential features for the admin to consider:
Dashboard — Here, the admin can view some general info about events, the number of players, and their total earnings.
User management — This feature gives the admin the power to edit, deactivate, or delete user accounts.
Event management — The admin can perform similar actions, like the ones with user profiles: add, edit, or delete contests, as well as manage their categories.
View earnings — This page allows the admin to view the earnings of individual users and the history of their wins and losses.
Report management — The admin gets summaries about users' rankings, earnings, and other app-related data in the form of reports.
Notifications — The admin is "on the other side" of the notifications, sending users reminders about upcoming events, offers, information about contest results, etc.
Customer support — The admin can communicate with users, receive their requests, and solve problems.
Besides all these features, you can choose among some additional features like a chat and in-app calls, advanced search, location tracking, live streaming and statistics, analytics, leader boards, offers, loyalty programs, sports quizzes, sharing, and more.
Adding the right features to your app is a central stage of fantasy app development. Yet, to make your product sought-after and profitable, you need to consider other aspects of this process.
We've prepared some tips on how to create a fantasy sports app that can help you successfully get into the industry straight away and get off on the right foot.
How to start a fantasy sports business?
1. Niche
Your first step should be designing a concept for your fantasy app. Start with the niche for your product: What sports do you want to add to your platform? While many apps strive to cover as many sports as possible, others can focus on a few or even one type of sport, for instance, only fantasy football, hockey, baseball, eSports, etc.
2. Market research
Before you learn how to make a fantasy sports app, it's important to get to know more about the market and its current leaders.
For instance, see what analysts say about the size of the industry and its future, get to know laws and regulations, find the top apps, and read reviews to analyze what the strengths and weaknesses of these products for real users are. This article provides some of this information, so hopefully, you have a firm base to go on with your research and development process.
3. Leagues to be included
The essence of any fantasy sports betting app is the ability to refer to real players and actual competitions, as the results of these tournaments determine the points users gain in the app. Therefore, you need to choose the leagues you want to include in your fantasy sports app, and the more of them you add, the more multifaceted and exciting the game will be.
4. Monetization options
Fantasy sports apps can be a wonderful source of income since it usually attracts thousands and even millions of users. In this case, you have to decide on your fantasy sports business model before the development process itself, as it determines user journeys, the feature set for your app, etc.
So, how do fantasy sports apps make money?
The most widespread monetization model is charging a fee for participation in contests and events. Although apps usually charge a small sum, as a result, you can get considerable revenues because of the large number of players. Other popular monetization options are advertisements, the freemium model, or adding different engagement models.
5. App development
At the app development stage, it's time to decide on the core and the additional functionality of your app, as well as choose the platform for your app (Android or iOS). Then, it's time to get to the development process, choose the design, and build an MVP.
Most likely, you will want to find a tech provider that delivers fantasy sports app development services of excellent quality for a reasonable price. This will help you avoid common mistakes, you will not overlook important legal regulations, and you will have a chance to request app maintenance services after bringing your app to the market.
6. Keep up with tech trends
Expert fantasy sports app developers always check out the newest developments in the tech industry, keep up with the current trends, leverage them in the app, and update the products to make them stay competitive.
For instance, you can provide an exclusive immersive experience of a match using augmented or virtual reality. Also, blockchain technology serves as a means of data protection in your app, and AI and ML can improve the overall quality of your product by gathering and analyzing information about your users' behavior and providing them with a personalized experience.
7. Marketing
Like with any digital product, it's not enough to know how to develop a fantasy sports app; you need to spread awareness about your business and your app. You can do this through affiliate marketing, running social media profiles, interacting with search engines, creating content, and using other marketing methods.
Moreover, such strategies as communication with your users through email marketing and different offers can maintain their interest in your product.
Creating a fantasy sports app: Bottom line
Fantasy app development is a young unsaturated market, yet a highly profitable and promising niche for those who want to start a sports business. It's a mutually beneficial solution for you as a business owner who would like to have great returns with low investments, and for sports fans in your region as well as all throughout the world who want to enjoy their favorite games and get exciting experiences from matches and legal betting.
At Eastern Peak, we know how to start a fantasy sports business successfully and are ready to share our expertise to embody your ideas. Reach out to our consultants to begin your journey of custom fantasy sports app development.
Read also: