The article was updated on May 7, 2020.
The wellness industry is a highly profitable market currently worth $3.7 trillion. Taking into account the booming adoption of IoT, led by wearable devices, it is no wonder that Health & Fitness was among the most popular app categories last year. And this year due to the COVID-19 lockdown people have been started to workout at home more than ever before.
That is why fitness app development is currently in high demand as both, leading brands and startups, in the fitness and wellness sphere are investing in mobile development to gain a unique competitive edge.
This article condenses our expertise in building fitness apps, as well as our understanding of the market specifics. So, whether you want to stay on top of the current trends or you are ready to build your own sport and health app, this article is for you.
Market overview: Best fitness apps and popular app types
Running apps
The apps that track users' running or cycling routines rely heavily on GPS capabilities. They either use a smartphones' sensors to track the distance, speed, elevation, etc., of the workouts, or they integrate with fitness trackers/smartwatches.
One of the most popular apps in this category is Strava. The app is available for iOS and Android. It is possibly the best fitness tracking app for athletes, offering seamless activity logging, and rich insights into its users' recent activity.
The key advantage of this app is its social focus: Strava is basically a social network for athletes where its users can share their achievements, find motivation, follow the progress of their friends, or join different clubs based on their interests.
Here are some more running apps that are worth a look:
Gym apps
Unlike running apps, this category does not require GPS features. It is focused on tracking users' exercise routines in a gym rather than at home or outdoors. Such an app can be also referred to as a "workout checklist app", as it is mostly used to keep track of gym routines, log exercises, and progress made.
One of such apps is Gym Workout Tracker by Fitness22. The app is available for iOS and Android, and has a large database of gym exercise routines and workout variations. The routines are classified by complexity level, equipment, and muscle group.
This gym app offers different types of content and descriptions for each exercise, as well as an opportunity to customize or create unique routines.
Another good example of gym application is Jefit.
Yoga apps
Yoga apps take a similar approach to fitness tracking. They offer a number of preset exercises and classes of various levels of complexity, and focus on specific goals.
Probably the best yoga app is Daily Yoga. The app offers over 50 plans (including more than 200 guided yoga and meditation classes) from beginner to advanced levels. It also tracks users' progress by keeping records of practices and classes.
Similar to Strava, Daily Yoga has built a strong user community within the app, offering a number of social features.
Here are a few more yoga apps:
Personal trainer apps
Personal trainer apps offer personalized, guided fitness programs, tailored to the user's specific needs. Created by professional coaches, the fitness programs usually feature audio/video guides to assist its users in their workouts.
Handstand is a personal trainer app worth a special mention. This Uber-like app offers on-demand personal trainer services. In addition to the standard trainer app functionality (workout plans, related content, activity log, and user history), users can connect with local coaches and schedule private training sessions in person.
A couple of the best personal trainer apps:
Activity tracking apps
While activity tracking capabilities are often integrated into other sport and health apps, there are a number of standalone apps offering such features. Possibly the most popular among them are Google Fit and Apple Health (Activity) apps.
Such apps typically require integration with specific hardware (wearable fitness trackers or smartwatches) to access activity info, as well as to monitor health data.
Read more on fitness tracking and integration with wearables in our article – How to Create an Activity Tracking App
Here is another popular activity tracking app: Human
Healthy diet apps
These apps help you keep track of your calorie intake and nutrition, just like fitness tracking apps keep logs of your activity.
Lifesum is a personal nutritionist app. It helps you keep track of everything you consume, and monitors your eating habits. Based on this information, the app suggests ways to improve your diet and get healthier.
The app features a number of diet plans to choose from, as well as a handy calorie counter.
An additional healthy diet app: Lose It!
Must-have features of any fitness app
While the above-listed app types have certain specifics, they also have a number of common features. Moreover, you can combine key features of several app categories to create a fitness app.
Having analyzed a number of the most popular apps from various categories, we were able to identify the basic features for any sport and health app. These include the following:
Personal account.

This includes user info (age, gender, height, and weight), an activity log, personal settings, and custom goals.

Hardware integration and compatibility.

For the best user experience, make sure your app works with the most popular fitness wearables (e.g. Fitbit and Apple Watch) and can sync data with Google Health and Apple Health.

Goal setting. It's one of the integral parts of a fitness app that lets users plan ahead and set fitness goals.
Health tracking and logging. Whether you integrate with a wearable to track the user's vitals during the workout or simply allow them to make a log of their diets and workouts, health and activity data are core elements of any fitness app.
Personalized workout/plan suggestions.

Take advantage of user info and logs. Build an algorithm that can learn from the user's specific needs and preferences. This can be used to suggest tailored plans/content for them.

Geolocation. With this feature, users can create different routes for walking, running and cycling, as well as see and track the distance when they run or cycle with the map provided by the app.
Community features.

Help your users connect with other people using your app, share their achievements, and consult with specialists in real time.

Content

. Let users access educational content on health and fitness (video or audio materials) within your app or simply allow them to listen to some music while they work out.

Notifications

. A must-have engagement element of any app. They can serve as friendly reminders, prompting users to work out more or provide timely alerts on upcoming workouts.

Barcode scanning. A convenient and fast way to add info about food and nutrition. ShopWell has a handy barcode scanning feature to help you get the info on the products you are about to buy.
How to stand out in the fitness app market?
With over 8,000 apps currently available, the fitness market is a highly competitive sphere. So, in addition to basic features listed above, you should always try to add a unique twist to your app to make it stand out among the competition.
For example, consider the following opportunities to improve your fitness app:
Live streaming might be a valuable addition to a fitness app. You can attract famous athletes or fitness coaches to stream their daily workout routines. A good example of this approach is represented by Flive app.
Read also: 13 Main Features to Consider When Building a Video Streaming Fitness App
Social features.

As mentioned above, a social aspect of a fitness app is a crucial element to have. It allows users to actively engage one another, and is a good user retention strategy. Focus on creating sharable content, such as goals achieved, personal records, custom music playlists, motivational posts, and allow users to interact with each other's content by liking or commenting.
Please note: make sure to keep the shared content of your users relevant to your platform. Otherwise your app might turn into a spammy Instagram clone full of pointless selfies or hidden ads.
Gamification.

Leaderboard, personal achievements, badges, and in-app currency can help you create a healthy competition among your app's users, motivating them to stick to their workout routines and improve their results. In-app currency that can be offered in return for certain actions (friend invites, sharing, and personal achievements) can be converted to certain physical or digital goods.
Pact has found an interesting way to keep its users on track. The fitness app allows its users to earn actual money for staying fit.
User-generated content

is another good engagement tool. Allow users to contribute to your community so that they feel involved. For example, users can add routes and trails to their running/cycling apps, provide ratings and complexity comments.

Customization.

In addition to the pre-set training programs and plans, allow users to customize their routines and set specific goals. A good idea would be to employ machine learning capabilities to allow your app to learn from the user's preferences and routines, which, in turn, automatically tailors the provided content to better meet the user's expectations.

Target a specific audience or niche.

Some of the niches underserved by traditional fitness apps are group training, personal programs for older adults, people with chronic diseases, medical rehabilitation patients, and outdoor activities (kayaking, hiking, and paddling).

Add a more personal touch.

It is important to keep in touch with your users 24/7 to answer their questions and provide support. You can have actual professionals answering their questions, providing insightful recommendations, motivating and helping them make sense of their results. On the other hand, a more efficient way to handle customer service, often used by fitness app developers, are chatbots and AI.
For example, Lark offers AI-powered personal coaching through a familiar chat interface.
How to make money with your fitness app? Proven monetization strategies
As with most other app categories, fitness applications can be monetized using several strategies. These include the following:
Paid apps

. Some of the most popular fitness and training apps are paid (prices can vary depending on the app type, available content, and target platform).

In-app purchases

. These usually mean some kind of digital goods, like additional content, meal recipes, workout music, etc.

Premium subscription plans.

Also known as freemium, this option allows you to unlock additional features to augment the basic free app. These might include advanced fitness plans, and personal coaching services.

Ads.

Be careful with this monetization strategy! Don't make the ads too annoying and don't let them destroy your app's UX. Related services and goods that users can consider useful work best for this purpose.

Sponsored content.

As an option, you can partner with other fitness providers (local gyms and sports professionals) and distribute their content within your app.

eCommerce

. Outside of your app, you can offer branded goods and fitness products (custom fitness trackers and gear).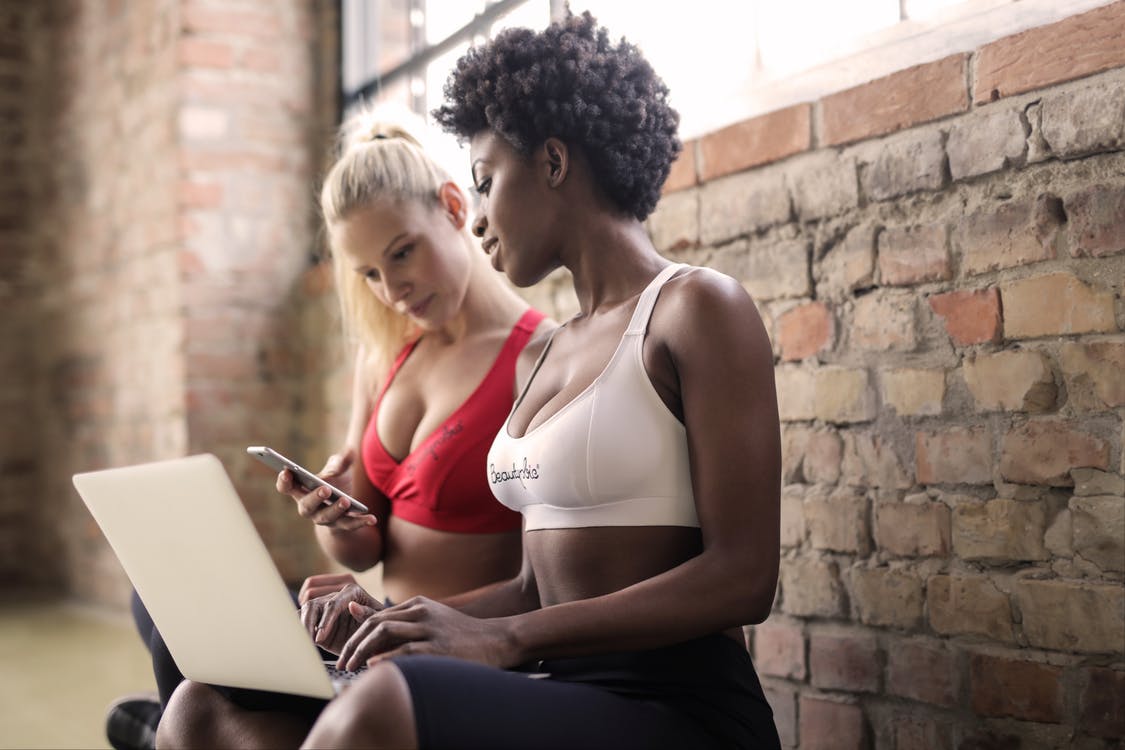 Winning over a $3 trillion market and how to make a fitness app that works?
While there is no surefire way to build a successful app, there are lots of things you can do to improve your chances for winning a share of any market. Following the strategies and recommendations listed above is a good place to start.
However, as with any business that involves software development, having a reliable and experienced technology partner can help you gain an additional competitive edge. A good-looking, high quality app built by professional fitness app developers always has more chances for success than poorly developed ones.
How to get started?
The product discovery phase is the best first step you can take to lay a solid foundation for the development of your fitness app. It includes a functional specification, UX/UI design, and a visual prototype that will give you a clear vision of the end product. On average, this phase takes 4-6 weeks.
The product discovery phase can help you:
define a full scope of work and develop a roadmap for the project
set a realistic budget for your MVP and plan your resources
test the waters with your audience using a visual prototype
craft a convincing investment pitch
get to know your team
Having built dozens of successful mobile apps for businesses and startups around the world, we at Eastern Peak can help you bring any of your ideas to life. Our sphere of expertise is not limited to fitness apps, so we can apply the skills and experience which we have gained in other business domains to help you create a profitable and popular mobile app.
Book a free consultation with one of our project managers by submitting a contact request to learn more about business model benefits and pricing. Contact us now.
Read also: