Have you ever wondered what your pet is up to when you are not at home? Is your dog sleeping on the couch? Is your cat drinking enough water during the day? Do they feel well in general? Well, with the recent advances in pet care and IoT technologies, the secret life of your pet might soon be revealed.
In addition to the obvious benefits for consumers and pet owners, what if we tell you that building an IoT app for pet care could be a viable business?
With over 5 million devices shipped in 2016, the pet wearables market was worth $1.99 billion. According to the estimates, the market is expected to grow at a 20% CAGR within the next several years. Thus, it might be a good time to ride the wave of IoT innovation in the field of pet care.
In this article, we will explore the opportunities within the pet tech market and provide a roadmap for building a pet care app.
1. The main opportunities within the IoT application development for pet care
According to the latest data by Spoke Intelligence and ReadWrite, there are currently only around 3,000 Internet of Things startups in North America: 2,748 companies located in the U.S. and 140 more entities in Canada. Half of those companies were founded in the last 8 years.
Out of almost 3 thousand entities, 95 startups are "unicorns", companies with a valuation of over $1B. The total investment raised to date equals to $125 billion. The numbers sound especially telling, taking into account that the IoT industry is still developing.
Now, on the other hand, 85 million families in the US currently own a pet. That makes around 65% of all US households – quite a large market to target!
Considering the fact that spending in the pet industry is constantly growing (it was expected to reach $69.36 billion in 2017), Internet of Things applications development for pet care can be a great way to enter the developing market.
Namely, this move can open up a number of opportunities:
An opportunity to become an early adopter and establish a solid market presence before the competition catches up.

Added monetization potential through higher app prices, hardware sales, partnerships with pet product vendors, etc.

Tapping into the pool of user data and the opportunity to further monetize it (by making smarter business decisions, offering advanced personalization, and providing insights sourced from the data as a standalone product).
2. Pet tech market: What are the most popular examples of Internet of Things applications for pet care?
Using a "smart" pet care device can be both fun and very useful. There are lots of different options that can make pet owners' lives much easier. Here are several product types and examples of Internet of Things applications that currently dominate the market.
Just like human devices, smart collars and wearable tags can be used to keep track of your pet's wellbeing. Equipped with various sensors including temperature, heart rate and respiration, activity and calorie intake, they can provide comprehensive information on the spot, 24/7. Thus, as soon as there is any change in your pet's health, you will be able to see it immediately and take the required actions.
Such devices can also track your pets' activity during the day and even measure the duration and quality of their sleep.
In addition to being able to effortlessly schedule your pet's feeding, these devices are constantly connected to your mobile device. Thus, you get notifications when your pet had lunch, including the amount eaten. You can manage the time and portion sizes remotely.
However, it is important that the feeder does not rely completely on the connection. It should be autonomous, so in case of a blackout or poor Internet connection, your pet won't be left without food.
Some of the feeders can integrate seamlessly into smart home systems or work with digital assistants, such as Amazon's Alexa.
Example: Petnet
Pet finders make another popular IoT category. Usually, small wearable tags that can be attached to a collar, they help the owner keep an eye on the pet's location. These GPS-enabled devices link to your mobile device and instantly send you notifications when your pet leaves a specific area (Virtual leash). In case a pet gets lost, such a device can be a real life-saver.
Pet monitors and interactive cameras
Similar to radio-nanny, pet monitors can help you plug in and see how your pet is doing while you are away. You can also talk to your furry friend, dispense treats, or interact with your pet, right from your mobile device.
Example: Petcube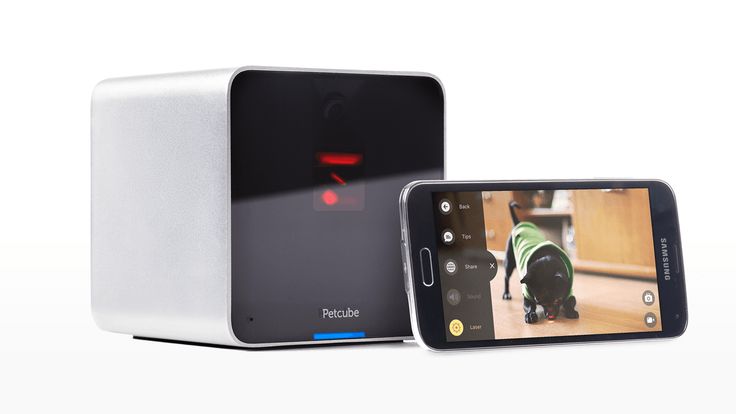 There are many more opportunities for IoT technologies in the pet care market (there's even a smart litter box!). Regardless of the approach you choose, it's the execution that really matters after all. That is why it is important to understand the main steps required to develop an IoT app for pets.
3. How to build an IoT application for pet care? The main aspects you should take into account
As with any other IoT application development project, building an app is only one part of the project. Namely, to build a full-fledged IoT product, you need to consider the following aspects:
Hardware platform

(i.e. your processing board, and microcontrollers). This is the device itself. Be it a custom design or a solution built on top of the available platforms (e.g. Arduino or Raspberry Pi), the choice should depend solely on the purpose of the device and required functionality.

Backend and networking.

Establishing a solid backend infrastructure is one of the essential elements of a successful IoT product. Working in real time with large amounts of data, you need to be sure that connection is reliable and can handle the load. Security should be built into your product by default.

Integrated mobile app

. It is the only part of your product that users will directly interact with. Thus, you need to make it intuitive and user-friendly (We will get to the functionality later).

APIs

. To tie the hardware, backend, and mobile app into one system (or connect to any third-party system or service), you need reliable bridges between the three elements.

Data storage and analytics.

The brain of your product, data storage and analytics are essential for building a truly intelligent solution. This will help you make sense of the loads of data the sensors will collect, as well as introduce personalization capabilities later on.
4. What makes a good Pet-Tech app? Core features to add to your pet care IoT app
Depending on the purpose of your device and its functionality, IoT apps for pet care can include the following features:
This should include basic info about the pet, preferably easy to customize: the type of pet, its breed, age, weight, name, any health information (chronic conditions, appropriate food/water rations, activity goal, etc.). It's worth taking into account that a social login is usually not an option for creating pet profiles (unless you want to add an owner page to the app).
This should be the main page of your app. It allows you to see the current state of the pet, i.e. temperature, pulse, activity level, time till next feeding or walk, etc. For an interactive monitor or feeder device, the real-time video stream of your pets and options to feed/play with them could be placed on the main screen.
History and trends overview
This page could include the health and activity logs (grouped by days, weeks, months, etc.), and feeding or sleep patterns. It would be a great idea to add tailored recommendations or relevant health tips to this screen to help users make more sense of the raw data.
GPS tracking (for wearables)
This feature makes it possible to know where your pet is located at all times. Users can set "safe zones", so the alert is triggered as soon as the pet leaves the permitted area. As in Pawscout, once a pet is lost, the app can send out notifications to all the users nearby so they can help you find it.
Interactive elements (for non-wearable treat dispensers, and toys)
From this screen, users can connect to the device and control it remotely, interacting with the pet, playing or giving treats, etc.
5. Don't miss out on the opportunity to tap into a $2B market: Ride the IoT wave with Eastern Peak
As we can see, the pet care IoT market is just taking off. The competition here is not as fierce, compared to more traditional fields of application in the IoT domain. Yet, the potential within this market is still significant. It's only a matter of time before the IoT for pet care really takes off.
How to get started?
The product discovery phase is the best first step you can take to lay a solid foundation for the development of your app. It includes a functional specification, UX/UI design, and a visual prototype that will give you a clear vision of the end product. On average, this phase takes 4-6 weeks.
The product discovery phase can help you:
define a full scope of work and develop a roadmap for the project
set a realistic budget for your MVP and plan your resources
test the waters with your audience using a visual prototype
craft a convincing investment pitch
get to know your team
Having successfully built a number of IoT applications in various fields, including healthcare, pet care, and automotive, we have the skills, experience, and know-how to help you build your next product from the ground up.
From the hardware to the backend infrastructure, mobile apps, and integrations, we know how to develop an Internet of Things application that can give you a competitive edge on the market.
To receive personal consultation regarding IoT apps development and to discuss your ideas with our experts, contact us now.
Read also: