The article was updated on August 03, 2023.
Modern consumers prioritize convenience and speed above all. This is the main force driving the increase in the adoption of Uber-like apps and the on-demand economy.
Personal assistant apps, on the other hand, open new opportunities for consumers who want instant access to information and services. Utilizing artificial intelligence and familiar chat interfaces, they provide another competitive edge by offering increased accessibility, intelligence, and convenience.
More specifically, concierge service apps are now a budding trend. As per recent reports, the market for concierge apps will constitute $773.3 million by 2025. The stage for the fast proliferation of concierge apps is set, to a large extent, by the fast-developing travel industry.
Although hampered by the coronavirus lockdown in 2020, the travel industry is still predicted to reach a $2 billion market share in ten years. With VIPs, high-level managers, and corporate clients' unwaning need for top-notch concierge services, concierge app development looks like an extremely lucrative niche for entrepreneurs.
In this article, we will focus on the major use cases for personal assistant apps and talk about concierge app development.
A personal assistant in your pocket: "Concierge app" definition and its use cases
Personal assistant apps used in the travel and hospitality industry are often referred to as "concierge apps".
Similar to their counterparts in other business verticals, hotel concierge apps allow its users to access various services or information, using simple interactions. What's more, this process is mostly automated. It relies heavily on artificial intelligence and machine learning integrated into every personal concierge app.
While some of the apps might use AI only partially, utilizing actual people to process user queries, fully automated AI apps have a number of business advantages: They are more efficient, faster, and less error-prone.
That is why building a concierge app that relies solely on a regular call center/support personnel makes practically no sense from a business point of view. Out-of-the-box AI and machine learning solutions are now more accessible than ever and can be used to power AI apps.
Some of the most common use cases for concierge apps are:
Hospitality. Built for hotel guests, these apps enhance the customer experience by automating functions like front desk check-out and check-in, requesting room service and controlling the room environment, ordering food and drinks, managing transfers, etc.
Travel. These are basically travel concierge apps that help you make the most out of your stay in a particular location. Such apps offer instant information about local attractions, and suggest food and entertainment. Such apps may also act like your personal travel agents, suggest trips based on your previous choices, help you book flights to other destinations, and more.
Events and entertainment. These types of concierge apps keep you updated about the upcoming events in your location of choice, and suggest events you may want to attend based on your preferences: Concerts, fairs, festivals and business summits fall under the scope of such apps.
Healthcare. Healthcare concierge apps deliver on the promise of a personalized approach to medical services. Such apps match doctors and physicians on demand, helping schedule appointments and minimizing wait times in clinics.
Hospitality seems to be the one of the most obvious use case for concierge service apps, and as such, we will focus on that specific area of application further in this article.
The state of concierge app development
The popularity of on-demand services has influenced the development of concierge service apps. Users expected quick and efficient responses to their requests, promoting real-time assistance features.
In addition, the integration of AI and ML technologies has also provoked a significant trend in concierge app development. These technologies allowed apps to understand user preferences better, offer more personalized recommendations, and provide improved assistance.
Overall, the state of concierge app development is subject to rapid changes due to advancements in technology and shifts in user preferences. However, the common trends show constant growth and expansion.
For instance, the market anticipates seeing a 6.7% compound annual growth rate (CAGR) by 2028. At such a rate, the industry of hospitality management software alone will be valued at $4,894.4 million by the end of the given period.
Such a growth rate is partially explained by the continuous expansion and popularization of the travel and tourism industry, which is fast to recover after the coronavirus outbreak.
By 2027, the travel and tourism market is expected to reach a market volume of $1,016.00 billion. Thus, personal assistant concierge apps demonstrate a promising future, considering their prior development focus lies in the hospitality and travel industry.
Why invest in building concierge apps?
There are many reasons for a hotel owner to develop a travel concierge app. Concierge app development gives you a competitive edge over other hospitality providers.
Specifically, some of the benefits that can be obtained from such an investment are:
Lower operations cost

. With a one-time investment into concierge app development, you won't need to hire, train, and pay the salaries of actual concierges, or those employees who are usually responsible for receiving and processing service requests from the guests.

Increased efficiency and smarter resources allocation

. In addition to reduced cost, AI apps have proven to be more efficient and provide faster customer service. You can trust an AI agent with collecting and processing service requests, while your actual employees focus on other important aspects of running your property, and get involved only if there is a need to.

Higher customer support standards

. With query processing being completely automated, there is practically no waiting. Guests can instantly get answers to their questions. You will execute the service requests immediately and deliver a better overall customer experience.
Direct access to customer data.

With a rich amount of data being collected by your app, you can make informed decisions and further improve your business: introduce additional services with more confidence, make your customer experience more personal, and more effectively predict their needs. Furthermore, you will be able to better target your customers with relevant services and offers.

Better brand loyalty and engagement.

An enhanced customer experience is a powerful tool for building trust and loyalty within your customer base. Moreover, a concierge app can help you impersonate your brand and thus make it more visible and recognizable.

The ability to target larger audiences

.

Chatbot apps

are known to appeal to a younger audience. Namely, research finds that millennials are a key demographic for making purchases via chatbots. Thus, your travel concierge app has all the chances of winning over tech-savvy guests.

Better visibility of the staffs' productivity

. Smart automation will allow you to keep track of the incoming requests and the staffs' productivity indicators, such as order processing speed. With direct access to customer feedback, you can easily identify the downsides of your staffs' performance and optimize your internal processes.

New revenue sources

. In addition to attracting more guests and increasing the number of service orders by making it faster and more convenient, you can also monetize the concierge app itself. This can be a partner program where you can attract third-party vendors (transportation providers, on-demand delivery services) or paid premium service subscription options.
Other than the listed benefits, a concierge app can help you stand out among the competition, stay relevant, and create additional touch points with your audience.
How does a concierge app work?
Understanding what users expect from a concierge application is essential for creating a competitive product. Below are 5 elements of a concierge app which ensure convenience, efficiency, and a seamless user experience.
User registration and profile creation. Users start by registering on the concierge app, creating a personalized profile with basic information and preferences.
User requests & service delivery. Users submit their requests using voice commands or typing and expect instant results to solve their issues. Usually, they receive personalized suggestions based on their preferences and needs.
Communication and updates. Throughout the process of using a concierge service app, users can expect constant communication, which provides them with frequent updates, booking confirmations, travel date reminders, and other relevant information via in-app messaging, push notifications, etc.
Feedback and ratings. Users often send feedback and ratings after receiving the service, helping the app improve and refine any future interactions.
Continuous learning and improvement. A good concierge app continuously learns from user interactions, feedback, and data analysis to enhance its understanding of user preferences and deliver increasingly accurate and helpful recommendations over time.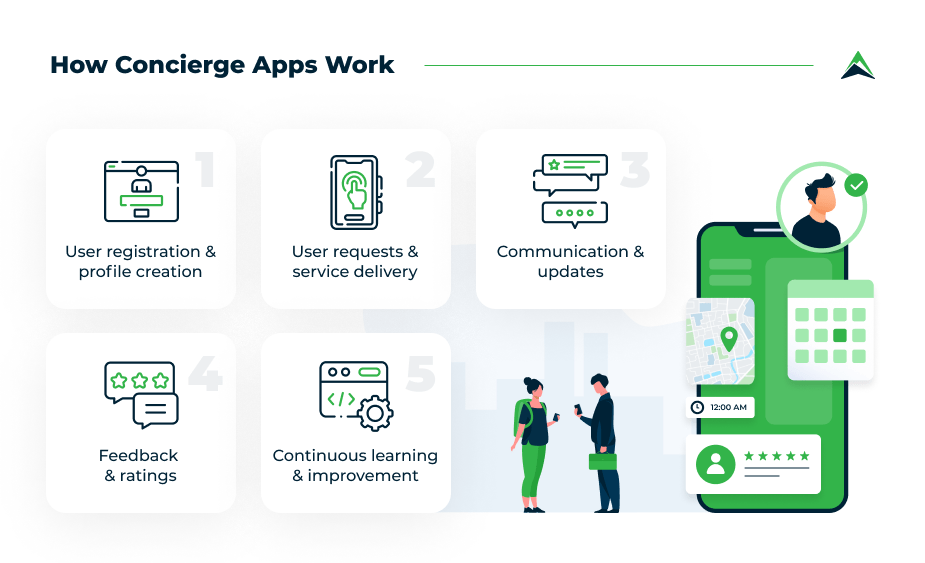 The best hotel brands utilizing concierge apps
Hilton Hotels & Resorts digital concierge initiatives
The popular hotel chain, having 13 brands and 4,726 properties under their roof, was among the first to join the digitization trend in hospitality. Its Hilton Honors app offers a wide variety of services, accessible at a tap of a finger; from hotel booking and room selection, to self-check-in and digital locks.
A hotel guest can also explore dining options in the hotel, make reservations with affiliate restaurants, request valet services, or book a ride with an Uber taxi. A nice touch is the delivery of notifications regarding special offers and events that are taking place in the hotel or at nearby locations.
On the downside, the in-app chat is not powered by AI. It uses a regular call center to process customer requests. That is why when using the app, it can take up to 5 minutes to get an answer to your question.
Unlike the HHonors app, Connie, a robotic concierge built in partnership with IBM, relies heavily on artificial intelligence. Powered by IBM Watson, it can welcome guests upon arrival, and answer their questions about the hotel's amenities, schedules, and services.
The robot is constantly learning. It is programed to save every question that is asked by a guest and use it for future reference. In addition, the company plans to integrate with WayBlazer, a travel recommendation engine, to provide information regarding tourist destinations, restaurants, and other attractions to further assist their guests in the planning of their trip.
Marriott mobile travel companion app
Another global hotel chain operating over 4,400 properties across 87 countries is bringing their concierge service to its mobile app. Just like its Hilton counterpart, the Marriott International mobile app offers hotel booking capabilities and serves as a valuable addition to the company's loyalty program.
Moreover, the app can serve as a digital key allowing guests to check themselves in-and-out by passing the typical wait time at the front desk. The app can notify a user when the room is ready and offers upgrade options for loyalty program members. Guests can also use the app to request additional toiletries and other common amenities. If there is anything else you need, you can chat directly with the front desk right within the app.
Having first introduced the chat-based concierge service within its mobile app in 2015, Marriott saw that 80% of the 10,000 mobile requests were made through this feature during the trial period. That fact further proves the convenience of concierge mobile apps.
"Mobile can deliver more of what the customer needs during each part of their trip, and we can use data, context and new insights to personalize their stay."

– George Corbin, SVP of Digital at Marriott International (source)
HotelTonight Pros in-app concierge
One of the more popular OTAs, HotelTonight has recently entered the market of hotel concierge services with its HT Pros (earlier, Aces) app feature. The capability, added to the app in 2016, allows users to chat with a personal travel concierge and request different services or information. This can be restaurant reservations or extra toiletries delivered to your room.
Just like similar services offered from the Hilton app, the HT Pros feature is powered by real people available 24/7. Despite this fact, the average response time is about 23 seconds. The people, with whom you can talk to in the app use more of a lively, informal communication style, which makes you feel like you are talking to a close friend, rather than a butler at the hotel.
HotelTonight Pros cooperate closely with local insiders, e.g. food bloggers, so the suggestions you get are really hand-curated. As for the hotel's services, there is a certain limitation. Unlike Hilton's app which is directly connected to the property's help desk, the HT Pros have to call the property to have your request fulfilled at the hotel.
Having rolled out the Pros feature for all its users in 2016, HotelTonight plans to better automate their process in the future.
Must-have features of AI-based hotel concierge apps
As we can see from the examples above, there is a specific set of features that make a concierge service app a valuable addition to a hotel's digital offering:
The ability to request a service

. A list of available services with detailed information about them (including prices), and a one-touch order placement (the possibility to schedule a service for a certain time/date).

Integration with third-party tools for additional service options

(restaurant booking, local guides, ride hailing services, and on-demand delivery services).

Chat

. Instant messaging is probably the most convenient way to interact with AI apps. Thus, your app should be able to recognize and understand natural language. Chat can be used to request a certain service or receive the required information.

Customer support

is important to maintain in the event that a guest needs to speak with a real person, to make of a non-standard request or to solve other customer service related issues.

In-app payment options

so users can pay for the requested services instantly.

Push notifications and tailored suggestions

. Timely reminders for scheduled services (spa, entertainment, restaurant reservations, etc.) can prove to be very handy. Moreover, your concierge service app can send out additional offers or promotional content, based on the user's preferences and behavior.

Self-service capabilities

. Digital keys – the ability to check oneself in-and-out of a hotel – is hugely popular among tech-savvy travelers. Obviously, they require certain hardware to work with (i.e. smart locks or lockboxes). However, they can firmly enhance your guests' experiences and automate a number of processes, eliminating this aspect of the front desk service completely.

Navigation

. For large hotels, it might be a good idea to enable GPS and location services to help your guests navigate themselves within your property. In some cases, you can even implement indoor navigation (e.g. with the help of Beacons).
Aside from the concierge app for guests, you might need to develop a cloud-based dashboard for management and control. In addition to that, staff-facing mobile apps for service providers might be required to keep track of the service requests forwarded by the concierge AI.
You may also consider additional features:
Ordering food and drinks.

As travelers go about creating their itinerary, they will inevitably need food and drinks. Some will want to keep their menu simple, others may request exquisite dishes and catering. You can make ordering food or catering services an integral part of your app, and equip your concierge app with dinner scheduling features. Users will surely appreciate a concierge service app that will enable them to make restaurant reservations and deliver news on daily specials directly to their smartphone screens.

Smart home features.

Consider adding some smart-home features to your personal concierge apps. Being able to control room temperature and lighting, turn the music on and off, and switch between TV channels will help your guests feel at home in your accommodation. Integrating AI-based voice assistants like Amazon's Alexa will also contribute to the wow effect.

Itinerary assistance.

First-time visitors are likely to need assistance with itinerary planning, booking taxis, and finding out interesting sites and landmarks. Enhancing your app with these features will surely account for better user retention rates.

Emergency services.

Make sure your users know where to turn to in case of an emergency. A personal concierge app enabling them to call an ambulance or a security guard with a single voice command of a screen-touch will help them feel more protected. Also, make sure they can reach human personnel whenever they need to. In-non typical situations, human intervention may be critically important.
Conclusion
To compete in today's digital age, your business needs to prioritize its customer experience and invest in intelligent automation. That is why AI-powered concierge apps are gaining popularity among the leading hospitality brands. However, the niche is still in its early stages of development. That is why now might be the best time to invest in this strategy and gain a competitive edge.
How to get started?
The product discovery phase is the best first step you can take to lay a solid foundation for the development of your app. It includes a functional specification, UX/UI design, and a visual prototype that will give you a clear vision of the end product. On average, this phase takes 4-6 weeks.
The product discovery phase can help you:
define a full scope of work and develop a roadmap for the project
set a realistic budget for your MVP and plan your resources
test the waters with your audience using a visual prototype
craft a convincing investment pitch
get to know your team
With 7 years of hands-on experience building successful products for startups and businesses around the world, we at Eastern Peak have accumulated the knowledge and expertise that can set your business apart from others. Contact us now to secure your dedicated team of concierge app developers.
Read also: