While population and city infrastructures are growing, the question of effective transportation is standing out sharply.
The appearance of ridesharing solves several problems at once: it reduces road traffic (and car emissions), saves money for all travelers, and allows passengers to pick the most convenient time for a trip.
The ridesharing market is projected to grow at 19.87% from 2018 to 2025 and reach $218 billion, and several market players are making the most out of this advancement. Lyft (known for the US audience) gained $1 billion in revenue in 2019, while BlaBlaCar got 17 million new users in 2019 alone.
In other words, the piece of this pie will become more and more tempting for a growing number of entrepreneurs, and you could be one of them.
We are going to shed some light on the ridesharing industry and app development: the feature guide and things to consider. What is hiding behind the scenes? Let's find out.
The Essentials: what is ridesharing?
The meaning of the word derives from its name: ridesharing is an act when two or more passengers share the same ride heading in one direction. It makes a trip less costly as it could be for one person.
In the beginning, rideshare concerned the individual trips made by car drivers (owners) and passengers when a driver could split expenses with someone. But now it appears to be a separate business: drivers can suggest their services any time they want using their private car.
And here are several interesting market insights provided by Mordor Intelligence:
Some countries (for example, China or India) require a cost-wise transportation solution due to the problems with transport systems in these regions.

Population and business life growing rapidly made lots of global ridesharing companies direct their efforts to Southeast Asia.

Ridesharing services

have the potential to ease up the traffic situation in big US cities like New York City and Los Angeles. For instance, 13 000 taxi cars in New York City can be replaced by 3 000 ridesharing cars used regularly.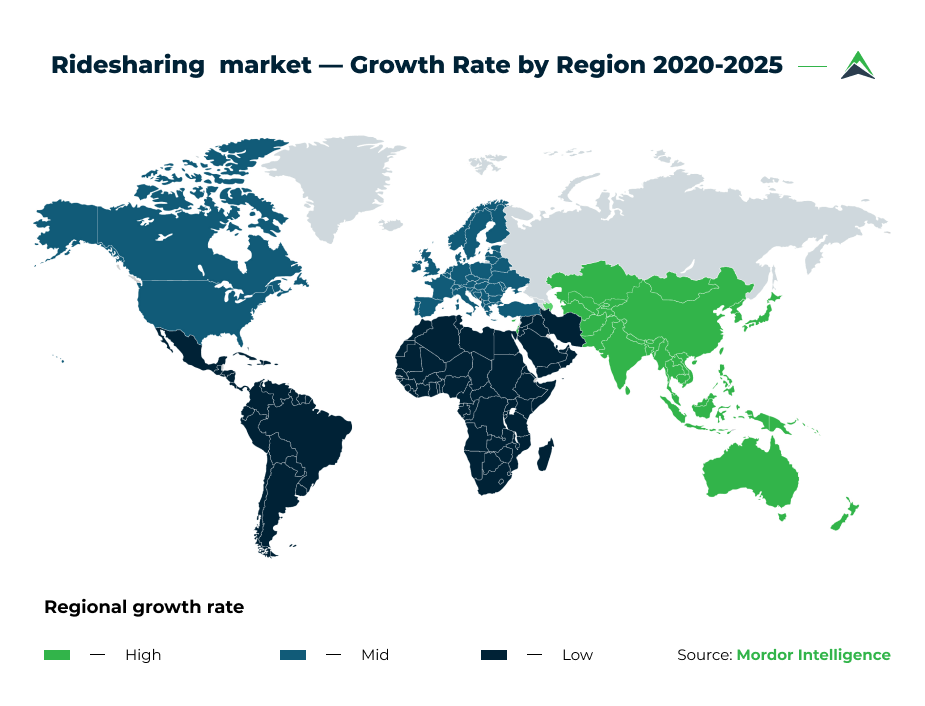 There are three types of ridesharing apps existing on the market:
Vehicle for hire
It is an on-demand service where passengers request a ride, while car owners can accept it. In this case, drivers are not necessarily going in the same direction as passengers, and they get paid for their services. Mobile apps are mediators that charge for connecting the two sides.
Carpooling
It is a ridesharing experience when passengers and drivers head in the same direction and split the cost for the trip. Mobile apps help drivers find fellow travelers and provide a certain level of security to both sides.
Peer-to-peer carsharing
It means car owners rent their cars to someone for a short period of time, i.e. passengers become drivers in this model. Think about the people who use public transport primarily: they may need a car for such occasions as shopping or traveling.
How does a rideshare app work? Reviews of Lyft shared ride and BlaBlaCar examples
How does the magic happen? What makes the ridesharing economy grow and prosper? There are five basic steps to make a carpooling app work.
The ridesharing business model
Ride offering.

Drivers

share the info about their trip: where and when they are going and where they are ready to pick up passengers;

Ride booking.

Passengers

search for the most appropriate travel option: they check drivers' ratings, car model, timing, and price. Then, they have to book a trip.

Matching.

Drivers

can either accept or decline a booking after checking the passenger's profile and rating. Then, both sides can discuss the details via in-app messages.

Payment.

Traditionally, there are two payment options: in cash or within the app. The trip cost is split equally between all participants.

Rating.

When the ride is finished, both

the driver and passengers

rate it and share their opinions. These ratings will eventually impact the users' reputations within the app.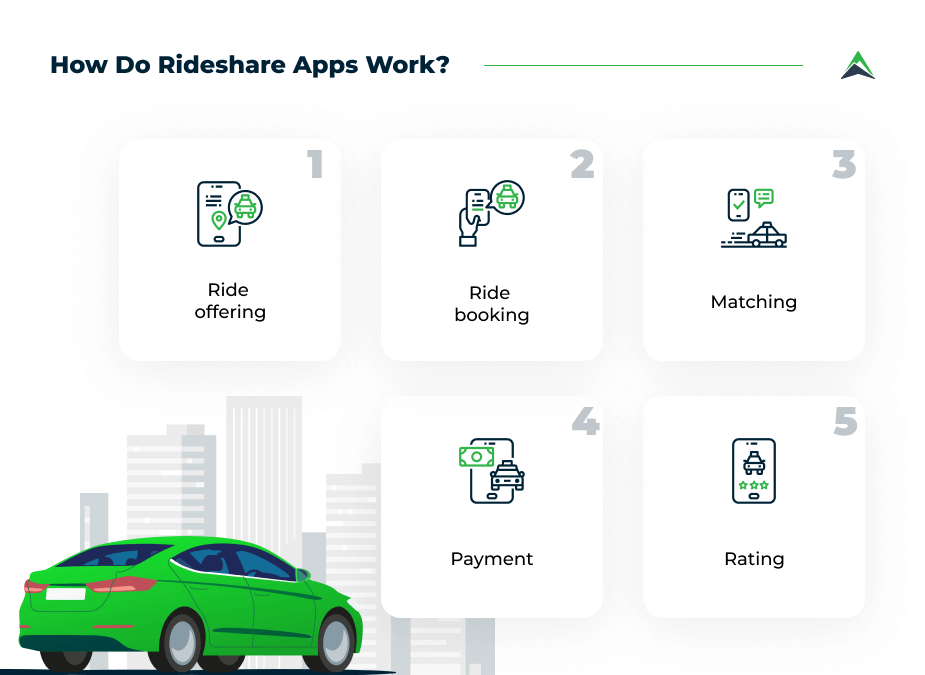 Lyft and BlaBlaCar are two specific examples of the ridesharing economy to look upon. Their success stories inspire lots of startups across the globe.
Lyft
The Lyft app is the second most famous ridesharing tool after Uber. Nowadays, it is not only about the cars: they also offer scooters and bikes as well as food delivery. Their main focus is vehicles for hire.
In addition to the main services, Lyft's Shared rides allow several people to travel in one direction, which creates a carpooling perspective (basically, a new business model and revenue stream) for the company. Now the service is available in many US and Canadian cities.
The trip's rules include a ride with no extra stops or route changes, a maximum of two passengers for one booking, and using an optimal route provided by the app's system (it includes drop-in and drop-off stops).
Blablacar
The BlaBlaCar app, unlike Lyft, is popular mostly in Europe along with Brazil, India, Mexico, Russia, and Turkey. People can travel together across the country or even several countries.
The company was officially launched in 2006 after one of the co-founders failed to find a car or a train ticket to get home for Christmas. This idea turned out to be huge: eventually, thousands of people across the globe have found this way of traveling extremely convenient.
In 2019, BlaBlaCar's revenue grew by 71% in 2019: the carpooling provider rolled out a new offering to the market – shared buses and even bus ticketing on some markets. In 2020, their revenue reached $72 million.
How to build a rideshare app? A complete list of features
When reviewing the list of features, it is important to remember that there are always three sides taking part in the ride: a driver, a passenger, and a mediator (admin).
Passenger app
Encrypted sign-up.

Users should have an opportunity to create an account quickly and securely with their social media accounts.

Ride search.

Finding a driver should include filters: a car type, preferable route, fee, optimal date and time, driver's rating and gender.

Geolocation.

A mobile app helps identify a drop-in (where the trip starts) and a drop-off location (where it ends up) on the map.

Booking a ride.

After finding a perfect option, users create a request for a ride. They can identify drop-in and drop-off locations and the number of passengers going with them.

Review of other passengers.

When booking a ride, users should be able to check other passengers' profiles with their ratings to make sure the ride will be safe.

Notifications.

Users are notified about the ride's status: car model and number, time of arrival, and travel time.

Real-time tracking.

Passengers can follow the driver on the map in real-time and get notifications when a driver is approaching.

In-app calls/messages.

This feature becomes crucial if any changes or clarifications appear before the trip.

Online payment.

Here a passenger can register their credit card and make cashless payments within the app.

Ride cancellation.

Users should be able to cancel a ride or participation in the ride any time they want, following the app's rules and guidelines.

Ratings and reviews.

With the feature, users can leave their opinion and remarks after a ride is finished.

Ride history.

Finished trips are recorded and displayed in this section with all necessary details: the date, destination, fee, and car description.

Support service.

People address their complaints, questions, and suggestions here.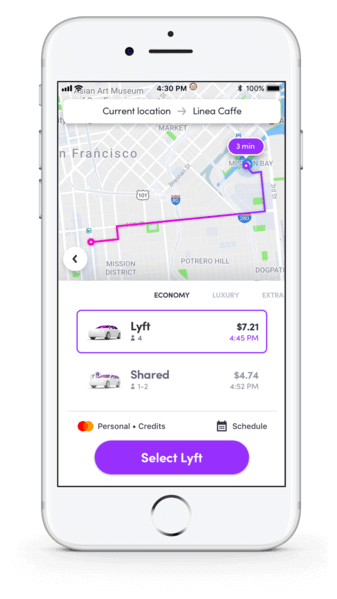 Driver app
Encrypted sign-up.

Creating an account should be easy and secure. Apart from the basic information from social media, drivers add details about the car and its photos.

Profile verification.

Before an account goes live, drivers fill in a form where they put information about their age and health condition, driver's license, experience, and history (criminal background check).

Offering a ride.

The data includes a destination point, fee for a ride, the trip's date and time, preferable pick-up and drop-off locations for passengers, and number of seats available for a ride.

Ride rejection/acceptance.

Drivers review the list of passengers and can decide if they accept it or not.

In-app GPS.

This feature provides several route options, helps indicate traffic jams on the way, and serves as a guide if the route is unknown for the driver.

In-app calls/messages.

Car owners should also have an opportunity to contact a passenger to clarify trip details.

Receiving payments.

Here drivers register their payment cards to conveniently receive payment for their services.

Ratings and reviews.

Drivers leave their ratings and reviews when the ride is finished.

Support service.

Just like passengers, drivers might have questions about the app's features or should be able to leave complaints.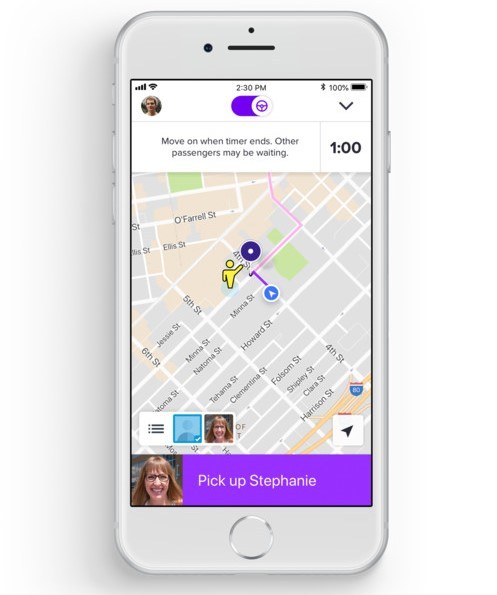 Admin panel
Dashboard

. It is an overview of the numerous business metrics: the number of users and revenue for a given period, messages, management of several app departments (payments, drivers, passengers, ratings, etc.).

Revenue analytics.

Here managers find information about revenue streams, trends of growth or decrease, income by category, etc.

Drivers.

Managers can approve new drivers in this section and then store the profile details, ratings, and reviews of every driver here.

Passengers.

As soon as a passenger creates a new account, it will immediately appear in this section with all accessible contact details, ratings, and reviews.

Vehicles.

It is a separate place to store information about cars and their condition.

Payments.

Every payment and its status (successful or not) along with drivers' earnings are recorded here.

Service support.

Any requests from users will be delivered to this section and then transformed into tasks for the support team or technical experts.
7 advanced features of rideshare apps to make it perfect
The features we are describing below are options to spice up your future app. You should not use all of them, but one or two can be an edge to attract new customers.
Offline mode.

There is a time and a place for everything, so sometimes, drivers can pass through territories with a poor Internet connection, or passengers can use an app in the basement. Offline mode is a backstop for these situations.

Favorite locations.

The home address, office, friends' or relatives' places – all these are passengers' favorite locations. Saving them in the app will eventually save some precious minutes for the user.

Scheduling a ride.

Right away or in several hours? If users have a trip to the airport, it is better to arrange for a taxi beforehand. Ride scheduling is an extremely useful tool for such situations.

User discounts.

There are numerous ways to use discounts and promo codes to your advantage, so why not make it a part of your marketing effort? Let your new and loyal customers know about their price benefits with your

ridesharing service

.

Tips.

Any additional payment is a motivation to do the work better. Leaving tips is an option for passengers to thank drivers for a great service and an incentive for car owners to improve their skills (both driving and communication).

Multilingual interface.

The more built-in languages your application has, the more users it will get. Even within one city, you can find representatives of varying ethnic groups, so you should add several languages to the app at the earliest opportunity.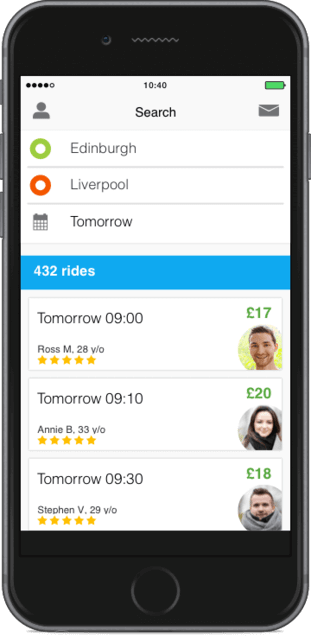 What to consider when you build a rideshare app?
There is always something more behind creating a new app than just a list of features. We suggest checking the following points to make sure your rideshare business is on standby.
Legal requirements
All cities and areas have their own lists of laws and restrictions, and you should learn them carefully before the official app launch. The critical points of your research include
the main document that allows you to start a ridesharing business (a license, certificate, or something similar);

the tax system for ridesharing businesses;

insurance for both drivers and passengers;

background information about the drivers' if such information is available; and

identification marks of your company provided to the drivers if necessary.
Trust and security
Security is a vital need for all of us no matter where we go and what we do. Meeting a stranger in the car does not always seem secure enough for potential riders, but modern ridesharing companies have changed this image, and you should do your best to maintain or even strengthen it.
Monetization models
Now that you know something about how to develop a rideshare app, it is time to figure out how to make money with it. There are three models for your consideration:
Commission fees.

A platform charges a certain amount of money from users. For example, Lyft would take

20% of any transaction

within the app, the remaining 80% are the driver's earnings. BlaBlaCar charges

12% of the payments made by passengers

to drivers.

Advertising.

Putting some ads here and there in your app can be an additional revenue stream. But you should put user experience first and be careful and unobtrusive with every advertisement banner.

Partnerships.

Such platforms as Lyft or BlaBlaCar would surely pick some transport companies to partner with.

BlaBlaCar partners with Voi Scooters

to extend the offering and give users a transport alternative during the harsh COVID times. Keep in mind that it is not the only partnership option.
Lyft, in its turn, partnered with Starbucks. The app's employees get My Starbucks Rewards gold status, while passengers can tip drivers using the Starbucks app.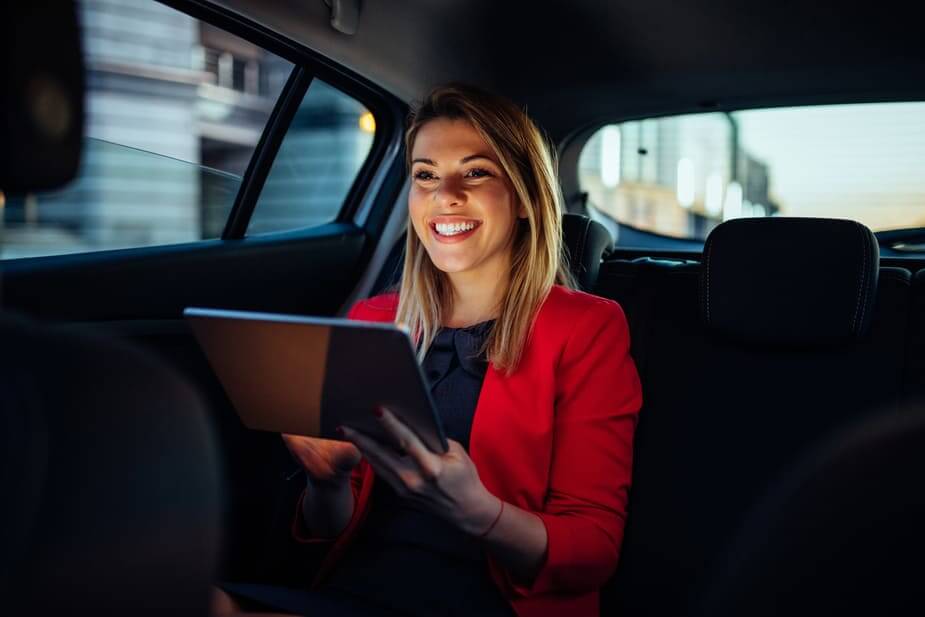 Conclusion
What do we know about the ridesharing industry so far? It is a promising land for entrepreneurs, and it can be transformed even during such difficult periods as the COVID pandemic.
Mobile apps offer not only convenience but more clarity and security than catching a car on the street. To create a ridesharing app, you should always keep in mind passengers, drivers, and app management. This is a fundamental triangle on which you build the list of features.
And finally, you should add a unique offering to attract customers to your platform. Let the quality and high level of security be the main drivers of your business ambitions. We are ready to help you with that.
How to get started?
The product discovery phase is the best first step you can take to lay a solid foundation for the development of your app. It includes a functional specification, UX/UI design, and a visual prototype that will give you a clear vision of the end product. On average, this phase takes 4-6 weeks.
The product discovery phase can help you:
define a full scope of work and develop a roadmap for the project
set a realistic budget for your MVP and plan your resources
test the waters with your audience using a visual prototype
craft a convincing investment pitch
get to know your team
Contact our Eastern Peak team if you are about to start a ridesharing business and need skilled development experts to make an idea a reality.
Read also: