The article was updated on September 22, 2021.
Freelancers are currently a force to reckon with. Their number is constantly expanding: according to the recent stats, in the US alone the number of professionals working independently has already reached 67.6 million. Companies, big and small, are leveraging the remote workforce and are making work flexibility a part of their daily existence.
The COVID-19 pandemic has forced many businesses to start hiring freelancers even if they previously hadn't considered it at all. As a result, many organizations have recognized the benefits of remote personnel.
Independent contractors, in turn, are enjoying flexible schedules and improved work-life balances. Moreover, the Gen-Z workers seem to prefer freelancing over other employment models. By 2027, the share of freelancers in the US is predicted to reach 50,9%. Obviously, the demand for freelance marketplaces is currently higher than ever.
Freelance sites like Upwork are offering both employers and workers convenient platforms for finding work and hiring new talent. Yet, despite a large number of the existing freelance online platforms, none of them are perfect. That represents an opportunity for a business to join in and develop a freelance marketplace that can close the existing gaps.
If you are considering developing a freelancing website, keep reading. In this article we explore the main features of freelance sites like Upwork and share our experience on how to build one from scratch.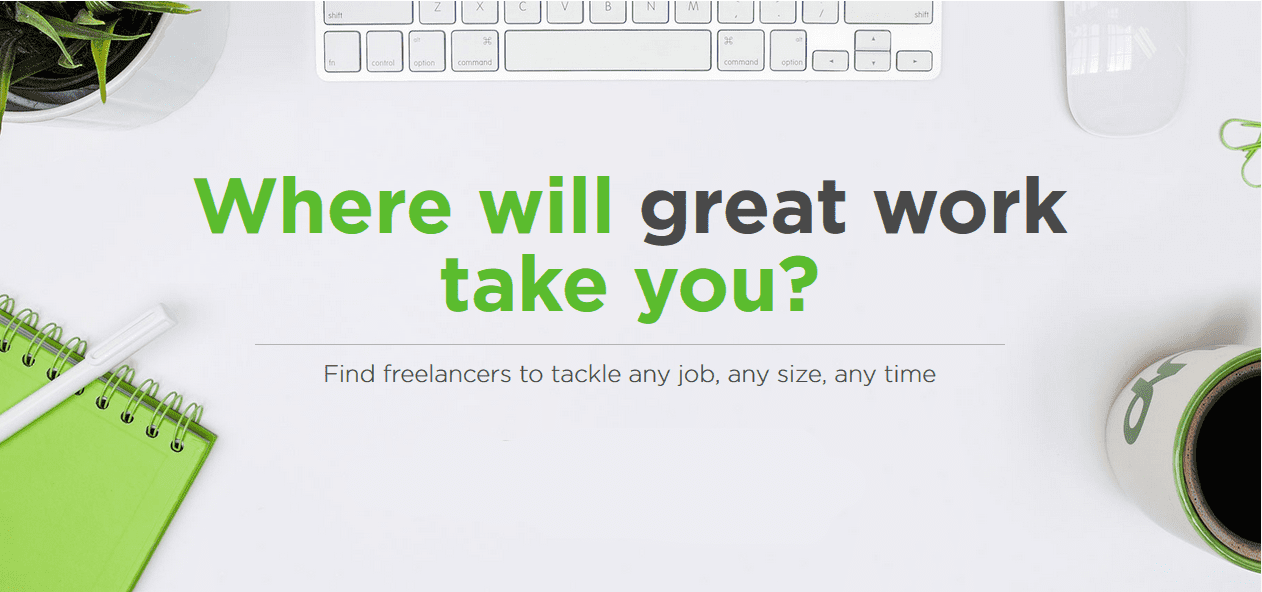 What is a freelance marketplace and how does it work?
A freelance services marketplace is an online platform where businesses can find and hire individual contractors to do some work remotely. Websites like Upwork (previously known as Elance) are very popular among digital businesses. They act as an intermediary providing a safe and convenient way to contract remote experts for one-time projects.
How Upwork works for clients
As a customer, you can use a platform to look for freelancers and agencies that deliver a wide range of services, such as design, marketing, copywriting, and software development. Upwork uses big data algorithms to analyze a job you've posted and offers you a selection of likely candidates before you hit the Search button.
Here's a complete list of options that clients get through websites like Upwork:
Posting jobs and hiring personnel
As a client, you can create tasks and post them on a website, and wait for responses from freelancers from different parts of the world.
As a rule, sites similar to Upwork will leverage algorithms helping you select the most interesting candidates, compare their skills, prices, and testimonials about their work.
Checking out available proposals and picking the right one for you
Alternatively, you may start off by looking at proposals offered by different professionals. If you need to build a website, for example, you may browse through the offerings of freelancers and pick the most suitable one for you.
Hire talent scouts to choose the right talent
If you need to hire the best of the best for your job, but have no time for recruiting tasks, you can ask Upwork scouts to choose the candidates for you. Running professional talent appraisals will ensure that the professionals you hire are 100% qualified and reliable.
Request a talent package for enterprises
Upwork Enterprise is a plan created specifically for large companies looking for flexible ways to hire and manage their freelance workers. Apart from finding the right talent, enterprise clients also get a set of tools for project management, payroll, reporting, and tracking workers' progress.
How Upwork works for freelancers
For service providers, Upwork algorithms offer matching jobs based on their profiles. Freelancers and agencies can also search for projects and respond to client invitations. As the number of successfully completed projects increases, so do the chances of service providers to attract more clients.
More specifically, here's how Upwork helps freelancers attract clients:
Detailed user profile
Freelancers can create user profiles including their complete work history and the list of skills. They can even add videos, to make a stronger impression on their potential employers and showcase their expertise.
A range of communication channels
Upwork offers freelancers different ways of contacting potential clients: bidding for jobs, creating and advertising their projects, or contacting Upwork recruiters for career advice, and matching them with potential employers.
On Upwork, freelancers stand the chance to start working for renowned companies, such as Microsoft, Nasdaq, and Airbnb, and expand their professional portfolios.
Secure payment processing
Instead of figuring out complex ways of accepting international payments, Upwork offers freelances direct and legal payment transfers. Freelancers can go for fixed-price payments or set hourly rates. They can contact their clients through the platform, invoice them and track their earnings.
Business-building opportunities
On top of that, Upwork enables freelancers to partner with each other and create virtual agencies. The freelancing platform offers them an agency structure and an opportunity to move from being standalone professionals to business owners by collaborating with other freelancers.
Overview of existing Upwork alternatives
If you want to build a freelance marketplace, one of the first things you should do is explore websites similar to Upwork. There are many alternatives to Upwork for freelancers, and in this section, we will take a closer look at the direct Upwork competitors.
The main Upwork competitors
Below is a list of websites offering freelancing opportunities to digital professionals of all trades:
1. Freelancer
This platform has been in business for over 10 years, offers over 180 job categories, and has over a million users, making it the largest talent marketplace in the world. The scope of this marketplace and the diversity of the options available makes Freelancer immensely attractive for clients and self-employed workers. There are many payment options available since the platform works with most of the popular payment systems.
On the downside, clients have to manually sift through the profiles of less-skilled candidates and the hiring price is higher than on Upwork. Independent contractors have to pay a fee if they accomplish more than eight jobs on a monthly basis.
2. Fiverr
Fiverr is a popular marketplace for digital professions. The prices can be as low as $5 per job, and excellent usability and affordability are attracting platform users.
However, there are some shortcomings. Fiverr enables clients to quickly find freelancers for their jobs for optimal pricing, yet, the quality of work is often questionable.
Freelancers, on the other hand, are discouraged by fierce competition, 20% fees, and a 14-day wait time for receiving payments, and there is no encouragement whatsoever for working with the same company.
3. PeoplePerHour
This platform is inarguably one of the best Upwork alternatives on the European market. Its creators offer a combination of the most attractive features of a talent marketplace: self-employed professionals can bid for jobs that clients post on the website, or they may offer their services for hourly rates. Clients can enjoy free job postings and reduced time-to-hire, while workers have lots of job options and can withdraw money through a range of payment services.
On the downside, the number of job applications feels overwhelming for clients, and freelancers have to withstand severe competition to get a job. Employee fees are 20%, but, in case disputes arise, they may be even higher.
4. Hubstaff Talent
This freelance marketplace is also often listed among freelance online platforms and websites like Upwork. This freelance platform specializes in small projects delivered at a fixed price or for hourly rates and aims to connect clients to a vast pool of professionals. However, the scope of this website is somewhat limited – the number of registered profiles barely exceeds 100K and there aren't as many jobs offered as on other freelancing websites.
However, there are also tangible advantages: the customer support is excellent and includes a live chat, the activity reports are easily accessible, and the Hubstaff app integrates with other tools for project management. On the downside, the time tracker could be more precise, and the lack of clarity about the projects' budgets can be daunting.
5. Guru
This is one of the most influential freelancing websites with millions of users and a wide variety of jobs for all professional categories. Similar to how Upwork works, remote professionals may apply for jobs, and clients can choose from a number of applicants.
Businesses can easily find qualified candidates and send payments through almost every existing payment system since Guru boasts the highest variety of payment methods of all freelancing platforms. The disadvantage is poor customer service that fails to meet the needs of both freelancers and clients. Also, freelancers often complain about problems with withdrawing payments.
Apart from websites like Upwork, there are also niche freelancing websites aimed at helping connect clients and professionals.
Upwork alternatives by expertise
Design
Specializing in website design and graphic design, niche websites like DesignCrowd are helping employers hire experienced professionals and find design jobs.
There are also other alternatives to Upwork where companies can look for design talent, and where designers can advertise their work. DesignHill, for example, even offers a set of proprietary design tools for its users.
Content writing
Hiring freelancers for writing jobs is something companies, big and small, do on a regular basis. There are websites like WriterAcess, where clients can hire content professionals for all kinds of tasks: from scripting to creating a content strategy for a business. For content writing professionals, such services are viable alternatives to Upwork.
Coding
There's a niche of websites targeted specifically at companies looking to hire remote developers for their programming tasks. These websites enable clients to choose from all kinds of prices and qualifications.
Toptal, for example, is aimed at companies with large budgets that can afford to hire the best of the best.
Music
The music industry is also tightly interconnected with advertising and entertainment. For companies looking to hire musicians, vocalists, songwriters, and producers, niche websites like AirGigs offer an interesting Upwork alternative.
Surely, none of these websites is a direct Upwork competitor, but it does give you something to think about. Unless you want to build an Upwork clone, looking at the best features of sites similar to Upwork, will help you create a unique product distinctly different from other freelancing websites.
Want to develop a marketplace similar to

Upwork?

We at Eastern Peak know all the peculiarities of developing websites like Upwork. From the requirements gathering and planning to prototyping, development and hitting the market, we can help you create a freelance platform that really stands out.

Contact us
Top 7 features for an Upwork alternative
Such websites are typically quite feature-rich and cover the complete process of working with a freelancer. Thus, it is almost impossible to fit all of them into one simple list.
However, there are certain features that lie at the core of every freelance marketplace out there.
Here is a common set of features for freelance websites like Upwork:
1. Registration and user profile
Online freelance marketplaces usually have two types of users – customers and freelancers. Alternatively you can introduce one more profile type – agencies.
Apart from the photo, bio, skills, and a list of completed projects, a user (freelancer) profile can include some additional information:
Rating and reviews. Showing the number of completed projects, overall satisfaction rate, as well as some other information could be very helpful when choosing contractors or bidding for a project. That is why it is important to implement a reliable and transparent rating and review system.
Portfolio. Code samples, diplomas, and product screenshots can also help freelancers demonstrate their experience.
Skills tests. It is another way to prove your expertise as a freelancer and to make the right choice as a customer.
Verification. You need to make sure the person behind the account is not a scammer and can be trusted. Thus, you need to implement a mechanism that will allow you to identify the freelancers and verify their identity. This can be done with the help of ID and/or video call.
2. Advanced search
Users should be able to browse through the available projects/freelancers using various filters, such as domain, specific skills, hourly rate, date posted, etc.
3. Job listing
Users (customers) should be able to post their projects on the platform to let freelancers know they are looking for specific skills.
4. Bidding mechanism
Freelancers should be able to reply to the relevant job postings and offer their services.
5. Messaging
This is a private chat room where the customer can talk to the pre-selected freelancers and discuss the project details. Later on, it can be used as a project communication tool, if necessary.
6. Project management tools
A popular solution for a freelance services marketplace is the addition of a time logging feature to ensure transparency of the freelancer's work. It is also a convenient way to track the time worked for hourly projects.
7. Payments
The online freelance marketplace typically handles all transactions between the customer and the contractor. A popular solution is an escrow payment option. You should also provide integration with the most popular online payment gateways as well as credit cards.
On top of that, you can introduce certain perks (pro features) for those users who are willing to pay for them. For example, Upwork offers personal services pre-vetting candidates from an exclusive talent pool of proven professionals. It would also be useful to augment your website with a mobile app so freelancers can always be in touch with their clients.
How to develop a freelance marketplace like Upwork
A roadmap to developing a freelancing website:
1. Choose your business niche
Targeting a niche market is always a good idea. There is no way you can build a product that caters to everyone. Find your specific audience and build your product with their needs in mind.
There are several examples of such an approach: 99designs is specifically aimed at designers, while Fiverr originally positioned itself as a place to get cheap (starting from $5) and fast freelancing services.
2. Decide on a marketplace business model
Deciding how you will attract revenue is crucial before you actually start developing a freelancing marketplace. The business model will, ultimately, dictate the customer journey and the type of user interface you will build for your platform.
All in all, there are about 10 marketplace business models, but the main means of generating revenue include the following:
Selling fees:

Although this model is believed to be one of the most tricky ones to set up and maintain, it will bring you steady income. Under the "Selling fees" model, you charge a portion of each sale that takes place through your freelancing marketplace. Your options include charging a flat fee, a percentage-based fee, or both.




For example, Upwork will

charge service providers

a 20% fee from the first $500 bill, 10% from every $500,01 to $10,000 bill, and 5% from every billing exceeding $10,000. Freelancers also get charged for an additional number of connections as they bid for Upwork assignments.

Subscription model

: Deemed best for online marketplaces, this model will enable you to generate revenue in the form of regular monthly, quarterly, or yearly membership payments. The subscription model has distinct advantages over one-time payments since it will ensure that your marketplace is well-sustained even through the most turbulent startup period.




It's always a good idea to include different subscription types with varying sets of featured services. Upwork membership offerings, for example, vary depending on the price and include a different scope of services for individuals, businesses, and enterprises.

Payment processing and transaction fees:

This model enables you to charge a small fee for every financial transaction that takes place in your marketplace. You get paid for processing membership, vendor earnings, advertising, and listing payments.

Simply put, the more payments you process, the better.
For example, Upwork delivers payment to 170 countries and charges a 3% fee for processing every client/service provider transaction. On the downside, this revenue model is hard to put into practice, and the clients aren't usually happy.
Sponsored features:

This can be a featured product or business profiles on the main page of a freelancing platform, or on top of listings. This model allows members to get additional exposure, and may also include mentions in email newsletters and blog posts.




The sponsored promotions revenue model is widely used by many online marketplaces, and Upwork is no exception. The rates may differ depending on the promotion type and the length of the promotion period.

Ads from 3rd party advertisers:

This revenue model works similarly to the Sponsored features model but this time it's the third-party companies who can advertise through your freelancing platform.


You can use advertising models like: CPI (cost for impression), PPC (pay-per-click), cost per post, and cost per period. You can also leverage ad software like AdSense for ad placement.
Freelancing platforms may also use Sign-up fees or Pay per lead model to attract revenues.
As you can see, these revenue models may target customers, service providers, third parties, or all of the above. As a rule, one model will prevail, although freelancing platforms normally use a combination of several payment models.
3. Finalize your requirements
The project definition stage is a good place to start. Before you jump headfirst into the design and development, you need to understand exactly what is needed. This will save you lots of time and effort in the long run.
4. Design
The next step is to create a visual identity and a user interface for your online freelance marketplace. The UX/UIdesign process usually includes several stages:
analysis

wireframing

design
Read more: Corporate Identity for Startups. How to Build a Brand that can Compete with Market Leaders
5. Prototyping
As soon as you have the graphic design at hand, you can see your product in action, or even test it out with real users. This is when rapid prototyping comes into play. It doesn't require as much time (and money) as development does, yet proves to be very helpful when validating your assumptions early in the process.
6. Marketplace development
Now that you have created, tested out, and polished your visual design and UX, you can put it into code and build a marketplace website.
If you don't have an experienced CTO in your team, we recommend partnering with a trusted technology provider to hire a dedicated development team. Your team will help you choose the optimal tech stack and define the minimum viable set of features to start with.
Read more: How to create an online marketplace MVP
7. Testing
Although we've mentioned testing after the development stage, they usually go in parallel. Sometimes tests are written even prior to the code itself (in case of Test Driven Development).
Yet, regardless of the approach you take, quality assurance is absolutely necessary if you want to build a functional and successful marketplace.
8. Launch and ongoing improvement
The development doesn't end after you launch your marketplace website. You need to work on improving your product and scaling it. There is always something you can do better, just like there is always room for growth.
How to keep your freelance marketplace competitive
If you are going to create a freelance marketplace, it's important to understand that this market is highly saturated. Your product should be able to stand up to the competition.
Here are some tips on how to create a freelancing website that is competitive and commercially viable:
Conduct a thorough market analysis

. To stand out from the crowd, you need to know who you are competing against. Get to know your competitors, their benefits and drawbacks. Use them to build a better product or create something completely different if you see that there is a demand for it.

Learn about your target audience and its needs

. The best strategy is to aim at a certain problem your users are facing and help them solve it. Is there a specific audience neglected by the other freelance services marketplaces? For example, small-niche platforms for designers, copywriters, or specialized developers (e.g. Blockchain, a certain programming language, etc.) often turn out to be more popular than the all-purpose websites like Upwork.

Find your unique selling point

. What makes your product different from the rest of the freelance marketplaces? You can find a specific niche to target or add a certain twist to your product to make it stand out.

Consider different business models

. There is no unified freelance marketplace business model. You can choose to build an exclusive platform with 100% paid access, but in this case, make sure you can offer something really outstanding in exchange. A more popular option would be to charge service fees from the money that is paid through your platform. Alternatively, you can offer your platform services for free and charge only for the pro features.

Experiment with new features and technologies

. The list of features used by freelance services marketplaces is never 100% complete. There is always something you can add. For example, you can offer an integration with some of the most popular project management tools, add a service chatbot to help your users with routine tasks, introduce AI-based candidate screening feature, etc.
And one more bonus tip: start small. To minimize the risks of launching a feature-rich product, start with an MVP first. This way you will be able to see if your marketplace will be of any interest to your target audience. If there's no demand for the product, pivot and take another shot.
Getting started: Build a freelance marketplace with Eastern Peak
Judging by our experience, a marketplace business model is extremely scalable and can be applied to various business domains both locally and worldwide. From Upwork to Airbnb or Amazon, there are dozens of marketplaces that lead the way in almost every industry. And, when applied to such a promising domain as freelance work, this model has shown its true potential.
As an example, view a video testimonial below of the Bizzabo event marketplace – the world's fastest growing event technology company that empowers event marketers to manage, measure and grow professional events across the globe via their online event platform.
How to get started?
The product discovery phase is the best first step you can take to lay a solid foundation for the development of your online marketplace. It includes a functional specification, UX/UI design, and a visual prototype that will give you a clear vision of the end product. On average, this phase takes 4-6 weeks.
The product discovery phase can help you:
define a full scope of work and develop a roadmap for building a marketplace
set a realistic budget for your MVP and plan your resources
test the waters with your audience using a visual prototype
craft a convincing investment pitch
get to know your team
If you want to build a freelance marketplace, make sure to garner support from experienced technology professionals. We at Eastern Peak have the expertise and proven track record developing online marketplaces and mobile apps of various scales for companies and startups around the world.
Share your ideas with an experienced project manager and receive a free consultation. For more information on how we can help you bring your ideas to life contact us now.
Frequently Asked Questions
How does Upwork work?
Upwork uses big data algorithms to analyze jobs customers have posted and offers them a selection of likely candidates.
For service providers, Upwork algorithms offer matching jobs based on their profiles. They can also search for projects and respond to client invitations.
How does Upwork make money?
The main means of generating revenue from a website like Upwork are the following:
Selling fees
Subscription model
Payment processing and transaction fees
Sponsored features
Ads from 3rd party advertisers
What are the main features for an Upwork alternative?
Here is a common set of features for freelance websites like Upwork:
Registration and user profile
Advanced search
Payment processing and transaction fees
Job listing
Bidding mechanism
Messaging
Project management tools
Payments
How to develop a freelance marketplace like Upwork?
The product discovery phase is the best first step you can take to lay a solid foundation for the development of your online marketplace. It includes a functional specification, UX/UI design, and a visual prototype that will give you a clear vision of the end product. On average, this phase takes 4-6 weeks.
Read also: