Have you ever made a purchase online following someone's advice? What about the recommendations that were prompted to you by the website itself? Being quite a common element of an eCommerce app, tailored product recommendations have proven to be an extremely effective tool for revenue growth.
Namely, Amazon's recommendation engine is said to generate 35% of the platform's total revenue. Taking into account its actual sales volume ($178 billion in 2017), this makes an additional $62 billion per year. Quite impressive, right?
Yet, eCommerce recommendation engines represent only one example of app personalization strategies. There are many more use cases any digital business can put to use.
In this article, we will shed some light on several of the proven mobile app personalization tactics and real-life examples to help you spur your imagination.
What is app personalization and why should you care?
As exemplified by recommendation engines, mobile personalization means that an app delivers a customized user experience, tailored to each specific user, in real time. This means, the app learns about your preferences, identifies specific patterns in your behavior, and uses them to deliver more relevant content or even foresee your actions and offer a better way to solve your problem(s).
The main benefits of personalization in apps for business owners are
improved app user experience

higher customer engagement

increased brand loyalty
As a result, businesses that tailor their products to the customers' needs can expect to generate more revenue. Namely, Gartner has found that smart personalization engines that can recognize user intent can drive up to 15% higher profits.
Moreover, many studies also show that the users themselves highly appreciate any personalization efforts. Namely, 91% of the consumers surveyed by Accenture are more likely to shop with brands who recognize, remember, and provide relevant offers and recommendations.
App personalization approaches, exemplified
There are many ways you can tailor your app to a specific audience. Namely, we can identify 2 primary approaches to the personalization of apps:
1. Contextual
Contextual personalization relies on various contextual data to customize the app's user experience accordingly. Some of the most popular types of data employed by this type of in-app personalization are time, location, the user's demographics, etc.
Thus, knowing that you live in Florida, Amazon won't prompt you to buy a new winter jacket. On the other hand, personal finance apps like Mint can push specific products to certain user segments who might find them interesting (e.g. student loan offers for users aged 18-20).
2. Behavioral
This approach is somewhat more complicated than the previous one. In this case, specific tools that track a user's behavior and identify their patterns are integrated into the app. So the product learns about the users' preferences as they interact with it.
For example, once you watch several cat videos on YouTube, you might soon notice that your "Recommended" section becomes flooded with similar content. Similarly, if you are frequently shopping for sneakers online, the chances are the app won't be offering any high-heels to you. This is exactly how most recommendation engines work.
This approach is particularly popular among social media apps (e.g. Instagram's explore tab, Facebook's feed) or streaming services (e.g. recommended content on Apple Music or Netflix).
Although these two types of in-app personalization techniques are the most popular, there is one more approach worth mentioning. Unlike the previous methods that are automated and rely completely on the software itself, this approach requires users to manually tailor the app to their preferences. That is why it is often referred to as customization rather than personalization.
Customization usually has to deal with the visual changes in the app, such as dark/light mode (e.g. iA Writer, Pocket), custom backgrounds (e.g. Telegram), etc. However, it can also be applied to allow users to customize their feed in news aggregators like Feedly by manually adding relevant content sources.
How to improve your user experience through personalization: 5 ideas for your inspiration
As we can see, the given mobile app personalization strategies (except for the last one) rely heavily on customer data. The information you can employ to personalize your app's user experience includes
social interactions (shares, likes, product rating, etc.)
demographics (age, gender, profession, interests/hobbies, etc.)
app usage statistics and activity
As soon as you have enough data at hand, you can go ahead and try different mobile app personalization approaches to see which one works best in your case. The choice of your strategy should depend completely on the type of audience you are targeting and your app itself.
Here are just a few ideas to get you started (including case studies of successful apps with personalization):
eCommerce
Push notifications can serve various purposes. When it comes to mobile personalization, you can use them to draw the users' attention to something they might be interested in that moment (e.g. short-term discounts, special offers, etc.).
For example, an online shopping app can allow users to create wishlists of the items they want to buy. Once any of the items go on sale, it will notify the users about it. This very approach is also often applied to travel booking apps (as exemplified by Hopper).
Health
One of the ways healthcare apps can use personalization is by offering relevant content to the users. For example, your app can provide relevant information on how to stay fit, tips and tools to help them manage their chronic conditions more effectively, or even an individual treatment plan that adapts to the user's condition throughout the treatment process. This can help you educate your audience and raise awareness about some problems, relevant to specific users.
A popular health app for women, Flo, uses AI to create highly accurate, personalized predictions based on the data logged by its users. In addition to that, the app offers daily health insights, based on your health data as well as from community-generated content that might be relevant to you.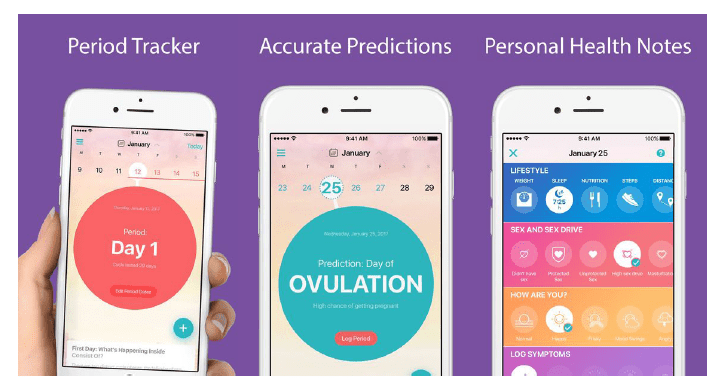 Hospitality
Recommendation algorithms are well-liked by various travel and hospitality providers. In addition to personal suggestions that hotel booking apps like booking.com or Airbnb have in excess, many hotel chains choose to deliver a more meaningful user experience using personalization tactics.
For example, Hilton created an app, Fun Finder, which is aimed at becoming a guest's personal travel guide. The app is tailored specifically to match the user's individual preferences (as well as location and time).
Finance and banking
Fintech providers are also adopting various personalization approaches to improve their user experience. For example, Robinhood, a no-fees investing app, has an option to personalize your account.
All you need to do is answer several questions about your investment objectives, source of investment funds, planned duration of investment, and yearly income. Based on your answers, the app will suggest customized strategies to grow and balance your portfolio.
Another popular solution is location-aware apps. For example, your banking app can see a user approaching an ATM and ask if they need to withdraw money. Similarly, it can instantly understand when a user is entering a bank branch, prompting an automatic notification to his/her account manager.
Sports and fitness
The personalization app trend is very strong in the sports and fitness niche as well. That is why many people prefer looking for customized workout plans, diets, and personal advice delivered straight to their phones, instead of hiring a personal trainer or nutritionist.
One of the trendsetters in this sphere was the Nike+ Run Club app, which was completely redesigned in 2017. A personalized fitness app allows you to choose an individual plan, which is constantly evolving and adjusting to your progress and training speed.
Read also: How to Make a Fitness App? Best Practices and Strategies
Make it personal. Grow your business
In the time when even the floor that your customers stand on can influence their purchasing decisions, adding personalization features to your mobile app can really make a difference. And, taking into account that certain types of in-app personalization are relatively easy to implement, this is an opportunity no business can afford to ignore.
We at Eastern Peak have solid business expertise in identifying the best personalization strategy and the proven tech skills to implement the chosen approach within your app. You can rely on our business analytics, designers, developers, QA engineers and professional project managers to build a successful and profitable product.
Book a call with one of our project managers to receive a personal consultation regarding your app idea or discuss the opportunities within software development for your business. Call us at +1.646.889.1939 or leave a message using our contact form.
Read also: