The article was updated on October 24, 2022.
The eCommerce market is a competitive one. It's a tough place to earn a loyal customer base or stand out among the rest. Yet, it's not impossible. New sales platforms enter the market annually. Of course, they have to compete with such giants as eBay with 142 million active users worldwide, Amazon with a mobile audience reaching almost 1 million users each month, and other popular platforms. However, the example of Tophatter shows that being late to the game doesn't make you any less of a competitor.
Indeed, unlike most popular marketing platforms, Tophatter was established only in 2012. The platform imitates the traditional auction but in the digital realm. Overall, the eCommerce and Online Auctions industry is 'only' the second largest industry in the US based on market size with annual revenue of $934.2bn as of 2022. The Tophatter smart approach and unique features helped it enter the market and secure its position among the top best online auctions.
So, how does Tophatter work, and what are its secrets? Let's see this auction site's breakdown below. Here is everything you need to know about building sites like Tophatter.
What is Tophatter? How does it work?
Tophatter is a fun and fast online auction website that allows people to sell or purchase items. Any person can offer an item for sale, just as any customer can place a bet. The site works similarly to any real-time auction with only one major exception.
Unlike many other online auction websites, Tophatter users enjoy rapid sales and immediate gratification. The auction's bidding process lasts no more than 90 seconds. Such a short period makes possible an instant sale, which greatly decreases the waiting time for selling or buying items.
Let's see what other core features and business strategies this online auction uses:
Niche audience – the platform targets millennials, offering goods in several categories (jewelry, apparel, accessories, beauty, and electronics).
Flash auctions – every auction has a time limit of 90 seconds, which also caters to millennials with small attention spans while promoting competition among the sellers.
Advanced personalization – the platform uses smart algorithms and machine learning tocustomize the user experience while providing more relevant offers.
Mobile-first strategy – even though there is a website, the startup focuses primarily on its mobile app.
Exceptional user experience – the app has a number of unique UI interactions (the auction rooms and bidding process) which makes the app easy and fun to use.
Discounts – Tophatter is big on discounts. Buyers can find items with a much lower price than their initial retail worth.
Authenticity guarantee – the site has a clear return policy for items of questionable authenticity. Hence, if a buyer is not convinced he has purchased a real brand, they can return it to the auction.
Search – an auction has a shopping catalog, which allows users to see items on a waiting list before the live auction starts.
Set reminders – the platform can make sure a buyer doesn't miss their chosen item. Hence, they can choose to sign up for the site's reminders about an upcoming auction.
Buy now – a buyer can also have the option to purchase an item before the auction is open. They can choose an item and buy it on the spot.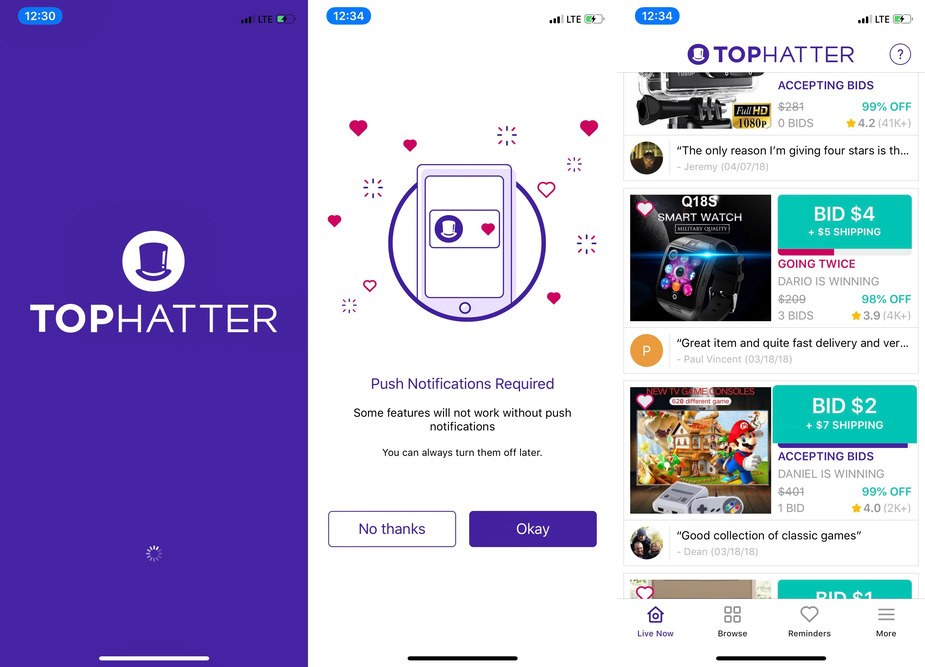 How to make an online auction website like Tophatter
Both, an online auction and shopping website follow similar purposes. They serve as a bridge between goods and buyers. Yet, auction sites like Tophatter have their unique functionality and core features, reserved for online auction platforms only.
Here is the basis of Tophatter's functionality divided into three groups.
Functionality for sellers
Registration. Upon the traditional registration/login process, sellers should also complete an application with more personal details, including a phone number, full name, payment information, etc.
Product data. One needs to upload a product's photo and add detailed information and an item's category before offering it for sale. This step also includes setting the desired price. Though, all bids on Tophatter start from $1 regardless of their initial worth.
Auction settings. A seller can adjust the selling parameters to their liking. Such a policy includes the size of bidding, time of the auction, putting a "Buy now" option, etc.
Payment system. Tophatter offers several payment systems so a seller can choose one or several given options to receive payments from buyers or to pay for additional functions on the platform.
Automatic auctions. To sell serial products, a seller can choose an automatic auction feature. It will start the next auction upon the end of the previous one.
Reports. Sellers receive reports on their lots, including visitation statistics, bids, lot status, etc. Beyond each lot, a seller will receive reports each month, every six months, and annual reports.
Notifications. Sellers will receive updates on their lots and live auctions with their results and final offers.
Functionality for buyers
Registration. One needs to be registered to buy anything from the Tophatter marketplace. However, profile customization is optional in buyers' cases.
Searching. Buyers can use search filters (i.e. price range, seller rating, country, auction type, etc.) and keywords to find the desired items.
Viewing. Any buyer can open the lot card and screen through the item's essential information.
Auctions. Buyers can participate in an auction by placing their bets in real time or scheduling bets during the live auction considering the maximum amount of money they are willing to spend on a bid.
'Buying now.' A buyer can purchase an item before it goes for an auction if a seller allows such an option. In this case, one pays the item's price as in a regular online marketplace. However, here, a buyer has 20 minutes to finalize the purchase by paying the full amount.
Review. Buyers can rate sellers based on a number of factors, such as delivery speed, communication, reliability, accuracy, etc.
Payment. To finalize the bet, a buyer should pay for the item and pick a preferred delivery option within 24 hours after the auction's end.
Notifications. Buyers receive updates on the lots they place bets on, lots they've won, items' delivery dates, etc.
Functionality for administrators
Control panel. An admin has access to everything that is happening on the platform, including traffic, any issues, ongoing or planned auctions, etc.
Lots verification. Any lots offered for sale should go through a verification process before becoming public. Administrators can perform verification manually or via automated processes.
Accounts management. An admin can track users' data, block, ban or edit accounts, and reset passwords.
Content management. An admin can edit, delete or regulate posted content, including auctions, in any other way.
Payment management. Administrators watch over financial transactions, including tracking time, purposes, sizes, etc.
Site updates/warnings. In case of any arising issues, admins receive notifications and updates on the situation.
Eastern Peak posesses hands-on expertise in building on demand apps and online marketplace development. See our Marketplace portfolio and recent case studies.
Tophatter monetization model
A well-planned monetization model within the right niche can turn sites like Tophatter into very profitable businesses. So how does Tophatter make money? After all, placing any lots on the platform is completely free.
Moreover, it doesn't require any paid membership. Well, live auctions like Tophatter have two main strategies to gain profit. First, the online auction takes a commission upon each successful sale. Secondly, the service offers several optional paid functions.
Let's have a closer look at both of these monetization strategies.
Commissions
Sellers have to pay 10% of their final purchase from each lot. Hence, the platform takes a small commission for organizing the transaction. Also, buyers will pay 2.9% plus a small handling fee ($0.30) for each purchase they make.
Other fees
The platform also offers a variety of additional services for buyers and sellers. Thus, a seller can choose to pay $1 for Scheduling Fee Bidding (SFB), and by doing so, they promote an item and participate in the 'Buy Now' campaign. The latter will enhance a bid's visibility among buyers.
Also, sellers have the option of making a reservation fee. By paying $2 for a bid, a seller sets their limits on minimal prices to purchase a lot at the auction. This way sellers secure the optimal selling price they want to receive. Though, the platform charges the fee regardless if the lot was sold or not.
Lastly, there is a whole variety of paid services a buyer or seller can choose from the Tophatter list upon conducting the final transactions. Hence, one can pay the service for the insurance or shipping of a purchased item. In addition, a service can charge an incident fee, chargeback fee, policy violation fee, etc.
Overall, such a monetization model doesn't seem like much for the users, both sellers, and buyers, while it is a working business model to gain profit in an online auction platform.
Tophatter competitors
Starting an online auction website similar to Tophatter is more than possible. One will need to come up with a Tophatter alternative, where it can borrow the best working strategies, adding something new and unique to the table.
Of course, Tophatter is not the only such platform in the business. There are plenty of apps like Tophatter to take into account. One should learn about the industry's biggest competition before pondering how to start a site like Tophatter.
Here is the list of the top auction sites online you should know about before creating an online auction website.
eBay
Perhaps, eBay is the biggest name on the market so far. The platform has been around since 1995, and it keeps getting bigger. Every other auction has been trying to build an online auction website similar to eBay to repeat its grand success.
eBay is one of the most well-known auction platforms worldwide. It allows a large variety of products from an extensive category list. Moreover, the platform is free to use for the buyer, while charging no more than 13% from sellers after each successful auction.
Liquidation
Liquidation.com is oriented toward professional buyers. It offers various items within narrow professional categories, such as tools & machinery, fixtures, houseware, and consumer electronics. Typically, the bidding starts at $100 with only buyers determining the final price of each bid. Buyers don't have to pay anything but the price of the bid and the shipping fees.
eBid
This auction platform is also among the oldest on the Internet. Currently, it's the second after eBay regarding its size and monthly visitation. eBid attracts buyers with a wide variety of items and lower listing fees.
Unfortunately, its site didn't face too many changes since its opening, making it a bit confusing for new buyers to find their way around the platform. Yet, it's also one of the most cost-efficient sites with easy and transparent money policies and low fees.
Listia
Unlike the aforementioned best online auction sites, Listia's goal is to promote trade instead of inserting regular monetary transactions. However, Listia users can trade the given bonuses on desired items. Thus, people can receive or give away used items for free.
DealDash
DealDash cooperates with large brands, helping them sell unused items from older collections. Thus, the platform empties overstock warehouses for famous brands, offering them for auction. All bids start at $00.01. Every ten minutes the auction updates the bidding.
With no new bids, the last bidder gets the item. Such a system can ensure significant discounts for brand-new items just shipped from a warehouse.
Do you want to develop a

Tophatter alternative?

Our experienced software development team will help you create your own online auction website like Tophatter and set you apart from the competition!

Contact us
How to beat the retail giants at their own game? Winning strategies for an eCommerce startup
Similar to Tophatter, every startup has a chance to win its market share. One of the main issues that eCommerce startups are eventually faced with is the problem of user acquisition. In this regard, it is crucial to create a unique value proposition that will drive user acquisition and retention. Yet, having an exceptional product might not be enough.
So, here is our roundup of the must-have elements of a successful business strategy and the proven ways to acquire users for an eCommerce startup.
Choose custom development over a ready-made solution
Using significantly cheaper out-of-the-box eCommerce solutions might seem like a good idea until you want to do something extra on top of the provided functionality.
In this case, customization efforts might equal or even exceed the development of a custom solution. The latter, in its turn, offers limitless capabilities for scaling your product both up and down.
Invest in the quality and reliability of your product
Quality assurance and performance optimization are no longer nice-to-have practices. They are a must, especially if you are building a high load eCommerce platform. Back in 2013, when Amazon suddenly went down for about 30 minutes, the company was losing reportedly $66,240 per minute. Even if your traffic is not even close to Amazon, the damage from an outage can be significant.
Prioritize the user experience
By creating an optimized user flow and intuitive navigation, you increase your chances for success. Even minor improvements in the website's UX can lead to a better ROI.
Consider the "$3 million button" case: by simply replacing the text on a button, the company was able to grow their sales by 45%. This decision led to $15 million in revenue in the first month, and $300 million in the first year.
Put your data to use
Customer data and analytics allow you to gain actionable insight into your users and the product itself. Thus, you can change your product accordingly and better serve your users.
Other than that, there are several ways to put your customer's data to good use, including flexible pricing, a personalized user experience, prediction of highly demanded trends, and a more efficient way to map the user's experience.
Don't forget about mobile
Even if you are building an online marketplace, you need to optimize it for mobile users. With the mCommerce revenue expecting to reach $284 billion by 2020, making up 45% of the total U.S. eCommerce market, mobile devices will be increasingly important for retailers.
Moreover, chatbots and personal shopper assistant apps provide more ways to engage your users on their mobile devices.
Focus on a specific market niche
Similar to Tophatter, choosing a niche audience might be the key to success. Be it a certain age group, specific country or region, type of goods, or business model (auctions or set price, offers, barters, etc.), targeting a specific audience is much easier than trying to be everything for everyone.
Create unique value proposition
While building a complete eBay or Amazon clone is an extremely time-consuming and costly venture, it's also irrational. Why would anyone use your product if there are already tried and true platforms that are exactly the same if not better? Tophatter bets on flash auctions. Your idea should be unique, focused and simple, from free shipping, drone delivery, crowd buying, or barter deals.
Focus on customer experience on all levels
From the moment a user lands on your website or installs your app, the customer's success should be your main goal. In case your users have any questions or need assistance, you should always be there for them, providing support via all possible channels such as phone, online chat, email, social media, or even messaging platforms.
Customer service is so important that research shows that as much as 86% of customers who had a bad experience with a particular company choose to no longer do business with them.
Build loyalty
On average, it costs a business 5 times more to acquire a new customer than it does to retain an existing one. One of the ways to improve your retention rate and build customer loyalty is through subscriptions or premium features. By offering some extra value to your loyal customers, you will be able to build a strong user base. It is also a proven monetization strategy.
Invest in marketing
The chances that someone will simply come across your app on the app store or find your website online and then be converted into a loyal user are quite small (even with SEO and app store optimization). Thus, you need to reach out to your target audience using all possible marketing channels. The proven ways to build your community include social media, influencer marketing, and content marketing.
Conclusion
With global eCommerce revenues expected to surpass $28.02 trillion by 2028, online retail is still one of the most attractive markets for a startup. Tophatter is only one of many ambitious startups, representing the new eCommerce wave. Despite fierce competition, we will see more startups entering the scene as the market continues to grow in the near future.
If you want to enter the eCommerce market but don't know where to start, get in touch with our team. You will receive personal consultation on how to build an online marketplace from scratch, as well as valuable business advice from our team.
Read also: