One of the core focus areas and a major driver for digital transformation, Artificial Intelligence (AI) has come to be a great enabler for businesses undergoing a digital transformation. No wonder that the number of enterprises adopting AI has increased by 270% over the past 4 years (and tripled in the past year alone!), according to Gartner.
While there's no doubt that the potential of this technology is unmatched, it is still to be tapped.
So, if you are looking to make AI a part of your digital strategy, keep reading. In this article, we will explore the benefits and use cases of artificial intelligence in digital transformation as well as provide a high-level checklist to help you prepare for its implementation.
Why should your organization embrace AI? The business benefits of artificial intelligence
According to the research by Deloitte, there are several major advantages for the adoption of artificial intelligence in enterprise, including
enhancing existing products and creating new ones

increasing the efficiency of internal processes

allowing for data-backed, informed decision-making

optimizing external operations

proper resources allocation (freeing up staff from routine tasks)
All of this leads to one more benefit, the most significant one: businesses that adopt AI technology gain a competitive edge over the rest of the market players.
Learn more about the benefits of digital transformation: 5 reasons to go digital
Key challenges for adopting artificial intelligence in enterprise
Despite the many benefits, there are several main factors that can slow down the adoption of artificial intelligence for enterprise.
Namely, O'Reilly lists the following challenges for the adoption of AI:
Insufficient data

. It takes lots of data to train each machine learning algorithm and bring AI to life. As a result, in many cases, enterprises need to find ways to source more data or face the challenge of structuring and processing the siloed data they have been accumulating for years.

Scarce talent

. As with most digital skills that organizations require for their transformation, AI and ML talent can be hard to find. Namely, more than half of the organizations surveyed by O'Reilly are currently in need of ML experts and data scientists.

Company culture

. From getting executives to buy-in to the idea and establishing a clear management structure in the R&D process, to educating your employees on how to integrate AI solutions into their day-to-day activities. Needless to say, there are many cultural challenges to AI adoption in enterprise.

Challenges in identifying use cases

. Like with any advanced technology, AI solutions are often viewed as hyped and overestimated. As a result, many organizations will implement them only to keep up with the times, without a clear strategy or any practical use cases in mind.
On top of that, let's not forget about the roadblocks to digital transformation that can also hamper the adoption of artificial intelligence for enterprise. These include
legacy and integration issues, i.e. retrofitting digital solutions into existing systems

lack of leadership and organizational support for the transformation

data privacy and compliance (especially taking into account

GDPR

).
Read more about the key digital transformation challenges and mistakes here.
4 use cases of artificial intelligence in digital transformation
As mentioned above, finding a practical application for AI is one of the reasons why many organizations hesitate to adopt this technology. To help you find the appropriate use cases within your organization, let's see how artificial intelligence is impacting today's enterprise workplace and how it is helping to transform it.
Here are 4 potential areas of improvement that a business might benefit from when incorporating AI into its digital transformation:
1. Customer experience
Digital organizations are customer-centric, first of all. As a result, improving your customer experience should be on the top of your digital transformation agenda.
AI and machine learning technologies offer a vast number of opportunities to do that. Delivering meaningful, personalized experiences, tailoring your products to better fit specific customer needs, engaging them on a deeper, more personal level – all of this can be achieved through AI.
The practical use cases in this sphere are varied: from sourcing actionable insights into what your customers think about your company (using a sentiment analysis) to implementing specific solutions to better serve your customers, e.g. chatbots, recommendation engines offering tailored content and personalized experiences, etc.
2. Employee productivity
Process optimization is by far the most significant way AI can benefit your business. By using automation, you can better allocate your resources putting the repetitive, time-consuming tasks on autopilot. As a result, your employees can save their time and focus on more important tasks while the so-called "digital workforce" will take care of the routine processes.
There are dozens of processes and activities that can be streamlined through the use of AI and robotic automation; from marketing, sales and customer support to accounting and administrative tasks.
You should also take into account a number of industry-specific use cases, i.e. supply chain management in eCommerce, predictive maintenance in manufacturing, fraud detection in the financial sector, etc.
3. Cybersecurity
Machine learning is one of the key technologies allowing organizations to detect malicious behavior and anomalies that might be a sign of a security breach violation.
Plus, it also offers a competitive advantage over the human-driven security solutions: algorithm-based systems are more reliable while a person can make mistakes or miss even the slightest deviations from the norm.
This use case is typically applied for the verification of financial operations in banking, but also can help organizations respond to incidents in a timely manner, minimizing the downtime and improving data security in general.
4. Decision making
AI technologies can put tons of data your organization generates every day to good use. By using machine learning algorithms, you can identify specific patterns, deliver actionable insights into your business performance, potential risks, and opportunities.
This means you will be able to make informed, data-backed decisions, better manage your KPIs and identify the potential bottlenecks before they emerge, thus minimizing the business risks.
In addition to predicting the outcomes of each decision, advanced AI systems can also take a prescriptive approach and suggest specific actions for you to achieve the required results.
Is your organization ready for digital transformation through AI?
AI and digital transformation go hand in hand. So, if you are planning to make your business future-ready and set a course for digitization, you will most likely need to consider adopting AI as well.
That's why you need to make sure your digital transformation strategy includes certain points that might be crucial for your AI adoption.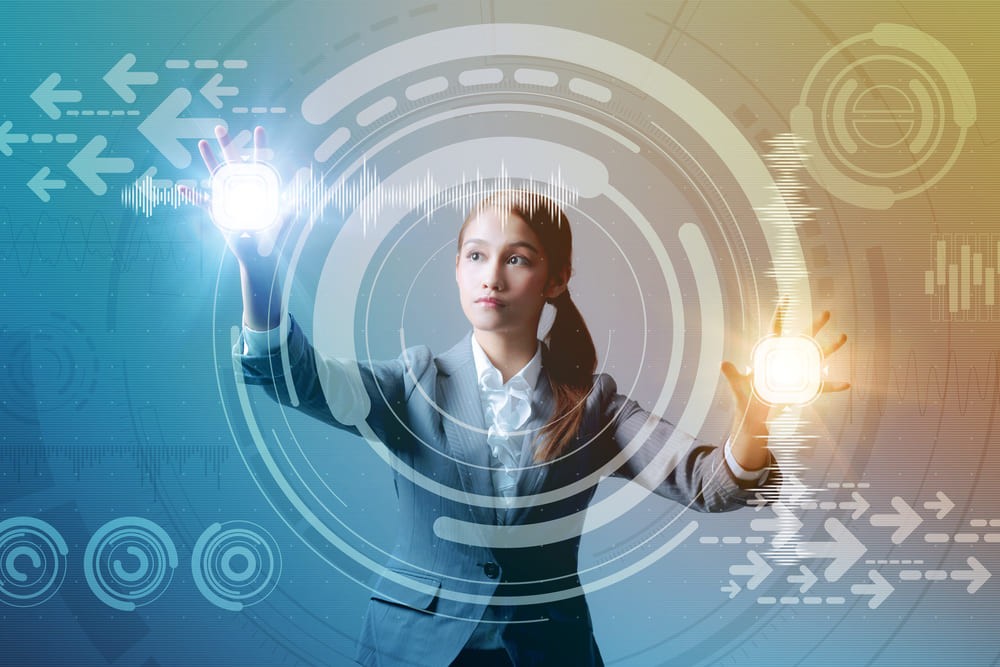 Namely, to lay a solid foundation for AI implementation in the future, consider the following 5 steps:
Assess the current state of your business systems, their pain points and performance bottlenecks, as well as integration capabilities.

Review your digital transformation strategy, in general, to make sure it is AI-ready.

Establish clear data governance practices: make sure you have the necessary data at hand and that you have the legal right to use it.

Find specific use cases and identify the key objectives for adopting AI within your transformation.

Allocate sufficient resources, both monetary and human, to handle the implementation.
If you need professional guidance preparing for a digital transformation or handling AI adoption, consider partnering with a trusted technology consultant.
Our team at Eastern Peak has helped dozens of businesses all over the world stay competitive in the face of digital disruption and win over the competition using innovative technologies, including AI and ML, IoT, Edge Computing, etc.
To book a free call with one of our senior project managers and discuss the opportunities and advantages of this partnership, contact us now.
Read also: