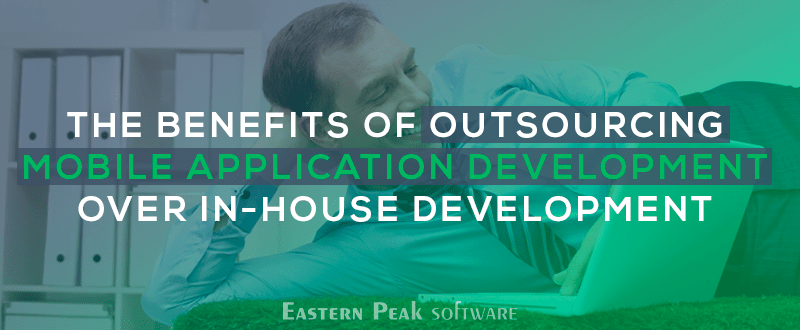 Today, outsourcing is one of the modern branches of the division of labor. A company usually resorts to outsourcing in situations when it's necessary to perform a certain amount of work, which is non-core or secondary for the company. Outsourcing has become commonplace in the sphere of information technologies. In this article we will discuss the characteristics of outsourcing mobile application development, as well as its advantages and disadvantages.
You can find dozens of outsourcing companies in your local market but what if none of them meets all the requirements of your project? Working with an offshore company may provide many advantages that your local market just doesn't have. These may include better prices, timing and quality, which is sometimes even higher than in your local market. But it may also introduce some hidden pitfalls to the client. When figuring whether or not you want to outsource mobile application development, you need to have a clear understanding of how it can benefit your business as well as what any possible negative consequences are.
Benefits of outsourcing mobile application development
The main advantage of outsourcing mobile application development is, of course, cost reduction. An offshore outsourcing company helps its clients reduce development costs, which in turn frees up resources that can be used for new development opportunities.
Outsourcing saves time. The market typically requires a fast turnaround for the process of mobile application development. When outsourcing such a project, a client does not waste time and money on hiring, training and retaining employees.

Read also:

5 Reasons to Outsource Only Top-Notch Startups Know About

Quality and professionalism. If the outsourcing company has been working for a long time and has established itself as a reputable company, in most cases, you can be sure that its employees are professionals and have a lot of experience. Increasing competition within the outsourcing market also promotes professionalism.
You hire an experienced, well-coordinated and dedicated team. Well-established outsourcing companies offer fully staffed and dedicated teams of developers where team members most likely have known each other for a long time and worked together on many projects.

Read also:


Risk reduction. After the signing of the contract, all project risks are transferred to the outsourcing company. Typically, an outsourcing company guarantees delivery on time and on budget. But if something goes wrong, the client can terminate the contract at any time with money-back guarantee. All these terms must be clearly defined in the contract.
Read also:

Agile Offshore Software Development: Best Practices

Potential risks of outsourcing mobile application development and how to reduce them
Confidential information leakage. When outsourcing part of the project or an entire project, the client will inevitably trust the outsourcing company with a certain amount of its sensitive data, and more crucially, sensitive data of its own customers. There is also the risk of a "project theft". These risks can be reduced by taking appropriate legal and organizational measures, such as signing a non-disclosure agreement.

Read also:

How to Protect Your Idea and End Product When Outsourcing Software Development

Lack of quality control. Responsiveness of an in-house team is usually higher. However, the use of modern means of business communication such as video conferencing minimizes all possible inconveniences.

Read also:

Watch out! 7 pitfalls you should beware of when choosing outsourcing

The problem of miscommunication. There is always a possibility that the development team will do something quite different from what the client originally wanted. Such an unpleasant situation can be easily prevented by performing a thorough requirements analysis. This includes thorough documentation and a detailed description of the product requirements.

Read also:

7 Golden Communication Rules in Offshore Software Development

Requirements change. Changing the requirements is inevitable during software development. It can be a small issue when working with an in-house development team, but it may lead, when outsourcing mobile application development, to the contract being amended and additional costs.
The pros and cons of outsourcing mobile application development must be taken into account before making up your mind about moving forward with it or not. Although, if you look at all the advantages it offers, you'll see that they by far outweigh the potential risks, most of which can be easily mitigated. Offshore outsourcing has proven to be an effective means of cost reduction. Choosing a reputable mobile application development company as your outsourcing partner will lead to mutual benefits and enhanced competitiveness in the ever-changing mobile application development market.