The big data revolution is inarguably the next big thing that has happened to business since the advent of cloud and SaaS. In fact, the overall value of the big data industry is predicted to reach $77 billion by 2023. Dubbed the 'new-gen currency', big data is radically reshaping how organizations work.
Today, companies across industries strive to become data-driven in a bid to achieve better efficiency and gain a competitive edge. In this article, we will talk about big data applications in business and build a roadmap for big data implementation. Read on to learn more!
Big data definition and benefits
So, how do we define big data? What makes data big is its volume, velocity, and variety. We use the term 'big data' to describe large miscellaneous high-speed data sets that are too difficult to process using traditional methods. Yet, this definition merely scratches the surface: exhaustivity, relativity, extensionality, variability, and veracity are other essential features inherent to big data. However, from a business standpoint, the core characteristic of big data is value – its capability to fuel important insights.
So, what are the benefits of big data? Big data is assisting organizations across industries in adopting a near-scientific approach to what previously involved guesswork. What do customers want, how successful is a particular course of action, how efficient is a particular marketing initiative, ad campaign or employee?
These are just some of the examples of how organizations use big data. On top of that, big data can be converted into precise, business-specific metrics and used in predictive analytics for defining future trends and possible outcomes.
Big data use in business: Examples
To envision big data benefits, let's now explore some of the concrete examples of big data usage in various business segments and industries. The below examples of data solutions will help you understand its transformative effects.
1. Big data in healthcare
Healthcare data comes from different sources: treatment and demographic info stored in the EHR system, medical imaging data, lab test data, as well as data about financial transactions, patients' claims and testimonials, etc. The Internet of Things, though, is one of the big data technologies examples that deserves a closer look.
The use of IoT and big data in healthcare involves using wearable devices for capturing patients' biometric data in real-time to track patient states and make predictions about their health in the near future. Using big data, patients with chronic conditions can take better control over their diseases while clinics, on the other hand, can reduce the number of hospital readmissions by taking timely action when it's necessary.
Propeller Health is an example of a company that provides big data solutions for patients with asthma and other pulmonary disease. The solution includes an inhaler equipped with an IoT sensor and a smartphone app that analyzes the data from a sensor as well as environmental factors like temperature and humidity. The app then produces individual health analytics that a person can share with their physicians.
Another example of big data technologies transforming healthcare is new drug discovery. In the pharmaceutical industry, the process of testing and developing new drugs is extremely long and may take up to a decade. By aggregating and analyzing data from various sources, from gene profiles of numerous patients to Ph.D. dissertations, solutions like Innoplexus support pharmaceutical research and accelerate new drug discovery.
2
.
Big data in education
Applications of big data in education revolve around evaluation and assessment practices. But it's not only the students' knowledge and skills that are being assessed: based on big data, the analytics systems help educators in government and corporate segments gain insights about students' present and future behavior patterns and learning habits in order to take timely action as soon as they suspect that a particular student may be having problems.
Big data analytics help pinpoint knowledge gaps and create personalized learning plans for students. They also help evaluate teachers' skills and indicate if there's any room for improvement.
Big data plays a crucial part in the process of e-learning. Modern Learning Management Systems (LMS) such as Schoology LMS and World Manager leverage data analytics to increase the efficiency of the learning process and get valuable predictions and real-time insights.
View a video testimonial from our client, Leaplines, a state-of-the-art learning management system for companies and their employ­ees with a new perspective on training.
3. Big data in banking
When it comes to big data applications in business, the financial industry is one of the most strongly impacted. There are many big data examples in banking, yet, some of the most spectacular ones include smart loans and enhanced security protection.
Big data simplifies the loan assignment process that previously took months and required analyzing tons of paperwork before a banker could arrive at any concrete decision. Today, a digital banking system gains access to a clients' smartphone data and decides if a particular person qualifies for a loan in a matter of minutes.
Other big data banking examples include facilitating loan assignments for businesses. Currently, established brick and mortar banks like Bank of America launch banking apps to compete with digital-only newcomers like Moven.
In terms of financial fraud detection and security protection, big data has no rival. Data-driven analytics systems are capable of detecting non-typical activity and instantly blocking suspicious transactions.
Read also: Big Data in the Banking Industry: The Main Challenges and Use Cases
4. How the government sector uses big data
Governments must keep abreast of the most recent development in the energy, science, and military sectors. It also has to allocate funds to each of these sectors, and invest in numerous humanitarian initiatives. With this regard, big data has a lot to bring to the table.
Big data application in the government sector enables state officials to make informed decisions in vitally important spheres such as national security, employment, healthcare, and resource management. It also helps detect tax evaders, track compliance with state regulations and laws, and make political decisions.
In the United States, for example, the Food and Drug Administration uses big data to track and predict the occurrences of food infections and prevent disease outbreaks.
5. Big data in smart cities
Used in smart city management, big data enhances the quality of life by applying predictive and real-time analytics. In transportation management, big data helps build new public transportation routes based on the current demand of the citizens, detect traffic jams, and redirect traffic to avoid accidents. Big data also helps monitor each vehicle on a fleet to detect if it needs repairs, and take timely action.
Big data applications in smart cities include not only transportation but other areas of urban life as well. The insights derived from big data assist urban authorities in managing energy consumption and utilities, controlling city lighting, predicting and eliminating crime, etc. Applied in smart city management, big data also helps create a sustainable city environment.
Moovit, an Intel project and a leading provider of Mobility as a Service, is an example of how the use of big data assists in public transportation. It is also the largest repository of real-time traffic-related info in the world.
6. Big data in retail
Big data applications in retail help both online retailers and brick-and-mortar stores boost sales and improve customer experience in a number of ways: by tracking customer preferences and offering product suggestions based on the previous choices, analyzing data about a particular store location to estimate its potential profitability, forecasting demand and avoiding over/understocked situations.
World-famous online retailer Amazon, for example, analyzes a wide array of customer data: browsed and in-cart items, search queries, and a history of purchases, to offer customers highly-relevant product suggestions and maximize sales. On top of that, Amazon uses big data supply chain solutions to select warehouses based on the location of vendors and customers, accelerate distribution, and streamline inventory management.
In the UK, the apparel retailer ASOS is offering shoppers a unique in-store experience: by scanning a QR code on any item they like at the store, they can view a list of similar products on a smartphone screen and choose a better-fitting or better-priced version. The ASOS app also has a unique clothes match feature enabling customers to view what to pair their items of choice with for a fashionable look.
7. Big data in agriculture
In agriculture, better yields can be accounted for via the tight integration of big data with the use of smart IoT sensors: collecting metrics like soil condition, environmental temperature and humidity, helping monitor crop state, detecting pest infestations, etc. Similarly, big data helps track the condition of agricultural machinery and avoid breakdowns.
In livestock farming, big data analytics help monitor the herd's overall health and track the condition of every single animal. Using big data, apps like Farmeron enable farmers to take better care of their herds, enhance their wellbeing, track milking schedules and feed intake, and detect the exact location of any particular animal – all while reducing staffing expenses.
Big data is also an integral part of precision farming: by using big data, end-to-end digital framing platforms provide farmers with a 3D view of the farm's inventory and processes.
The aforementioned are some of the most vivid examples of how big data is used in different industries. Big data applications extend far beyond these examples and are having a huge impact on other industries including marketing and advertising, entertainment, manufacturing, etc.
Implementing big data, though, requires careful preparation and planning. Below is a list of things you should consider before using data to drive business decisions.
Things to consider before big data implementation
Becoming data-driven is a disruptive shift, and rarely do organizations approach it fully prepared. As a rule, it takes a lot of preliminary work to develop a clear big data implementation strategy. Below is a list of important considerations to help you implement your next big data initiative.
What data types will you be using to propel your organization towards the desired changes?

Which data is irrelevant for your goals and can be discarded?

Is the data inactive or moving through the network and in constant use?

How exactly will this data help you in achieving your objectives?
Big data implementation roadmap
After you have made these considerations, you can finally embark on your big data implementation project. The roadmap below may not fit your organization perfectly, yet, it should give you a structure you can fall back on, as you implement big data solutions.
1. Identify data gaps
As you start with your initial project, identify the primary data you need in order to get the project off the ground and running. Which metrics will you need to get a clear picture? How will you collect them? Knowing which data you will collect will help you make important adjustments to your processes.
2. Refine your existing data
Data quality is one of the frequently reported roadblocks on the way toward implementing new solutions for big data analytics. Historically, legacy data often resides in disparate databases or exists in formats incompatible with modern data software. Aggregating your data into a single data pool is a lengthy project that may take months, but it's a necessary thing to do if you want to benefit from the unique experience of your organization.
3. Choose data analytics software
After you have decided on your data needs, you can now start choosing your data analytics software. One of the important things to look for in your solution of choice is scalability – how well will it scale if you choose to extend your data projects to other facets of your organization? Another thing to take into account is data visualization capabilities: does the software in question provide insights in clear and comprehensible formats?
In many cases, though, your company will demand a tailor-made solution to fit seamlessly into its ecosystem, and you will need to look for a reliable vendor to build a custom data analytics platform for your organization.
4. Coach your employees
Your employees may be resistant to changes, and it is your task to keep them well informed about the advantages of new software. They may also worry about losing their jobs because of technological advancements. Launch corporate training to grow in-house data engineers and analysts, and re-skill your workers, if necessary.
5. Assess the results and evaluate your progress
Test in order to improve. After you have implemented the initial stage of your data analytics project, assess the changes and results. Are you happy with your project's outcomes? Think about what needs to be improved to maximize the efficiency of your data-driven processes. Ideally, your data analytics vendor should offer technical support and help in tailoring your data platform to your changing needs.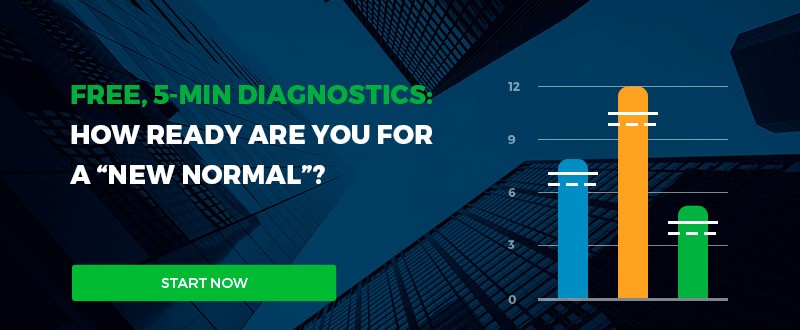 Final thoughts
Big data technologies are already permeating just about every industry, increasing revenue and efficiency and accelerating digital transformation. By now, it's evident that big data implementation laggards will soon find themselves in a highly vulnerable position, unable to withstand the growing competition and keep up with the changing standards.
On the other hand, the successful implementation of big data solutions requires a strategic and well defined approach. By precisely outlining your immediate and long-reaching business goals, evaluating your resources, and communicating the value of big data to your personnel, you will ensure that the shift to using big data is smooth and non-disruptive. Successful tech partnership is also a keynote to driving business value from big data.
Wondering how to approach the implementation of big data? At Eastern Peak, we are ready to give you a helping hand. Schedule a free consultation now for more tips and insights!
Read also: