For more than 20 years our client has been a leading global big data and market intelligence provider for the entire foodservice & restaurant industry serving millions of operators worldwide.
Since 1995, the client has been assisting its customers, both in Europe and North America, by providing them with a global vision and an in-depth understanding of the Foodservice market.
This resulted in having more data than ever at the client's disposal. Data volumes were continuing to grow and so are the possibilities of what can be done with so much raw data available. However, these possibilities were limited by company's insufficient knowledge about Big Data technologies and data security best practices.
Handling with Big Data, the enterprise faced critical
challenges:
Legacy data systems were not unified and varied across countries, impacting other divisions' ability to access the data and to expand to new markets quickly.

On-premise infrastructure lacked the ability to support instant access to the data remotely, limiting providers' options for monetization.

Employees productivity was limited by the necessity to process the data manually, resulting in significant routine operating expenses.
Building a new,
data-driven

environment

We were asked to help analyze, classify and unify all the client's data, create a cloud infrastructure and migrate all the Big Datasets there.

Our business teams, data experts and engineers worked hand in hand to build a new technological Big Data environment.
We structured the project into
3 key phases
1
Focused Business
Diagnostics
Business Processes
Analysis
Legacy Data Structure and
Architecture Review
Business Objectives
Prioritization
2
Solution Design and
Deployment
Solution's Internal
Architecture
Standardization &
Unification of Data
Creation of cloud
infrastructure
Development of Public API
and web tools
3
(Ongoing)
A Digitally Ready Enterprise
Ongoing support to facilitate a continuous business growth and innovative, data-driven vision of the enterprise.
The journey:

1.5 year to revolutionize client's databases
Regional data processing systems were unified and thus became easily adaptable for new markets, resulting in an accelerated time to market for new regions.

Instant remote access to the data was implemented introducing new opportunities for monetization.

Data processing was automated streamlining the employees' productivity and minimizing routine operating expenses.
Big Data Optimization
Through Big Data, Cloud and Process Automation, we helped the client to modernize their legacy system, as a result introducing an ability to handle Big Data sets securely.
After
2 years

of the launch of new cloud infrastructure, the key metrics have shown the impact.

Share of data maintenance cost

–%

Speed of data processing

+%
IMPACT IN A YEAR
4 million
records across Europe and North America.
1st
Biggest data provider in the foodservice industry.
58%
Time savings for front-, back-office.
Success

Stories

Whether you are looking to modernize your legacy systems or to entirely transform your business by exploiting advances in technology, we are your one-stop shop in agile digital transformation.
Book a call
Book a one-on-one consultation with our business consultants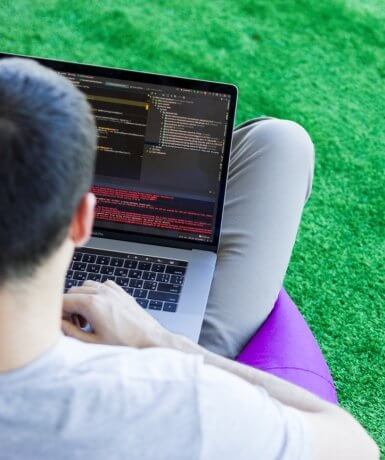 Приєднуйся!
Lead full-stack .NET розробники
Senior Deep Learning інженер
Senior та Middle Ruby розробники
Senior Automation Quality Assurance інженер (JavaScript)
Senior Automation Quality Assurance інженер (JavaScript+Appium)
Middle Full-Stack JavaScript розробник
Middle full-stack .NET розробники
Middle .NET розробник
Full-stack C#/.NET інженер
Technical Project manager
Копірайтер
та інші. . .